I
'm really looking forward to the guest bedroom revamp. Not only will people have a
real
place to stay when they come and visit, but it will also be the last of my home revamps for a little while. I want to focus on stashing away some money so that Jason and I can take some well deserved vacations when he gets home. There are also other things we want before we tackle the master bedroom and bathroom (like patio furniture).
In the meantime though, this is my plan:
It may look a little sparse, but it's because of this: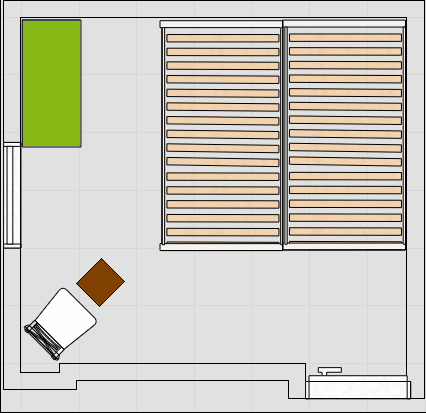 See?
Now
it looks squished! That's because the
daybed
that we want from IKEA has a pullout bed. It instantly turns from a twin into a double for the rare occasion that couples stay the night (like grandma and grandpa).

My inspiration was this pillow I purchsed from Pottery Barn on clearence some months back. It was inteded first for the living room, then the master bedroom, but now it will end up in the guest room. The yellows and greens will play off the light in this room beautifully.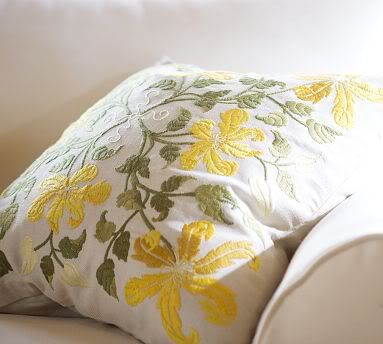 Add in some yellow curtains, a chair leftover from my
dinning room project
(one of the original white chairs) with a little yellow lumbar pillow, a rattan ottoman, and a dresser (that I'd love to paint a pretty leaf or apple green). I also plan on finding some vintage prints to frame for the walls. This one is my current favorite, from
The Graphics Fairy
.
This is my planned budget:
Daybed - $400
Matresses - $300
Dresser - $75
Night stand - $50
Chair - $0
Ottoman - $50
Lumbar pillow - $12
Fabric - $25
Curtains - $25
Bed pillows - $25
Comforter - $0
Bedding - $36
Decor/Misc. - $50
Total: $1048 (we'll call it $1050)
It seems like a lot (because it
is
) but because I'm buying a bed, two matresses, and two sets of bedding, I'm really going to have to get thrifty in other places!
But, first things first: I still have to clear the room out!