- Take down & store fall decor

- Bring in Christmas decor bins

- Put up Christmas tree

- RELAX!

- ...oh, and do dishes
Ooohhhh
I haven't wanted to do
anything
since after Thanksgiving. Jason and I spent the weekend at
The Welks Resort San Diego
, enjoying a free weekend we'd earned from listening to another timeshare (we are the king and queen of timeshare goodies). We stayed in a gorgeous two room condo with a large jacuzzi tub, one of those fancy showers with multiple shower heads, and an in-room fireplace (very handy since it was cold and rainy all weekend).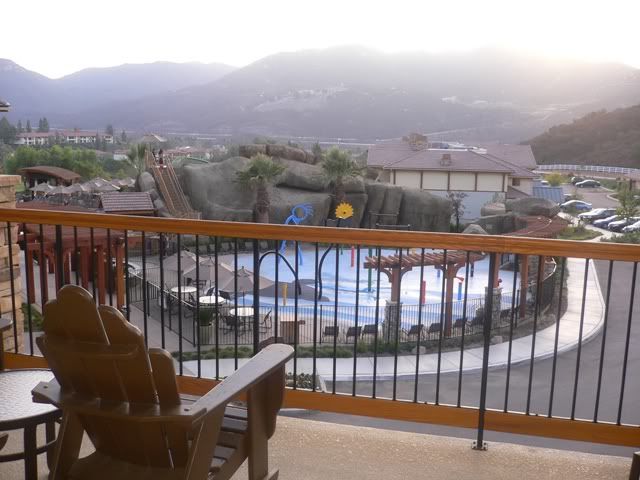 Friday morning after everyone had left, we partook in some online Black Friday shopping. We jumped around Amazon, where we each spent about $50 and wound up with about five or six things for each other. I even grabbed one of their lightening deals and bought him a DVD he's been wanting (and for only $4)! I think we'll definitely do that again next year!
We also got some free ornaments! I ordered white ball ornaments from Amazon (88 for $56) and happily tore open the big box when it got here. Unfortunately...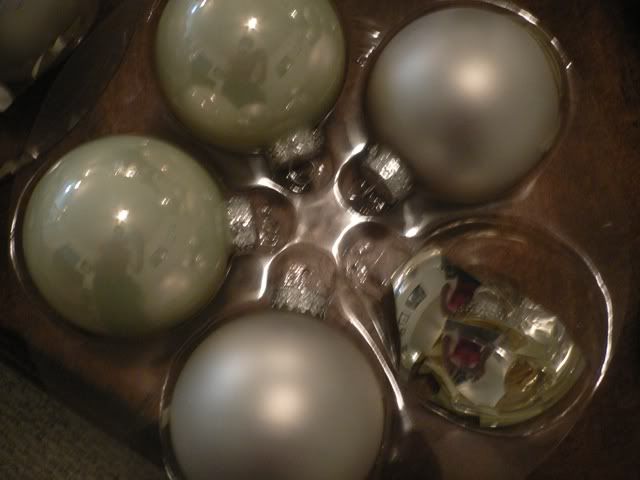 The ornaments were
silver
and
broken
! Thankfully it was only four broken ornaments (although they were the largest ones), but I was more annoyed at the fact the the listing clearly showed
and said
white ornaments--not silver. The seller gave us a full refund and said we could keep them. So tomorrow, I'm headed out for some primer and Heirloom White spray paint. I have a whole "look" in mind that I'll share once I'm a little further into it.
And finally ::sound the trumpets:: 10 fabric swatches later and we have our winner! Or should I say, winners?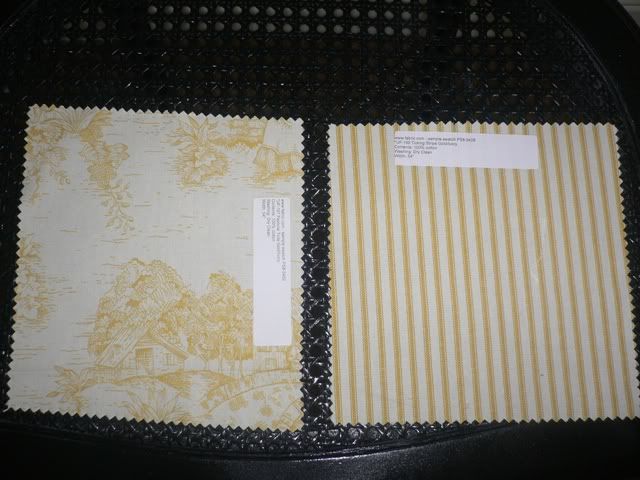 I had this sudden desire to pair toile and stripes together after seeing
this
decorating consultation that Layla from
The Lettered Cottage
did for one of her clients (the funny thing is when I showed Jason the photo, he was totally hooked on the Matin shower curtain from Pottery Barn--guess that's going on our shopping list!).
Fabric.com has a section of toile that is paired with complimentary fabrics for just this kind of project! I'm going to upholster the chair back and removable seat cushion with the toile. I'm debating on using the stripes on the arms, but either way, I'm going to find a little foot stool to upholster in the yellow ticking stripe. I think it's going to add such a pop of color to our office, which is predominantly deep browns, blacks, white, and a
hint of grey
.
Tomorrow I'm running out for more ornament supplies (primer, paint, hooks, and a secret), as well as buying our first set of Christmas lights for our house! I'm thinking we'll only decorate the bottom story of the outside. For one, I don't think the housing office wants us climbing on the roof (imagine the liability!) but also, I go a little white when I think of Jason trekking across those clay tiles that are so popular in SoCal.
Shopping List:
- Outdoor Christmas lights (Target/Wal-Mart)
- Primer (Home Depot)
- Heirloom White spray paint (Home Depot)
- Dowel for painting ornaments (Home Depot)
- Wood scrap for gift (Home Depot)
- Over sized ornaments (Bed Bath & Beyond)
- Ornaments hooks (Target/Wal-Mart/BB&B)
- Ornament supplies (Michael's)
- Finial (Michael's)
- Wrapping paper (Michael's)
- Jute/twine/string (Michael's)
- Garland (Michael's)
- White ribbon (Michael's)
- Bags (and bags) of batting (Michael's)