Y
ou may remember this chair I bought after only the second day of living in our new house?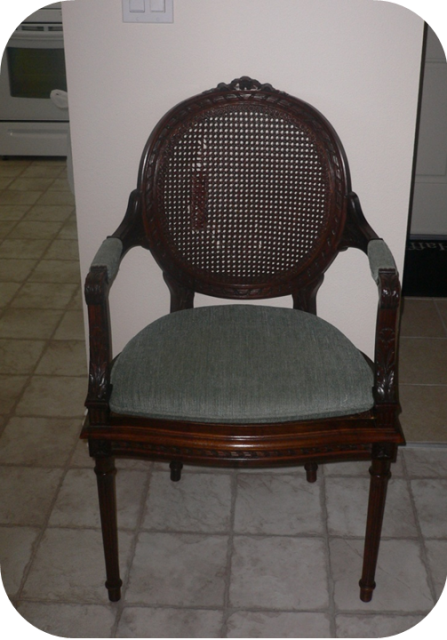 My brother was sweet enough to drive me to an antique mall, walk around with me while I searched for the chair, and listen to all my ramblings about the other stuff that was in there. But he got a free lunch out of it, so I don't think he was too upset! ;)
Now the chair looks like this, minus the caning in the oval center.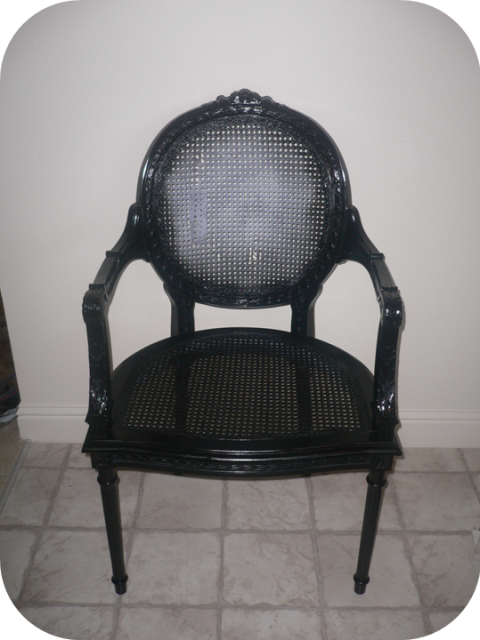 After agonizing over how I was going to finish off the back of this baby, I think I finally have it figured out. But I'm not going to jinx myself until I actually start working on it! Of course, before I can do that, I have to find a fabric that I like. I was going to use my ticking stripe fabric, but it turns out that against black paint, cream fabric looks dir-ty! So I had to start searching for fabrics that had a true white background.
I'm personally loving
Warehouse Fabrics
right now. They offer samples (not all fabric sites offer samples on all their fabrics), free shipping, and their prices aren't grey-hair-inducing. I had this idea about using a really modern, bright, fun fabric for the chair since it was so traditional.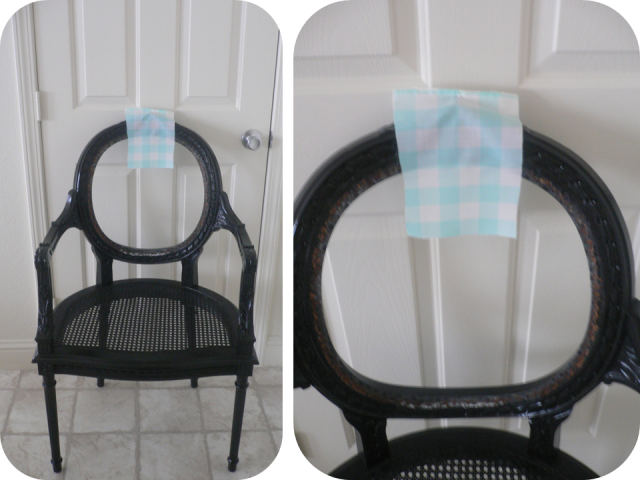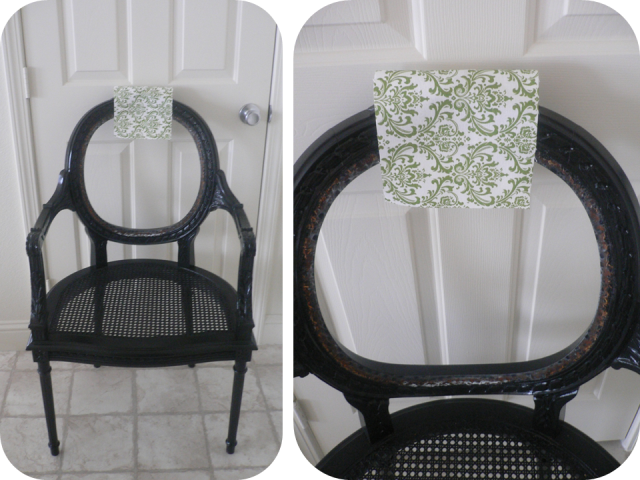 I wanted to go with either the yellow or mint (it looks blue in the photos) gingham. Jason chose the green damask, which is called "Shamrock." It looks olive. I asked for opinions on my favorite decorating site,
The Nest D&R Board
, and they all chose Jason's fabric as well. But I don't
want
a traditional fabric on this chair. I'm kind of sorry I even ordered it in the first place.
So, trying to compromise ::she grumbles:: I ordered the same damask print in "Placid Blue."
We'll see how it looks when it gets here--apparently my computer screen is a bit deceiving. Shamrock looks like a very bright green online. Jason says he really doesn't care either way, and I do hate to be a brat and just pick what I want because it's what I want. But I don't want to put all this time and effort into the chair only to pass by it every day and think, "My
God
I hate that fabric!"
Edited
: we've since added three more fabric swatches to the order list. I'm going to order them sometime this weekend once I've shopped my little brain out. So, in addition to "Placid Blue," we'll also be getting "Pastoral Toile in Gold" with "Ticking Stripe in Gold--" these two are specifically meant to compliment each other, and I rather like the idea of having toile on the chair and finding a small foot stool to reupholster with the stripe--and finally, "Finn Lagoon," which is a rather breath taking piece of fabric in my opinion. Of course, it's also $15 per yard, so if I'm going to cut it, I'd better be damn sure of my measurements!