D
on't you love when you're having a design issue, and suddenly it solves itself? I had one of those moments today.
The problem
: My coffee cups and saucers were taking up too much room in my cabinets. I could only fit about four on a shelf.
The solution
: Hooks on the underside of the cabinet.
The (new) problem
: For one, we live in base housing and we
cannot
drill into the cabinets. Walls are okay--cabinets are not. But, for two, our cabinets are made out of white resin.
The (new) solution
: 3M stick on hooks from Wal-Mart ($3 for a pack of three) and extra stick-ums (about $4 for a pack of nine). I recommend getting the extra stick-ums because they can hold more weight. The hooks I bought only hold up to half a pound with their enclosed stick-ums. The extra ones hold up to one pound.
When I first brought these home, I really had no idea how I was going to hang them and keep them straight. Under the cabinet isn't exactly the easiest place to measure. So, I grabbed three coffee cups and started arranging. Once I hung one hook and coffee cup, I positioned another set next to it. When I was happy with the location, I pressed the hook into the top of the cabinet and repeated with the third cup. Then, I repeated the process just reusing the cups. This way I always had two cups hanging so I could judge the distance between them. No measuring required--just eyeball it.
Once I finished, I removed the cups to give the strips time to cure (about an hour and a half). They looked kind of cute waiting there for some cups.
I also loved the fact that the hooks were small, thin, and silver, so they blended in perfectly with our kitchen decor. My cups look beautiful hanging up now. And I've always
loved
the look of hanging coffee cups.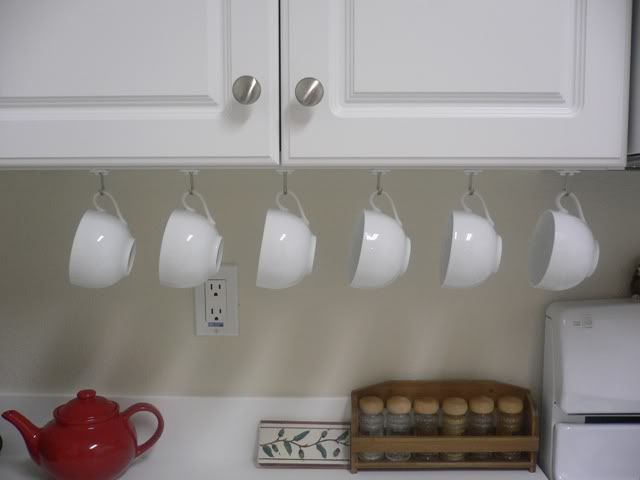 And if you're worried about the removal, 3M makes it really easy. You just pull this little strip backwards until the tab releases. I learned that after my first couple of misplaces. ;)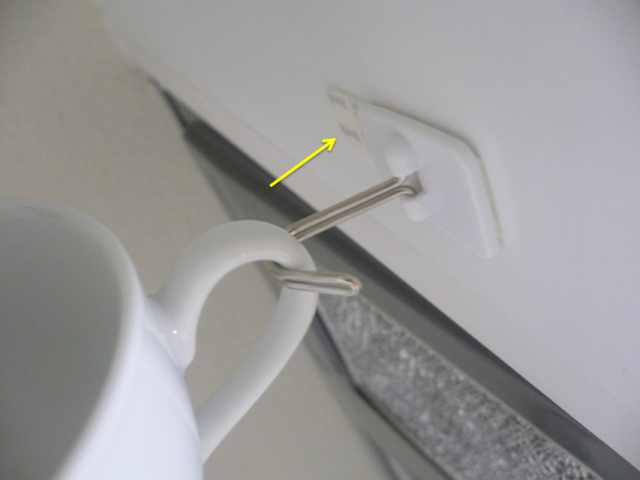 Pretty effective $10 project.
Next, was the issue with our master bathroom. I really love the set up because we have one of those walk through bathrooms. You have a small hallway flanked by closets on either side, which leads to an open bathroom area with double sinks, our bath/shower combo, and then a separate room for the actual toilette. But there's one problem with our bathroom area.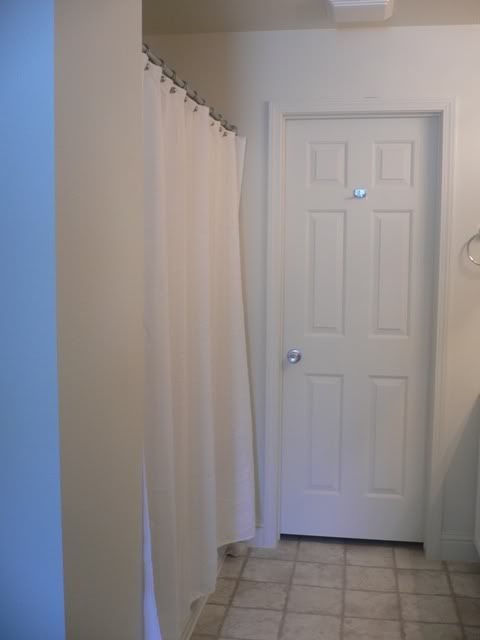 Do you see what it is?
No towel holders
! Aside from hand towels, there's not a single place to hang our towels up unless we want to put them on the counter inside the actual bath
room
behind the door. The bathrobe hook doesn't hold the big bath sheets we like to use and they end up on the ground.
I started scouting out possible solutions online, really liking these
towel/wine bottle holders
.
But before I found one in the size (and price) that I wanted, I remembered something that we had just lying around the house. Literally, lying around the house.
That would be a bag of hooks we normally use for a coat rack. But the lack of wall space in this house kept us from hanging them and they've sat in their little plastic bag next to the door ever since. Today I realized that two of them (along with some silver spray paint) would be perfect on our bathroom wall as towel hooks.
However, before I could even break out the spray paint, I noticed that the remaining three hooks would be perfect on a sad and forlorn little wall next to our laundry room, and conveniently next to our coat closet.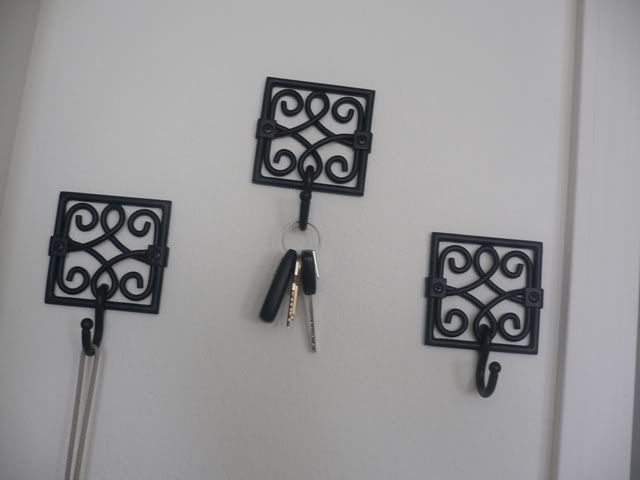 Since we use the garage as our main entry and exit point, it makes much more sense to hang the hooks here. We're notorious for losing keys, so these hooks have always been our saving grace.
And as for that wall in our bathroom?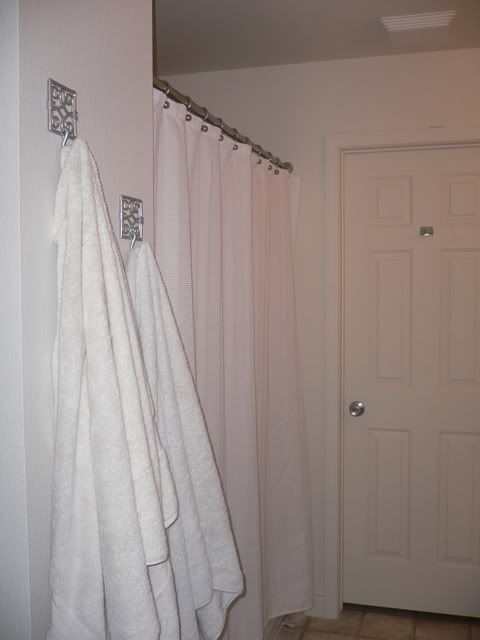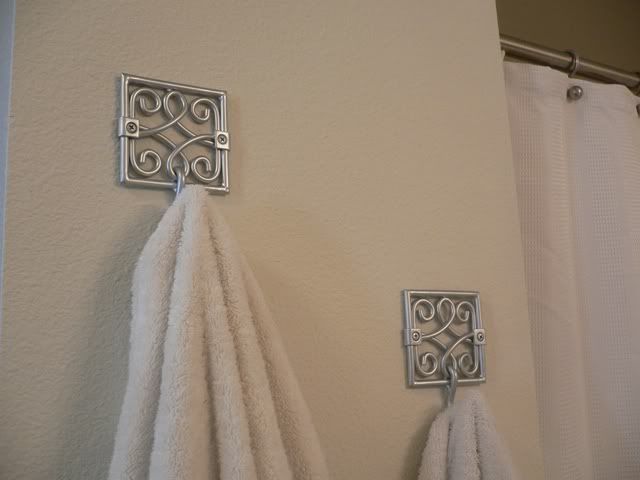 I can't wait to use our newly hung towels at bath time! The best part--this project didn't cost me a dime! Those are my favorite kind of projects! What simple solutions have you discovered?
I suppose now I should go and start all those last minute chores before company arrives tomorrow! Happy Thanksgiving!