- Finish curtain rods & hang
- Hang curtains
- Sew and embellish lumbar pillow
- Put furniture back in place
- Swiffer & vacuum floors and rug
- Purchase/find/arrange final accessories
- Photograph!
Since this room is a little larger, I thought I'd shoot it in sections and show the befores with the afters so you get a better idea of the whole revamp!
Before
when you walked down the stairs, the first thing you saw was our tower covered with CDs, DVDs, and
one
two very puny beige carpets trying to pull together as one.
Now
the tower is streamlined and ready for some pretty new accessories. The chocolate hand braided jute rug (Ballard Designs) adds some much needed warmth and texture to that linoleum floor.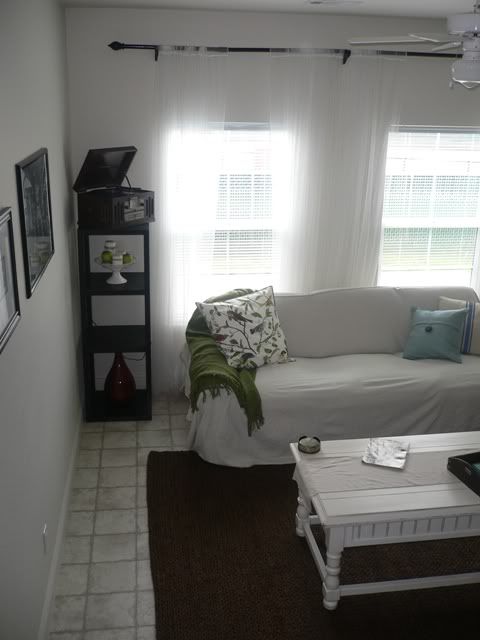 Before
the coffee table felt a little too ornamental, the couches were sagging, and the leaf pattern was tired.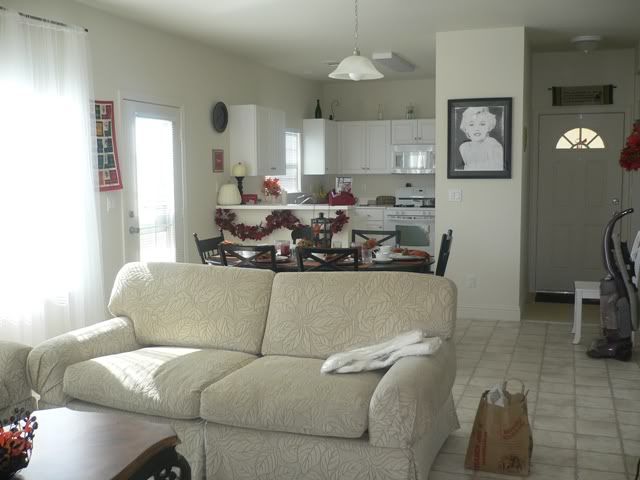 Now
my Pottery Barn-inspired drop cloth slip covers--made from simple painter's drop cloths--give me a clean slate to work with without breaking the bank (see more about the couches
here
). The Norfolk Bench-inspired coffee table looks crisp and is more visually soothing than its predecessor (see more of this project
here
).
My JoAnn tray got a much need make-over and is now a pretty catch-all for living room type items (because let's face it, it won't stay this pretty for long!). The mini-palm tree was just what the galvanized bucket needed (see the transformation
here
).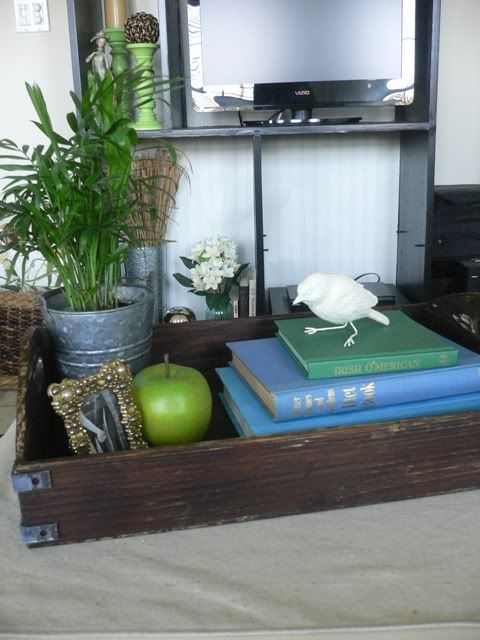 Blue linen button pillow from Pottery Barn, "grain sack" pillow by me (find the tutorial
here
). I buy all of my pillow inserts from
Rick's Foam Products
on eBay. They're comfy and his prices are unbelievable!
My once ruined pillow
came together quite nicely in the end. I opted for the "Est. 1906" rather than the "No. 19" design. I just subtracted 100 years from the year Jason and I were married. Plus, I love the fact that 1906 breaks down into the day and year of our wedding: February
19
, 20
06
.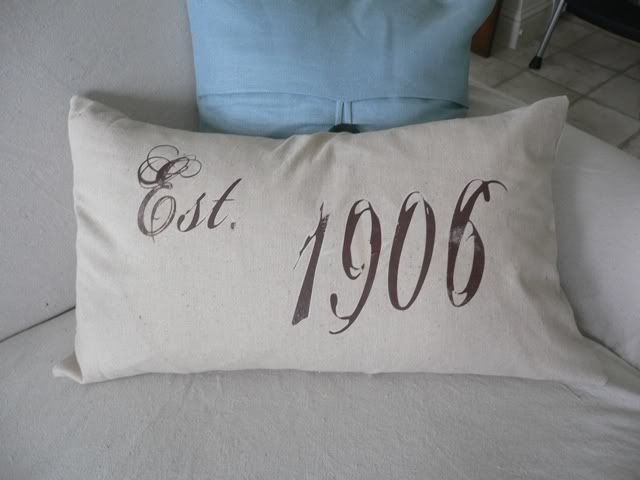 Before
there was a huge blank spot next to the couches, just begging for some company!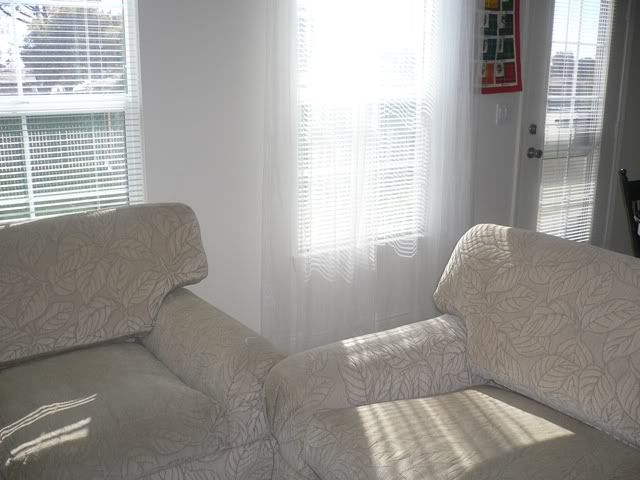 Now
my make-shift side table fits that space like a glove (see how I made it
here
).
Before
the curtains were sagging on the IKEA curtain rods. They just weren't long enough to span the length of the window without bowing!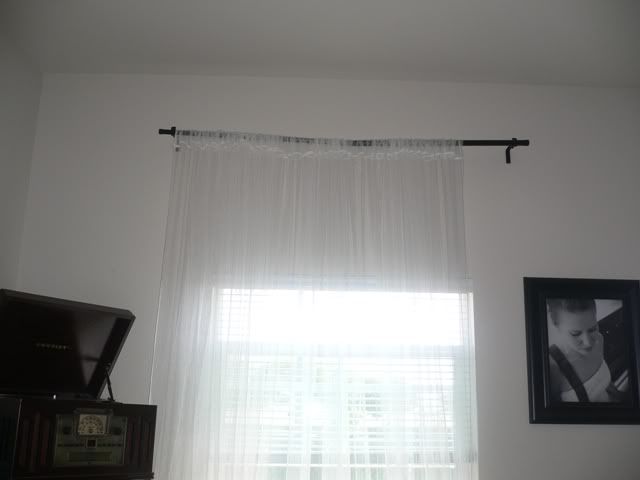 Now
my $2 PVC-pipe curtain rods add some weight to really anchor the windows and help them be more of a focal point rather than an after thought. I got this great idea from
The DIY Show Off
and
A Little of This, A Little of That
.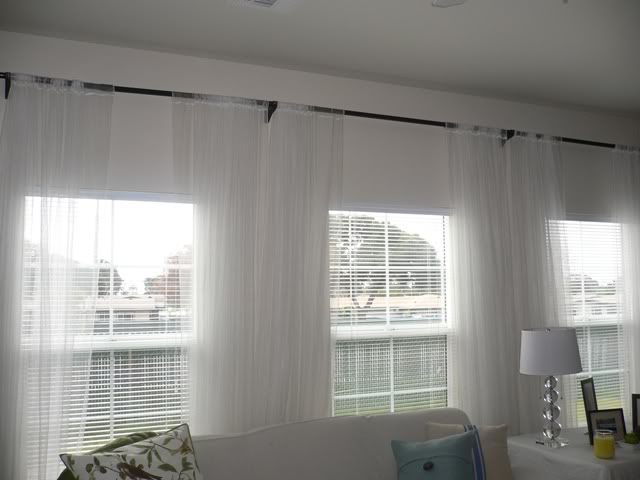 Before
the wall unit was stuck in the past with it's orangey oak finish.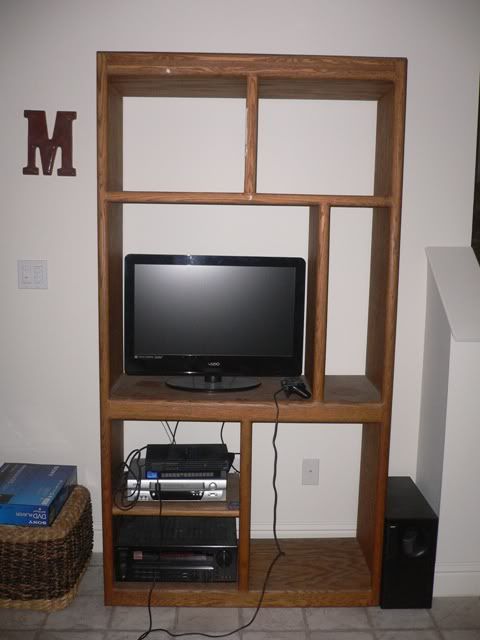 Now it's beauty-licious. The white bead board wall paper hides a multitude of sinful cords behind it and makes the entire thing look much more finished (see more of this project
here
).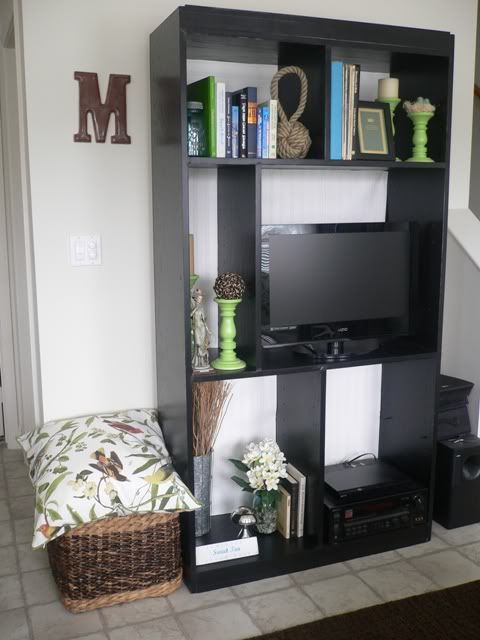 The claddagh picture is actually a Saint Patrick's Day card. I thought it was so pretty I framed it!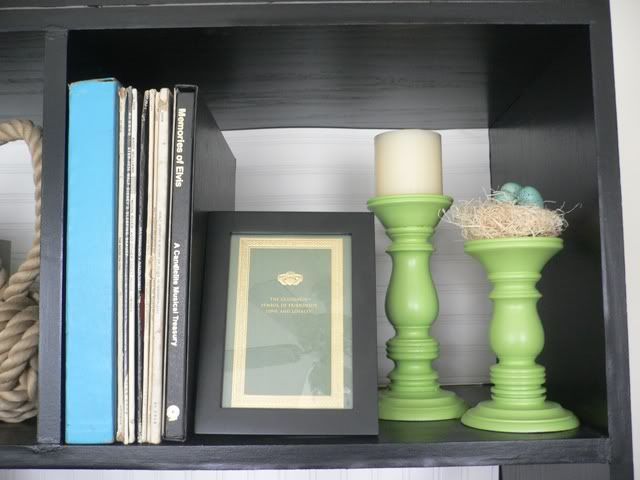 The over sized monkey's fist is from
Amazon
(and only $15 because it's a pet toy)!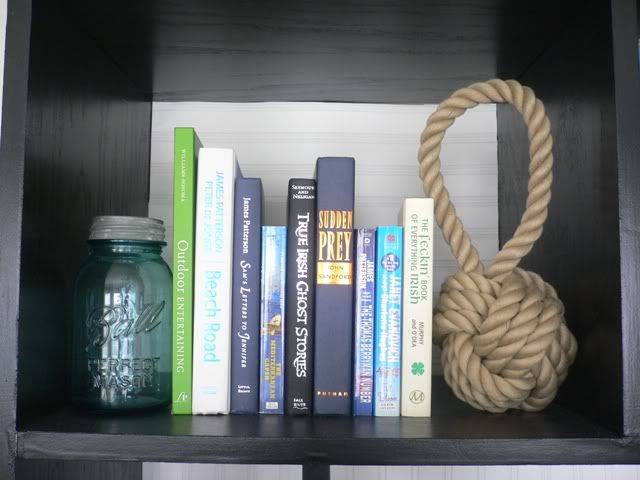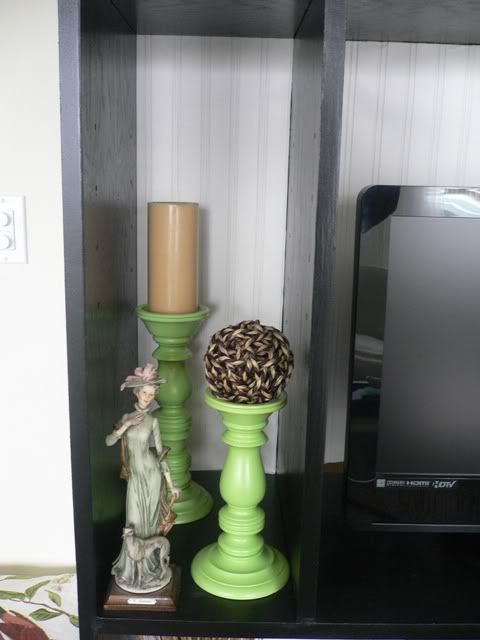 I love this galvanized bucket! I picked it up at Michael's for only $5 on clearance! And for those of you loving Pottery Barn's galvanized tin collection, Michael's is carrying some exact replicas for only a fraction of the price!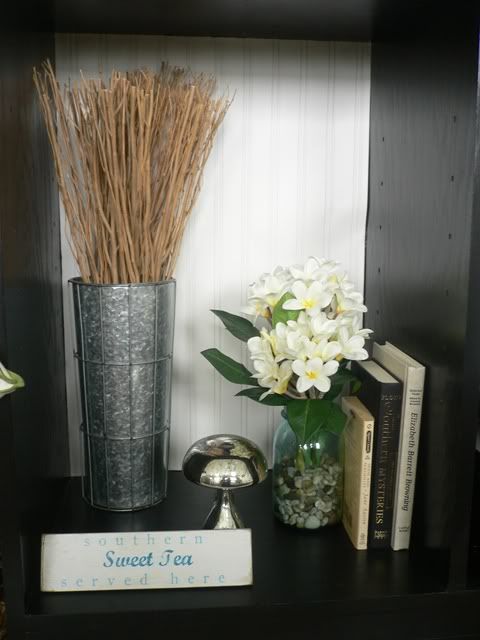 The mercury glass mushroom is from my sweet cousin Amy in Oregon.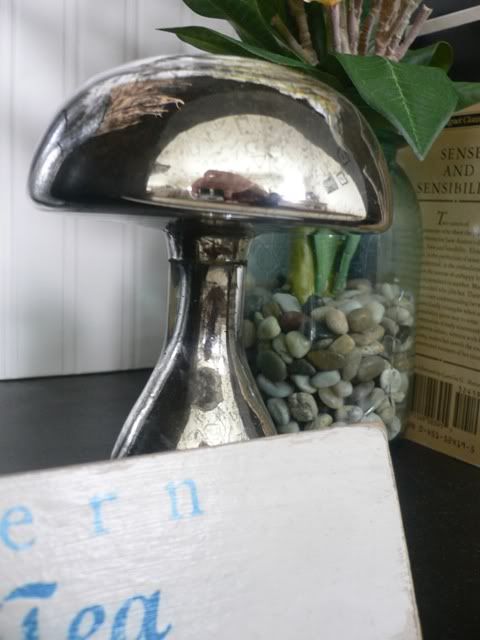 I love the way it all turned out. The whole room feels more sumptuous, chic, and adult-like. I no longer feel like we're living with hand-me-down furniture (which we still are, for now) or that I'm confined to a single decor scheme because our budget and resources are limited. Sure the drop cloth slip covers don't look exactly like Pottery Barn's, but I didn't pay their price tag for them either! Besides, sometime this summer I plan to replace our old couches with the Ektorp line at IKEA, and it would have been a huge waste of money.
Stay tuned for that crafty giveaway! I'll be giving away one of my
DIY French grain sack pillows
(only yours will be an envelope closure, not a Velcro!), and one of my
teeny tiny signs
!
I'm linking my not-so-hand-me-down-anymore! living room up:
Trash to Treasure Tuesday
@ Reinvented
DIY Project Parade #7
@ The DIY Show-Off
Make Your Monday
@ The Twice Remembered Cottage
Saturday Night Special #25
@ Funky Junk Interiors