C
otton fabric that is! On Monday I purchased three yards of cotton fabric from JoAnn's. I'd been searching high and low for the perfect fabric that looked like a burlap/grain sack mix, but I wanted a cotton--I like the texture of cotton better. The fabric doesn't have a special name, but it can be found with the utility fabrics and it's $3.99/yard. I set about making my pillows for the living room, as well as accessorizing.
My first project was this DIY French grain sack pillow. I
will
be doing a tutorial on this just as soon as I buy a zipper and get it sewn in!
Then I set about making my
"No. 19" pillow
, using
this
tutorial on YouTube by CraftyGemini. I wanted to make and envelope pillow since I'm lacking in the zipper department. Her video saved my sanity as all the other tutorials out there s-u-c-k-e-d-! But as you can see, I managed!
As soon as I can find my iron-on transfer paper, I'll be adding my graphic. But I can't decide if I want to do it in black or brown. And I'm also worried it's going to look a little nekkid. I guess we'll see.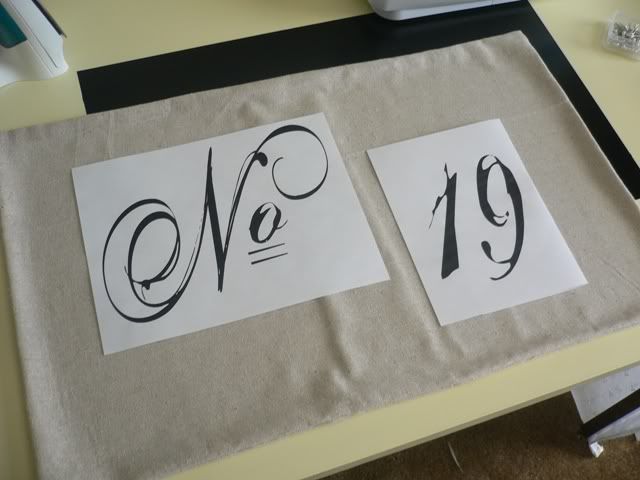 And last but not least, I made a runner for our coffee table (don't mind the fact that it's pushed up against the wall).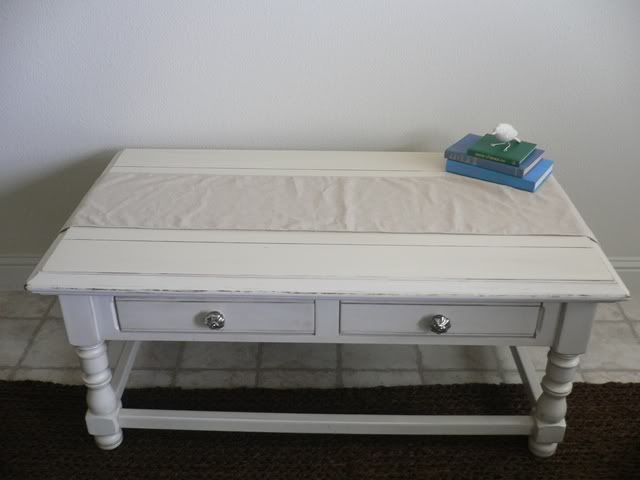 I'm still playing around with the coffee table vignette.
I had been planning on ordering a galvanized metal tray from Jamali Garden. Unfortunately, they have a $50 minimum order charge, and if you don't fulfill it there's a $10 surcharge. My tray was going to be $12 with $13 shipping. Now, $25 was already feeling kind of steep but add in that surcharge and
$35
?! No thank you! Of course, now that I see the runner on the table, I'm thinking I might want a nice wooden tray instead. I need something to warm it up, especially with my cool blue and green books and my little white bird (recognize him? he's my
Tuesday Morning
bird!).
Guess I'm on the hunt again! Don't forget about the
giveaway
! Bath bombs and money for Home Depot--what's better than that?!
I'm linking these projects to:
Project Parade
@ The DIY Show Off
Saturday Night Special
@ Funky Junk Interiors