F
ull disclosure right? We like bloggers who are honest about their mistakes and boo-boos that they make along the way to home decor nirvana. Yesterday, I failed so hard and so bad I literally cried.
A lot
.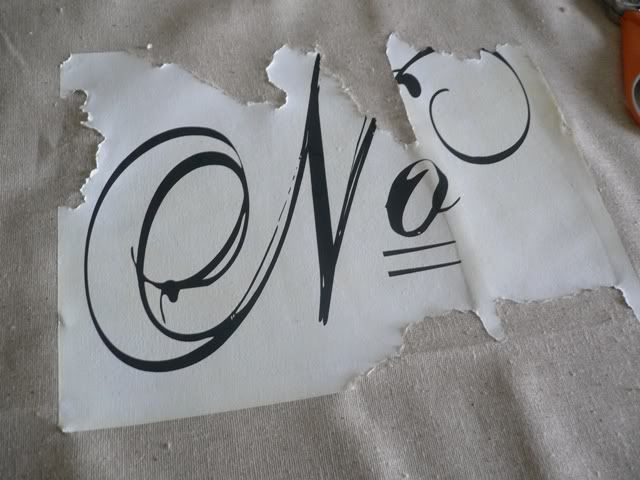 That is what remains of my beautiful envelope closure lumbar pillow that I slaved so hard over yesterday.
Ruined
by the stupid cheap iron-on paper. The manufacturer somehow neglects to tell you that the whole white part of the paper is what actually irons on, not your specific image. I don't know if this is because Wilton transfers just
suck
, or if it's because I grabbed the transfer paper for "dark fabrics." Either way, a little disclosure is needed! You can see that I tried to pick it off to salvage the pillow, but it was all in vain.
There was
a lot
of crying involved here (and
a lot
of consoling from hubby). I was so frustrated. The last thing I wanted to do was to make another pillow. But, after soaking the case last night (hoping the paper would bubble up and I could yank the rest of it off) I realized that's exactly what I have to do. (sigh) But I guess the trip to JoAnn's will also net me the zipper I need to finish my French grain sack pillow.
So, new options for this pillow are going to include:
going back to grab iron on sheets for light fabrics--and I will be testing it on my now-ruined pillow case before making anything permanent!

using a vinyl decal (I have an email into someone on etsy to see if it would work)

trying to freehand it with paint

figure out if there is in fact another iron-on technique (which I don't think there is)

decorate the front with buttons like this one: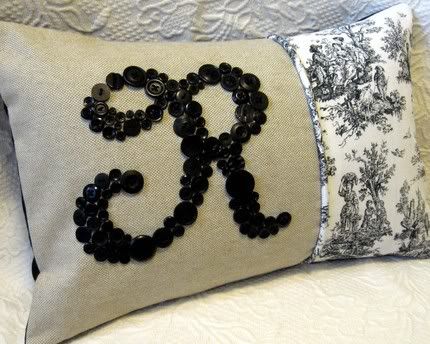 (I can't remember where I found this image at. If it's yours let me know!)

I'm thinking if the vinyl lettering won't work, then I'm jumping straight to buttons. I really don't trust myself free handing such an intricate font. If anyone out there has any experiences using a better iron-on technique or has used vinyl letters with success on fabric please let me know!

Don't forget to check out the 20,000 Hits Giveaway! It goes until Tuesday!