L
ast week I blogged about my search for a coffee table tray. I knew I needed something to warm up the cool colors I had going on between the white table, the natural cotton runner, and the mercury glass knobs. Plus, I wanted something to play off the brightly colored book covers I'd picked up and accent my white bird "figurine."
By chance while shopping for more fabric to recreate my
ruined pillow
, I stumbled down a beach themed aisle at JoAnn's. Normally I would have glossed right over this section because our house isn't beachy and it's so easy to be sucked down that line of decorating. But then I ran across a
really
cute tray--I kept putting it down, but every time I did I picked it right back up--and at only $10 it was almost inevitable that it was going to come home with me.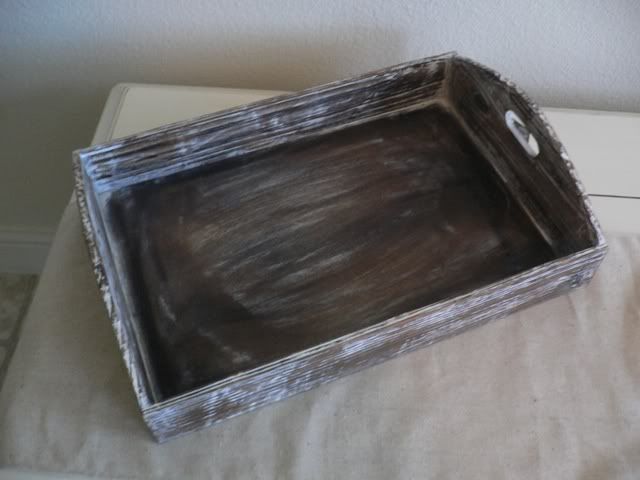 It was almost perfect, but I really wanted something that was a little more rustic looking with a bit of an aged feel. For some reason, all I could think of was these old railroad ties that my mom used to have in her back yard. They were dark brown, they had tar stains, and the metal had been baked for
years
in the sun. Plus, the faux-whitewash look was still a little too contrived. So I figured I'd take a gamble and stain it! I was a little nervous because the tray feels more like a dense foam than real wood--I don't know
what
it's actually made of!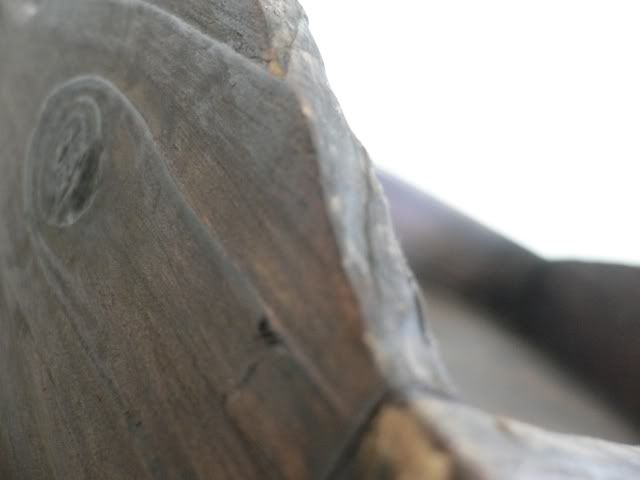 But it worked! It worked really well! I love that a little bit of the white still peaks out, but it's not as stark as it used to be. It's absolutely the shade of those railroad ties I was thinking of! Now, I just wanted to add a little industrial roughage to age it up. So I picked up a rusting kit from Michael's...
...and gathered up some leftover corner brackets from the wall
unit makeover
...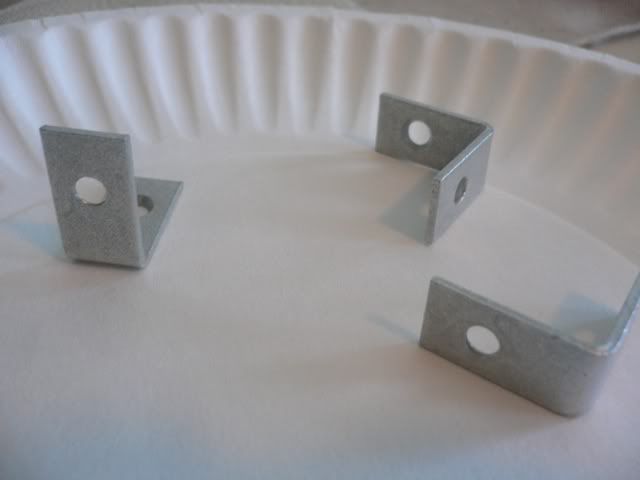 ..and went to town!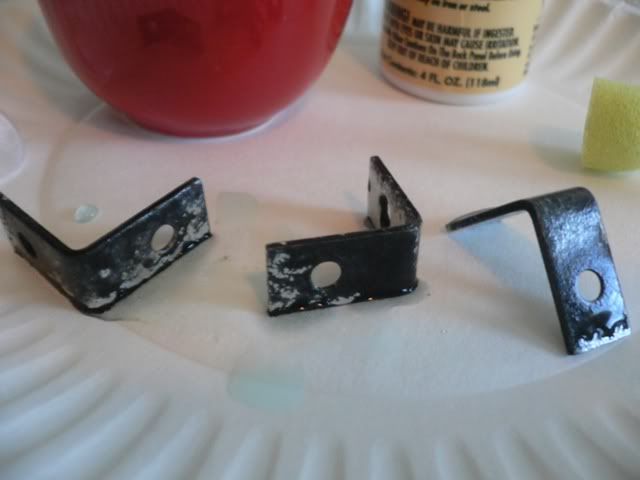 They definitely turned out more black than rusted. I don't know if it's because of the metal the brackets are made of, or because I didn't use their metal solution first. But either way, I think I kind of like the black finish. All I did was glue a couple onto each corner and it instantly added that touch of industrial-grunge.
Think I want to replace these very fake looking flowers with either something more real
looking
, or something that's actually
real
. And the photo in the frame
is
a true photo--it's a shot of Jason and I holding hands during our wedding ceremony!
Now, it's
the
perfect tray! It just goes to show you that you don't have to settle for what you can buy--a little creativity can turn a cookie-cutter-store-bought item into the that's-what-was-missing! one of a kind accessory you've been hunting for.
I'm linking up to:
Trash to Treasure Tuesday
@ Reinvented
Transformation Thursday
@ The Shabby Chic Cottage
The Best of March
@ Beaneath My Heart