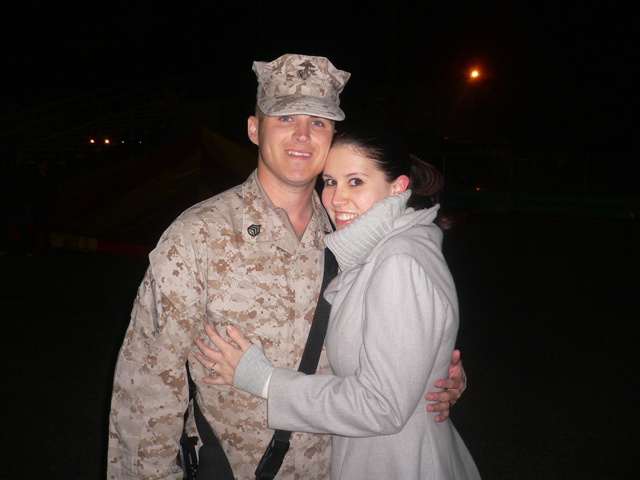 Jason and I have been married for four years. We met online in a military supporters group in 2005 and in June of the same year, Jason moved in with me and we've been together ever since. We've moved--
a lot
--in the short five years we've been together. Just a month after we were married we got orders to Cherry Point, North Carolina. For someone who'd never lived outside of San Diego, North Carolina was a long way from home. There were a lot of tears along the way, but when we arrived I found the east coast rather enjoyable. We traveled as much as we could while we were out there and were lucky enough to spend one 4th of July in the nation's capital. I even saw my first snowfall in North Carolina.
We got a little surprise in August of 2008 when we were informed we'd be moving in December of that year. Jason was selected to attend schooling back in California. We packed up and headed back West--only to land smack dab in the middle of the dessert! Hot, dry, 122-degree weather was a big change from the frost bitten snowy home we'd just come from. But as the Marine Corps motto goes, we had to "adapt and overcome."
Luckily our time was short lived and in October of 2009 we went from a land of sand to a land of grass. We now live a hop, skip, and a jump from the beach where we've landed for the next three years.
Life is an ever changing ever moving roller coaster for us, but we've loved every high and low we've gone through. We spend our time enjoying life and whatever new interests come our way. Jason loves baseball cards, old movies, and video games--he's such a boy! I love DIY projects, theater, and make-up--I'm such a girl! ;) Life isn't always "happily ever after," but we'll spend eternity laughing about the flubs that made our story not-so-story-book and much more how-the-heck-did-we-manage-that?!
As my husband has so lovingly said on more than one occasion: "We're not two peas in a pod, we're two nuts in a shell!"