Y
ou may notice the new blog banner. It looks a little naked up there, but that's okay! The more projects I do, the more pictures I accumulate, and the fuller it will look! I thought it was time to make it a little more personal--after all, half the fun of doing projects is showing them off!
Speaking of showing off, I've been showing practically everyone photos of my latest acquisition. This gorgeous almost-as-big-as-me mirror.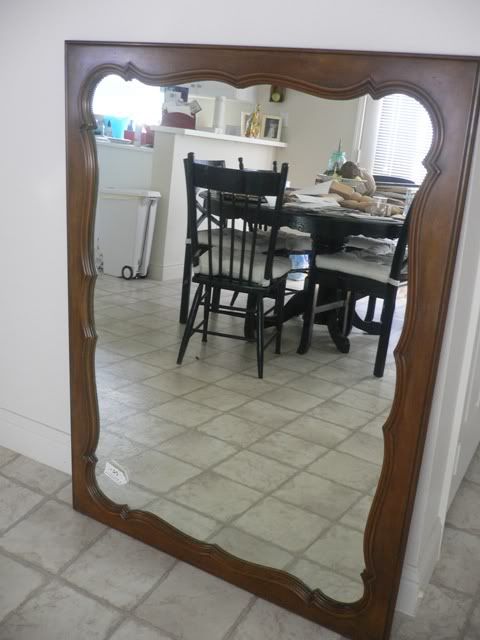 (pardon the
huge
mess on the table!)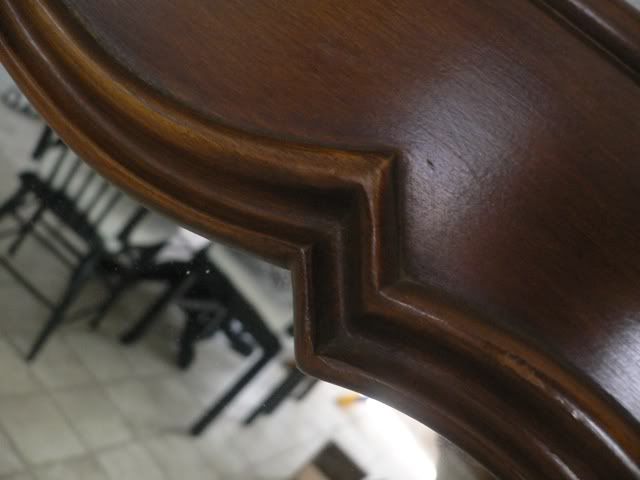 Isn't it breath taking? I scooped her up at my favorite estate sale place. She was hiding behind a couple of sofas. Luckily I had my holy grail with me (a.k.a. the notebook that holds all my home decor ideas, projects, measurements, etc.), and I knew that amongst the pages was the specifications for a mirror I want for a wall in our bedroom. The bedroom revamp is still about a month away, but I knew that something like this would be stolen right out from under me if I didn't hot foot it! Double checking that the mirror was the right size for our wall (using the proprietor's measuring tape) I lugged this
beast
curvy cutie up to the register. At a full 3-feet wide by 4-feet tall
and only $65
, I absolutely had to take her home with me. They
do not
make mirrors like this for $65 these days.
My only dilemma now is should I paint it? I know,
gasp
! The wood is in perfect condition and doesn't have a flaw on it. I'm only juggling the idea because
a.) our bedroom furniture is all black, and
b.) I had visions of a white mirror blending into our wall--something you only notice as a surprise afterthought.
The mirror is going to go across from the window in our bedroom to help bounce around all the gorgeous light our room gets naturally. I just love the idea of it being white and being so subtle that you almost don't know it's there.
Decisions, decisions...
Don't forget to try your luck in the
giveaway
I'm hosting! Tomorrow and Tuesday are your last chances to enter to win $50 to Home Depot (plus another shot at $25 if you're a follower), and some fabulous bath bombs from
Flowering Tree Botanicals
.