M
y mom came and stayed with me to get me past the first few days of Jason's deployment. Of course, my mother being my mother, she immediately wanted to start "helping" her daughter with her house. This is Mom's term for: my dishes aren't done, my Tupperware isn't sorted, a few rooms still have boxes in them, and so on and so forth. But thankfully, this time she took a break from digging through my cupboards and focused her attention on one of the rooms I've somewhat neglected in my mad overhaul of the first floor: the downstairs bathroom.
Pretty sad, huh? Especially when you figure that
this
is the bathroom most everyone sees.
This
is the bathroom that gets used the most. How could I have overlooked such a small room that would have taken no time at all decorate?! In my defense, my mind has not exactly been up to speed lately.
Mom and I went down to the mall and swung into Pottery Barn (where I finally returned over $400 worth of merchandise, eek!) for a little day trip. Off in the clearance corner we found a wreath that was so simple and yet so gorgeous. It was marked down to $12 (from $50) so we each got one. On our way back home Mom randomly says, "I'll bet that wreath would look good in your bathroom." And the next thing I knew, we were planning the entire space around this $12 wreath.
The glass beads on this candle holder (from Cost Plus World Market) mimic the ones in the wreath so well it's almost funny!
The bathroom has zero storage space for downstairs guests who might spend the night on our sleeper sofa. This $60 étagère from Bed Bath & Beyond is almost a dead ringer for
this
one from Pottery Barn which goes for $280--but mine has bead board on the sides which makes it that much cuter.
I love the mix of the bright citrus green with the twiggy brown towels (also from BB&B).
The bath mat ties all the colors together and hides some of our
lovely
linoleum flooring. A box of four shelves ($30 from BB&B) gave me two smaller ones to use down here and two larger ones to use in our full guest bathroom upstairs. Their small scale works perfectly for this room (kind of hard to see--above the toilette). I still need to accessorize them and the top of the tank.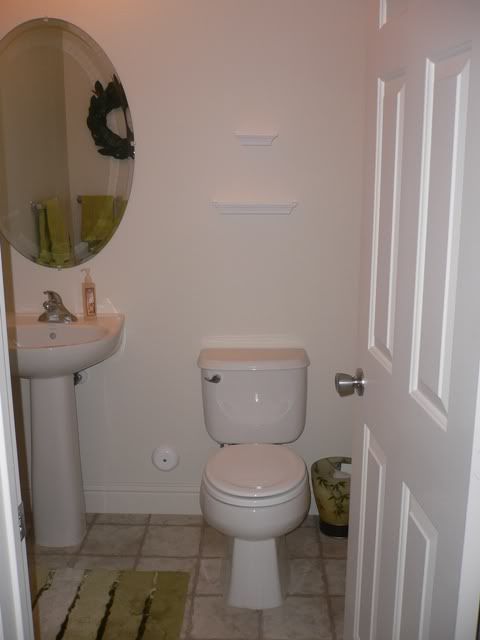 One day of shopping and putting together and what a difference! Is it odd that I absolutely love walking by the room now? I just wish all my revamps were this easy!
I'm linking up to:
Transformation Thursday
@ The Shabby Chic Cottage