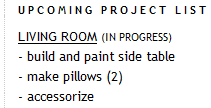 The wall unit is done! I'd love to put that sentence in huge bold block letters, but I don't want to scare anyone off. But before we get into the afters, let's see the before and the durings.
Before. I love this piece but with its curved edges it was stuck in the 80's.
First things first, I turned the back side into the front by
adding trim
to the raw edges.
I closed up the open areas by
adding a kick board
and a top moulding.
Next came the primer and paint...
...and finally the bead board wall paper from Home Depot. Which brings us to the afters. You may or may not be able to tell from these photos, but I nixed the idea of using plywood as a solid backing for the bead board. Rather, I left the bottom of the bead board wall paper loose, so I could easily slide our cords around with out having to cut through anything. It wasn't until last night when we were reassembling everything that I realized how genius the bead board idea really was--no more ugly cords! I didn't even know how much I'd hated them until they were gone.
Mason jars make great bookends! ;)
I love this shot of our "Feckin' Book of Everything Irish." I'm finding books to be a great way to disperse multiple colors throughout the room.
It's still a little nekkid, but I'm working out what I want to include in all those cubbies. I just ordered this gorgeous filagree cross for the super tall cubby on the left.
And for the bottom left cubby, I'm really thinking I'd like some glavanized watering and milk cans to play off the zinc lid of my mason jar, as well as the zinc tray that will go on the coffee table. Something like these from Pottery Barn, but I'm hoping I can find them on the cheap (these are going between $14 and $50)!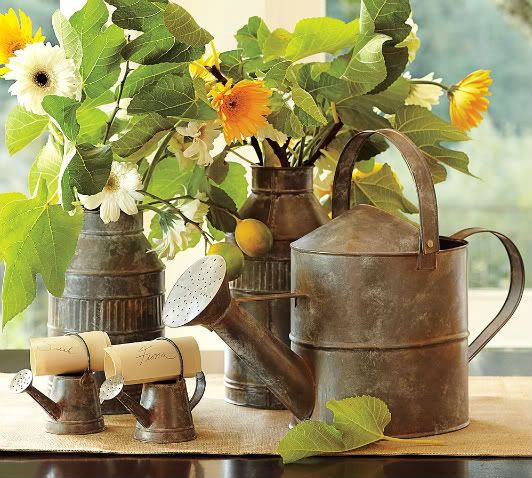 Only a few things left and this room will finally be finished! As of right now, I'm on day 20 of Project Living Room (not including the week we spent in Las Vegas, and the week I spent in bed sick). It seems like it's (almost) all down hill from here!
One more time for the cheap seats in the back!
I'm linking up to:
Transformation Thursday
@ The Shabby Chic Cottage
Power of Paint Party
@ Domestically Speaking
Trash to Treasure Tuesday
@ Reinvented
Project Parade
@ The DIY Show-Off
I Made It Without My Hubby
@ Shanty 2 Chic
Make Your Monday
@ The Twice Remembered Cottage
Saturday Night Special
@ Funky Junk Interiors
Also, check out my tips and tricks for painting a big piece of furniture on the cheap in the
TUTORIALS
section (or by clicking
here
).