M
y ambitions got the better of me when trying to create a side table to fill a large empty space between our couches. I knew anything store-bought was going to be ridiculously expensive and most likely be too small. Then I got the brilliant idea to build one myself! HA! Easier said than done, my friends! I met difficulties every step of the way, the biggest of which was the issue of the legs themselves. Home Depot sells table legs in two sizes: 15-inches and 29-inches. I wanted my table to be about 22-24-inches. So either way I was going to be either 7-inches too short, or 7-inches too tall. I made the executive decision to go too tall.
Thankfully, I had the foresight to try it out before I added trim and painted. This just wasn't what I had envisioned. So it's now become my garage work table (I needed one of those anyways!). But now, with basically $0 left for this project I was floating up creek about to lose my paddle. Then, it hit me!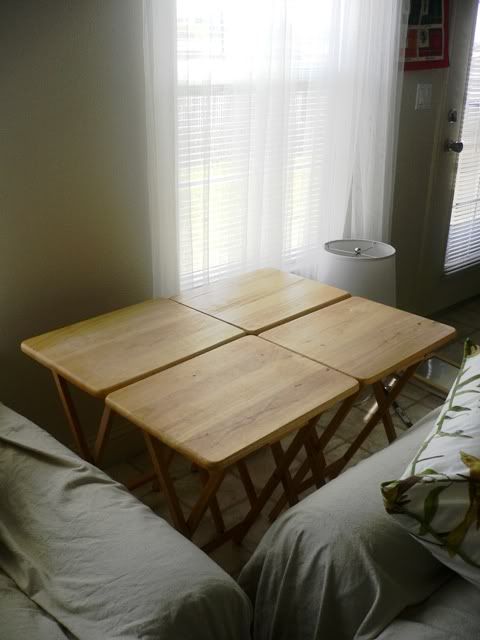 Yeah, those
are
TV trays! They've been taking up space in our coat closet for months. We hardly ever use them and the little stand that holds them has a broken foot. It sways this way and that anytime the door opens and a slight breeze goes by. Now they get a new shot at life as an end table! All I did was cover them with an old white table cloth I picked up at a flea market in North Carolina, and covered that with some sweet seersucker fabric that I picked up from JoAnn's. I got two and a half yards for $5! I loves me some sales!
Then I added a few accessories...
...and my side table was done! I can't believe the solution was sitting in my closet the whole time! And seeing how we got the trays from Wal-Mart five years ago, I'd say they've more than surpassed their life expectancy!
The gorgeous lead glass lamp is from Bed Bath & Beyond. It's a total match to one they carry at Pottery Barn for almost $180
without
the lamp shade (the one from BB&B was $100, and I used a 20% coupon). I can't find the PB lamp online, but they were carrying it in our local store
when Mom and I visited last week
.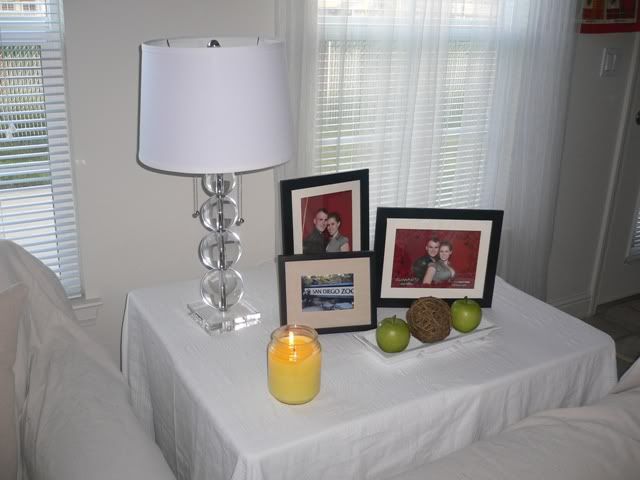 I have two projects left before the big reveal! One is drying in my garage as I type and the other is just waiting to be sewn!
I'm linking up to:
Trash to Treasure Tuesday
@ Reinvented
Transformation Thursday
@ The Shabby Chic Cottage