T
hought I'd share some of the more simple things I've been doing around here. Namely, fall decor.
Here's the table all dressed up for her big debut (see the craziness that was
here
,
here
, &
here
).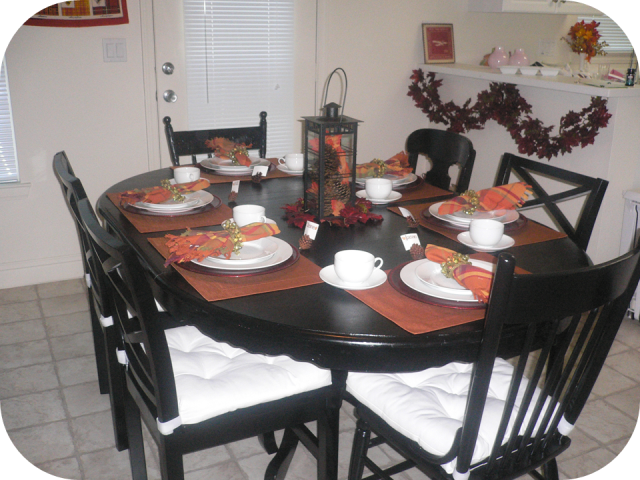 The place settings use our everyday dishes from Bed Bath & Beyond (part of their "Everyday White Collection"). Jason has all but forbidden me to buy more sets of dishes. If I get going, there's no stopping me. So, yes, my holiday dishes are also my everyday dishes. ...for now. :) The place mats ($2 each), chargers ($1.70 each--they come in sets of 6 for $10), napkins ($2 each), and napkin rings ($2 each) also came from BB&B. My little pincone name holders happened to be in the big bag of pinecones I got at Michaels.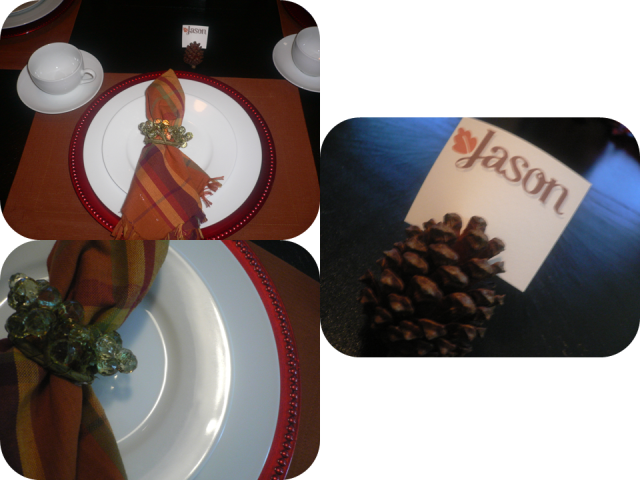 My lantern centerpiece is something I had laying around from our home in 29 Palms. I bought it at Cost Plus World Market for only $10--I wanted it as a knock off to Pottery Barn's Malta Lanterns, which cost about $40 for the same size. I sprinkled some extra leaves from my garland around the base and unless I can find something else to add, I'll probably call it done.
Moving away from the table, I have to admit that I may have gone a little overboard with my garland this year. ;) I bought four strands at Michael's right after Halloween for $4 each (not bad considering they were originally $12). It started with our bar.
I purchased a box of J-hooks at Home Depot (I call them J-hooks, but I guess they look more like a "?" than a "J"). I was pleasantly surprised to find wood on the underside of our bar. I knew I wanted to put garland there for Thanksgiving, so all it took was a few of the hooks screwed into the wood and I had a garland hanger!
Once that worked, I was on a roll. I quickly tried to assess what else I could hang garland and hooks off of. My eyes fell on my DIY shelves. They were just
begging
for some fall color. A quick coat of black spray paint made the hooks blend in very nicely. Then I started stringing garland from hook to hook, snipping off the ends to make them fit the length of the shelves.
I recently changed not only their location, but also the items they were holding. These were hanging on the wall next to the kitchen, but every time we rounded the corner we nearly sliced our foreheads open! I'm not sure if I'm 100% satisfied with the vignettes yet, but I like them better now than they were.
I also removed the lanterns I had hanging on the entryway wall and sat them on the shelves. They're much prettier in their new home. And if you've been keeping count, I've only accounted for two of the four strands of garland I bought. The other two are happily adorning our banisters--kept in place by good old fashioned zip ties!
(I swear the garland on the left is centered. The angle just makes it look waaay off!)
Hope your holiday decorating is turning out grogeous!
I'm linking this up to
The DIY Show-Off's Holiday Party
and
Funky Junk's Saturday Night Special
! Share your projects too!