1. Plastic utensil bag, empty because we took most of our leftovers to the military police. 2. Crock pot, with about one-quarter cider at the bottom...and lots of cloves. 3. Half empty coffee pot from overnight guests. 4. Cider stains from multiple ladles full.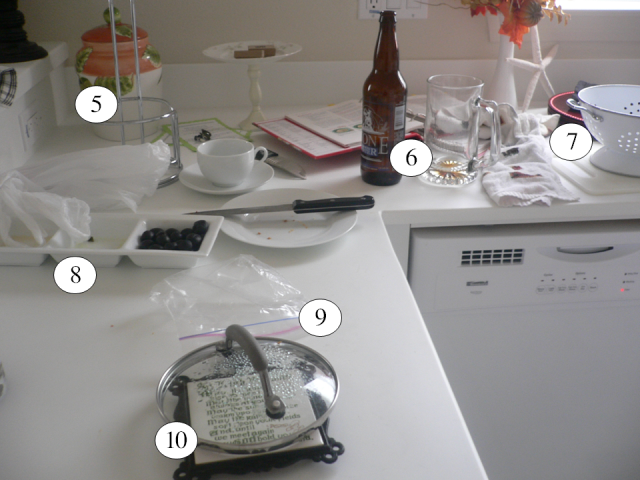 5. Empty paper towel holder. 'Nuff said. 6. Empty beer bottle and Jason's stein, to cope with the craziness that was my family. 7. Strainer and clean chargers, the beginnings of clean up. 8. $10 appetizer dish from BB&B. Best $10 I ever spent. 9. Grandma's empty cheese bag. 10. Random pot lid...must have topped something hot since there's still condensation on the lid.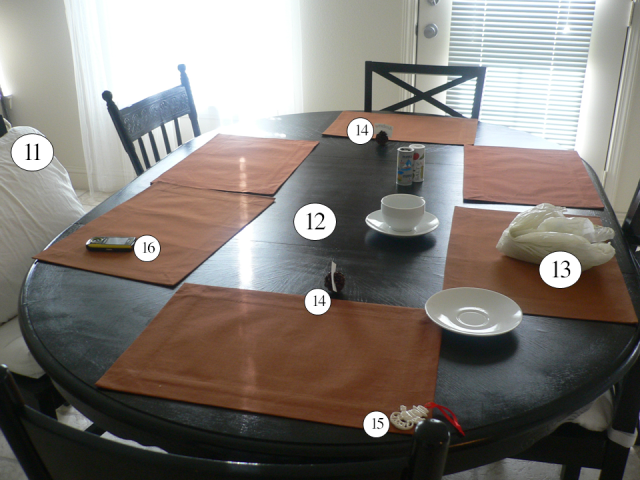 11. Grandpa's extra firm and fluffy pillow. 12. My once beautiful table, now ravaged. 13. Empty plastic bags for guest doggie business (they're unused!). 14. Only remaining place card holders (mine and Jason's). Who knew they'd be great keepsakes for everyone? 15. Random white ornament I found this morning. 16. Jason's cell phone, blissfully unaware at the craziness around it.


- Take down & store fall decor

- Bring in Christmas decor bins

- Put up Christmas tree

- RELAX!

- ...oh, and do dishes
Hope you had a wonderful Thanksgiving!