7
. Don't pack it in the outside compartment of your suitcase unless you're prepared to lose it!
I should have taken a shot of our dismayed faces when our luggage came off the carousel and
the front zipper compartment was flapping open
! A whole bag of toiletries and Jason's
military leave papers
were gone! We were furious because our bag was (literally) only a fraction too large for the carry-on box they make you size your luggage with and we were forced to check it. Now we were missing vital items. The toiletry bag was carrying my brand new bottle of Clinique foundation, my contact solution, my cold cream, face scrub, moisturizer, and a much loved bottle of hair serum I bought from my stylist back in North Carolina. I knew Jason's papers were more important than my make-up, but I was pretty distraught.
Thankfully, his leave papers were retrieved and Alaska Airlines was nice enough to cut me a check for my missing items right at the counter. Sanity somewhat restored, we headed over to Avis to pick up our rental car. I do have to do a quick plug here: we ended up with a Dodge Caliber and it was a
wonderful
little vehicle! A bit like a cross-over, Jason and I have put it our our list of possibilities for our next car.
We set out for Salem, all the while enjoying the very scenic drive.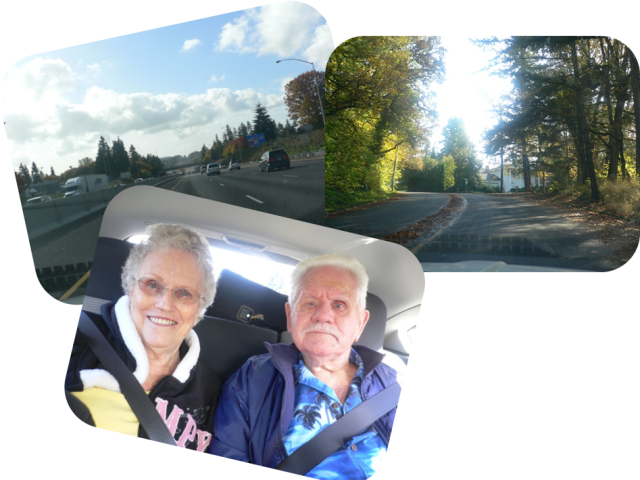 By the time we got to my Uncle Andy's house, I thought Jason was going to kill me if I asked him to take one more picture of a tree! ;) So I grabbed the camera and shot the backyard like crazy. I also firmly decided that our forever home has to have a huge picture window!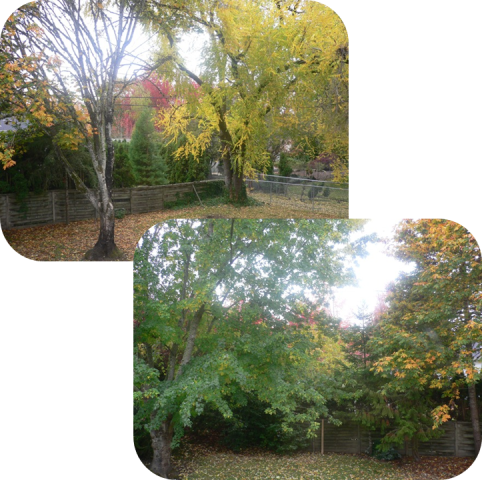 Before retiring to our hotel we swung by Wal-Mart to try and recoup some of my loses.
Product (un)Plug:
I made the mistake of buying Pond's Cucumber cold cream, thinking it would be like the original, just with a different scent. WRONG! It was actually rather drying; whereas I could have used the original cold cream and not follow up with a separate moisturizer, it was an absolute must with the cucumber cream. I didn't even bring it home, I hated it so much.
We arrived at our hotel,
Marriott's Residence Inn
, and settled down for the evening, thankful we'd made it in one piece. Well... almost...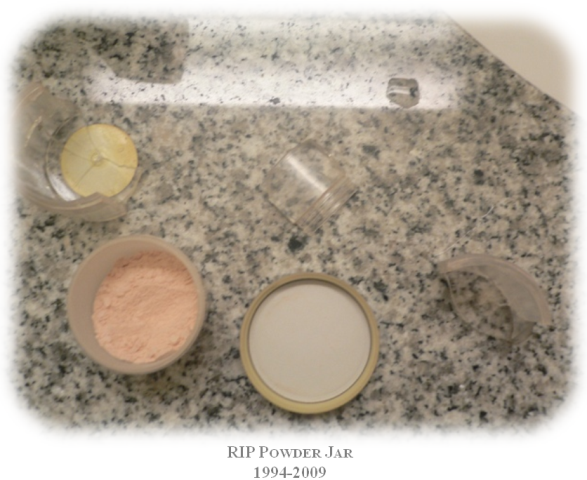 My trusty powder container somehow shattered mid-flight. I suppose it lived a long and prosperous life, but I'm sad I had to part with it.
Our heads hit the pillows at 7:30 and we slept off the not-so-happy start to our vacation. Thankfully, it was our one and only bad day in Oregon. :)
Pssst! You voted, I wore!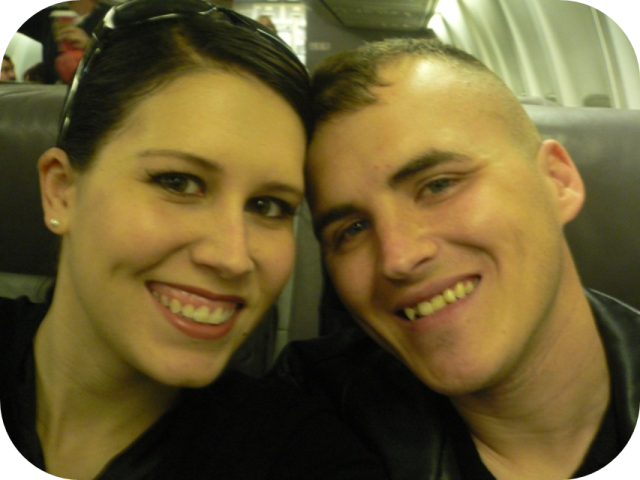 Not the greatest outfit shot ;) but the winning combo was the black cardi, jeans, faux snake-skin heels, and vintage grey jacket with pearls to accessorize. Thanks for helping me dress readers!
You can see the rest of our trip here:
October 26 & 27
,
October 28
, and
October 29
.