I
feel kind of bad for cutting off the wrap up on Oregon (we really did have a
fantastic
time, I love my new cousins, and Jason and I are
seriously
considering moving up there once he retires), but there's just so much going on right now that I don't want to get any further behind than I already (feel that I) am. So, here's a peek and quick catch up of what's been happening in the Nut Shell:
- We FINALLY got Jason's signing bonus and have officially paid off all our credit cards. Yay!
- We (obviously) didn't end up going to San Francisco as planned--the
horrible, awful
travel agency had to be threatened with being reported to the Better Business Bureau before they returned any of my phone calls and emails, and by that time we told them to shove it and refund our money. Steer clear from Seagull Vacations!
- The Thanksgiving decor-and-project-a-thon is in full swing and I have been busy busy busy! A big fat post on that to come!
- We visited a local estate sale warehouse where I went a wee bit crazy--but OH did it pay off.
That's all for now--I have to get back to a project outside before the sun sets and it gets too dark to see out there. But stay tuned because there's a lot happening with your nutty hosts! ;)
I leave you with an recent outfit that I loved, and have just dubbed "Pretty in Pink." I went super romantic with natural pink make-up, a renaissance style blouse, and curls.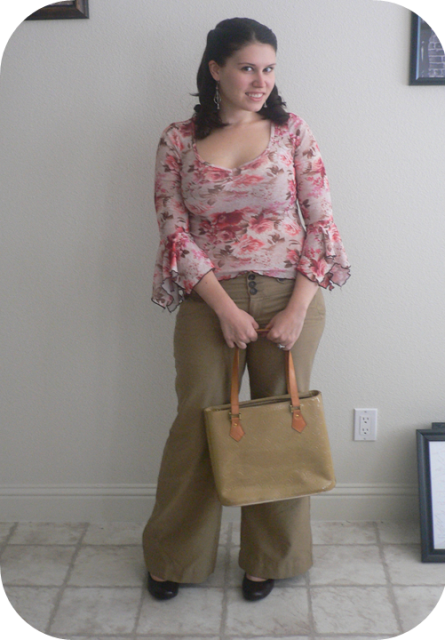 Outfit Details
: top - Charlotte Russe; jeans - American Eagle; shoes - Söfft; earrings - Maurice's; purse - Louis Vuitton