- Order fabric swatches from Fabric.com & Warehouse Fabrics

- Little brother's birthday dinner

- Organize computer room for decorating photo

- Start preparing house for Thanksgiving company

- Go to grocery store for mulled apple cider ingredients and green olives

- Paint Empire West ceiling tiles and hang (finally!)

- Sew curtains

- Hang rods in living room & bedroom

- Hang curtains in living room & bedroom
It didn't feel like a very busy weekend. But, I managed to cross everything off my to-do list! I'm hoping my fabric swatches get here soon. I've already received shipping confirmations on all of them. I'll be so happy once I finally get a fabric nailed down (ha! no pun intended!).
My little brother turned 20 over the weekend (he's the one in red). We celebrated with a nummy dinner at Olive Garden with my mom, his dad, and his friend.
(I really think we need a new camera. Please excuse the less than stellar quality.)
I also got hubby to turn his attention away from his online football game long enough to help me organize our computer room. Prepare yourself for the saddest, emptiest little room. It needs a lot of work.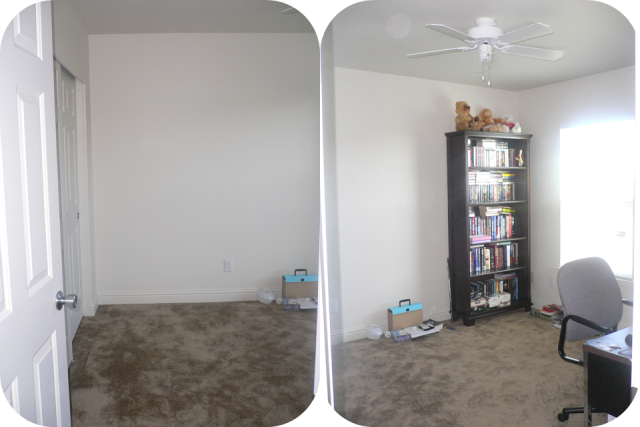 One of the walls finally got a little pick me up with my Empire West ceiling tiles. This was
the
decorating craze on The Nest for about a year. It seriously has taken me this long to finally pull them out of the box and do something with them! At least it was free and filling artwork. They're painted with Krylon's Smoke Grey, which has a very pretty blue undertone.
My bedroom is now finally complete with curtains and rods--all of which I'm planning to switch out after the holidays. Our living room also has a few new sheer curtains, more for decoration than purpose. But it added some much needed visual interest (no pictures because only two of my three windows have curtains).
I have a lot of projects planned for after Thanksgiving, and I can't wait to share them--or get
started
on them!
Three days & counting until my first Thanksgiving host! ;)