I
hate to admit what a little copier I am when it comes to some of my projects. But, then again, how many of us make Ballard Designs and Pottery Barn knock-offs? I guess it makes me feel a little more guilty when I borrow my ideas from etsy sellers though, since they're kind of "the little guys." But then again, I guess I could call us with our military budget "the little-er guys!" So here's my idea for my next DIY project.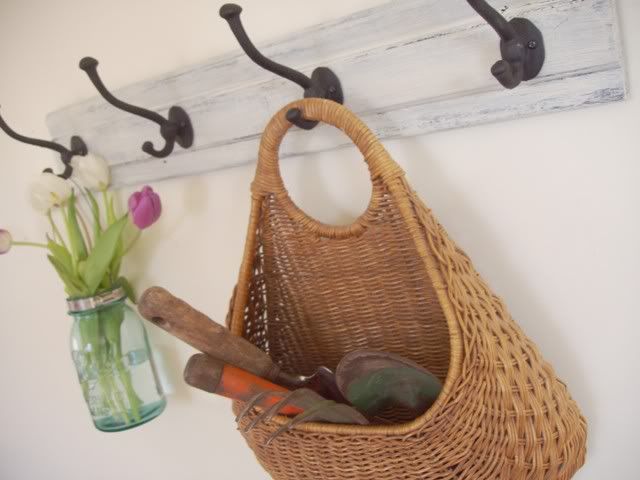 I love these industrial cottage-y looking racks from
Post Road Vintage
on etsy. I want one for a little corner of the wall above our guest bed. They're a little out of my budget right now, but with all the scrap wood I have laying around in our garage, I figured it wouldn't be too difficult to make one of my own. I just found
the
perfect cast-iron hooks on eBay for only $15 (with shipping).
I'm hoping they're as rusty in person as they appear online! I'm going to try my hand at using both stain
and
paint on this project, as I want to give it whitewashed appearance over reclaimed wood (of course, if I could find real reclaimed wood, I'd be
very
happy). I plan to make a hanging mason jar (like
the ones
that are becoming wildly popular from Pottery Barn), and I may try to find a woven tote as well but we'll see how it comes together.
I'm coming in waaaaaay under budget for this revamp (
HOO
-RAY!) so thankfully I'm able to add a few more decorative accessories here and there. The fabric, pillow inserts, and curtains have all been ordered. Speaking of which, here's how the color and print scheme are coming together.
Lemon Drop curtains
from JC Penney,
Day Lily pillows
from Pottery Barn,
leaf fabric
from Fabric.com.
And here's that gorgeous leaf fabric going to work as a new pillow cover!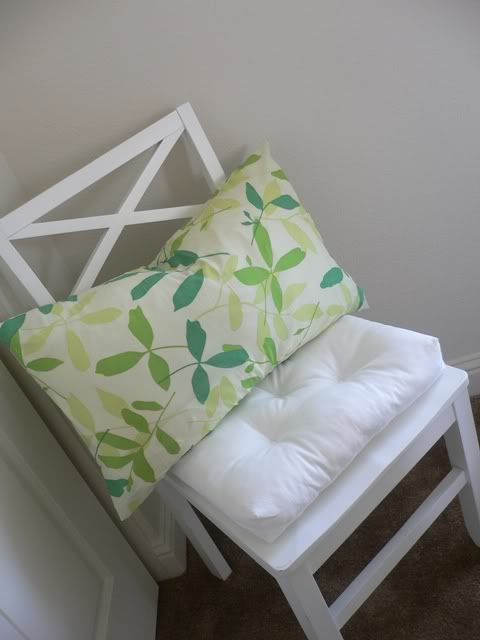 I haven't decided if the chair is going to stay there or not, so we'll see where it ends up. I still need to buy supplies for my PVC-pipe curtain rods and I saw a nightstand at Goodwill that I'm going to go back for. Last but not least will be the mattress. I'll continue to show you little bits and pieces of the make-over as it goes on, but I'm keeping most of this one a secret until the big reveal!