F
or a while now I've been wanting something like a buffet for our dinning room. Most military houses have a small breakfast bar (the one we have now is fairly shallow--not even deep enough to pull stools up to), but I wanted something more adequate for decorating and serving on the rare occasion that we have large groups over, like
last Thanksgiving
. Having all the food up on the bar and everyone scrambling around each other's chairs wasn't exactly what I'd had in mind when I was planning our fancy meal! ;) We've decided not to host Thanksgiving this year--it's most likely the last time all my dad's girls will be in the country together (one of my sisters plans on moving to England with her boyfriend after her last year of school). But I digress. Back to the buffet.
One of the great things about having a day job again is having money for larger projects. I'm not fooling myself--if I can find a buffet for $150 I will be very happy! I'd like something like one of these. Chunky legs and spindles, no boxy shapes like the ones you find in Target and Wal-Mart these days.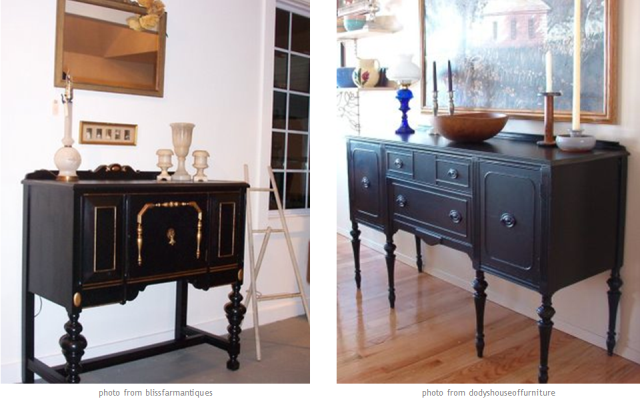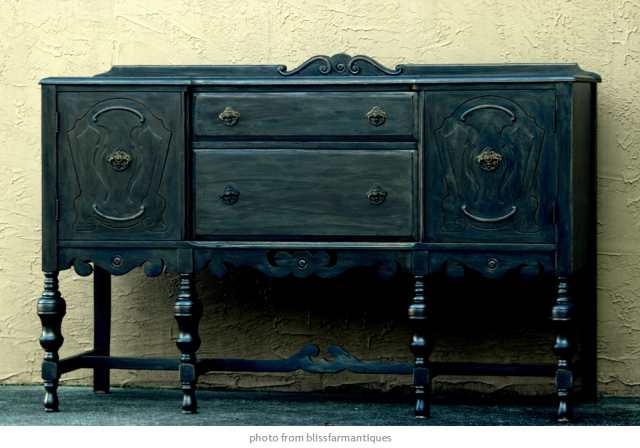 I plan on putting it on the same wall that our shelves hang on, but I don't want it to be too deep since that's right near our entryway.
Just by chance, I also happened to come across this photo on
The Inspired Room
(I'm hooked on the
31 Days series
every one's doing), which is from House Beautiful. And I was immediately struck with inspiration!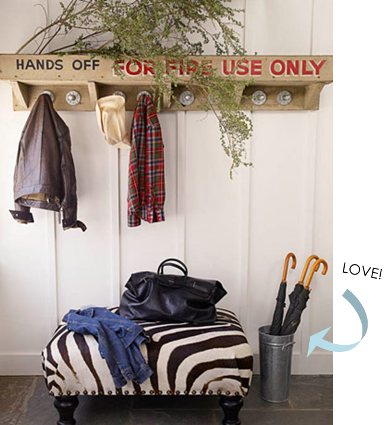 I have a bunch of these galvanized tin buckets from
a cracked out obsessive shopping spree
earlier this summer. I picked up two from Michael's, one of which is on our wall unit downstairs...
...and another which is serving as a toilet paper holder in the guest bathroom.
(sorry, there's no good way to photograph anything that sits next to the porcelain god.)
But I have one more, a larger one (right), that I picked up for only $5 at an antique warehouse (it was about the only thing I could afford in there and I was more than happy to take it off their overpriced hands).
I'm thinking that next to my hopefully-soon-to-be-acquired-buffet, filled with a few umbrellas, it will finally find its rightful place in our home! Now my only decision is black or white umbrellas. Against my white walls, black would definitely pop. But next to a black buffet would it be too much? Hmm...