I have worked my little behind off today!


Yesterday I expressed my angst with Hubbs over the fact that I don't feel like I'm pulling my weight around here. I may be a "real" housewife a couple times a week, but my other days are spent blogging, watching Netflix, and chatting on my favorite boards. I have this problem with waking up, walking into the computer room and staying there. So today, I sought to remedy that.

My alarm clock went off at 6:45 and I contained myself in my bedroom. Since we're still lacking dressers (we'll get them in 3 weeks!) our clothes have been piled in a heap to one side of our bedroom. So I started folding.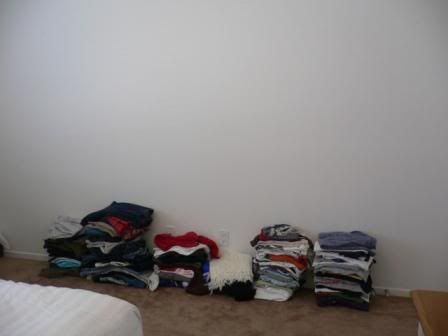 About midway through my task, Hubbs came home. The Marines ran an obstacle course this morning and were let off until they had to report back after lunch. I was so excited to get to make him breakfast since he always leaves before I wake up. I went right back to work after our meal, stopping only to drop St. Patrick's Day cards, anniversary cards, and a few change of address forms and bills into the mail. I changed our bed linens to our spring/summer bedding (which
really
brightened up the room, although I'd like to get some white pillow cases...) and by 11:00 it was done!

(Warning, these pictures show a barren and unglamourous room! No bedframe, no headboard, no pictures... You'd never know we've been together for four years--we look like poor newlyweds!)

Yes, my nightstand is a mini-fridge. ;0) We keep jugs of water in there (and in the desert, it's very nice!).



This is the corner where our pig-pile clothes used to be.



Our first coffee table now does double duty as our media stand. It's also covering our pile of pajamas. (I was watching old episodes of The Simpsons.)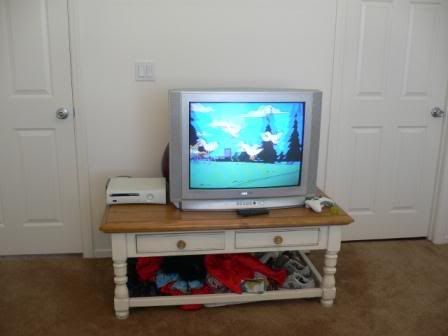 After all my hard work, I turned around and got right down to business making lunch for Hubbs and me. We had fresh spaghetti with garlic bread with fresh Parmesan cheese melting on top. Mmm! Hubbs even remarked how nice today was going to be since he'd be eating "three home cooked meals." He left for work at 12:30 and I did the dishes. Afterwards, I cooked up a batch of oatmeal raisin cookies (from scratch!! go me!!), and now...I'm pooped! No wonder housewives were so trim--they never had time to sit down and relax!

My cookies turned out delicious. I used the "lighter" recipe version from my Betty Crocker cook book and they are light! Lighter than air, and so fluffy! Almost more like a muffin than a cookie.

(Dinner plate from Crate & Barrel.)


Oatmeal-Raisin Cookies

2/3-cup granulated sugar
2/3-cup packed brown sugar
1/2-cup butter or margarine, softened
1/2-cup unsweetened applesauce (this is what makes them so fluffy)
1/2-cup egg substitute (I use All Whites liquid egg whites)
1-teaspoon baking soda
1-teaspoon ground cinnamon*
1-teaspoon vanilla
1/2-teaspoon of baking powder
1/2-teaspoon of salt
3-cups quick-cooking or old fashioned oats
1-cup all purpose flour
1-cup raisins

1. Heat oven to 375 degrees F.
2. In large bowl beat all ingredients except flour, oats, and raisins with an electric mixer on medium speed, or mix with spoon. Stir in oats, flour, and raisins.
3. On ungreased cookie sheet, drop dough in rounded spoonfuls about 2-inches apart.
4. Bake 9 to 11 minutes until light brown. Immediately remove from cookie sheet to wire rack.

*I realized too late that I was out of cinnamon, so I used pumpkin pie spice instead. It gave the cookies a very warm flavor, but they don't taste like pumpkin pie.

And look what happened to show up as I was pulling the last batch from the oven: my $9 skirt!

Ordering it a size larger was a perfect move because it hits my legs at a tea-length. (Forgive my un-matching shirt, no shoes, and no hose.)

So now, I'm going to kick back, watch some Law & Order: Criminal Intent on Netflix, and enjoy myself! The best part about my free afternoon is I feel like I have earned it. I think it's been a most rewarding day.
...mm, now I want lemonade...