Last night Jason came into our room and found me hunched over my nails going at them with the nail file.


"
What are you doing?!
" Me, looking up confused: "
Filing my nails.
" "
But you're supposed to go get your nails done tomorrow!
" "
I canceled the appointment.
" "
Why?
" "
Because you need a jersey for softball, and it costs $26. My nails would have cost $20, so this way we're really only spending $6 out of pocket.
" "
But you've been planning on that for weeks!
" "
I know, but softball is important to you.
"
And you know what? This morning I woke up feeling so happy about my decision. I feel like the habits and thoughts of a frugal housewife are finally sinking into my subconscious. Truth-be-told, it started when we were still living in North Carolina. I had the great fortune of working with a young Army wife named Alana (she recently gave brith to a beautiful baby boy, named Hunter).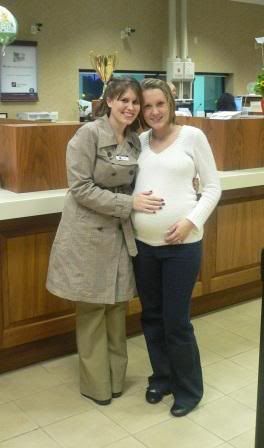 She was (and still is) the sweetest, happiest person you could ever hope to have for a friend. It was through her that I learned my favorite mantra, "The happiest people don't have the best of everything. They make the best of everything they have." She was so happy and so content to be a wife and mother. It made me really evaluate my life and the way I behaved.
Now that I've started learning more about being a WWII-era housewife, it's making me realize that I need to stop being so reliant on commercial products. Yes I still buy repro dresses, because ladies, let's admit it, I can't work a sewing machine! I can patch a hole and sew a button with no problem, but if I made a dress I'd look about as glamorous as Lucy and Ethel here in their feed-sack dresses.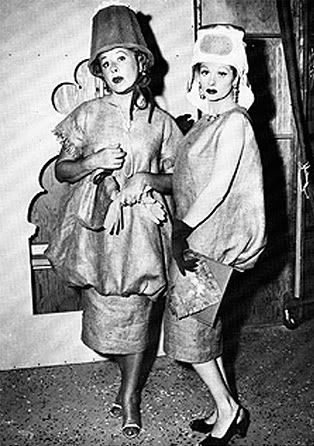 But I am getting better. Now that I've built up a decent wardrobe I can slow down on buying new items. I've started scouring eBay and Etsy for real vintage clothes, or at least cheaper repros. I'm learning how to make my clothes serve more than one purpose (one pair of white shoes goes with ten different outfits!), and I'm getting better at making sweets from scratch. I'm trying so hard to simplify my life, and darn it--I'm proud of myself for it! It's not easy when you've been raised in a material obsessed place like California; a place that trys to tell you what you have is more important than who you are.

(If you made it through my ramblings this far, thank you thank you thank you!) Inspired by all these wonderful feelings and thoughts, I made a plan of attack to continue the simplification process:
Household:
- Start making my own cleaning products (here's a
recipe
I found for a multipurpose cleaner, I might just add some lemon juice to help with the smell).
I love this idea because 1.) I hate the cost of Windex 2.) The cheap stuff streaks 3.) I always lose the bottle and have to buy more, then I end up finding the other one, still totally full and 4.) I secretly want to decorate the bottle like
50's Gal's
reader did: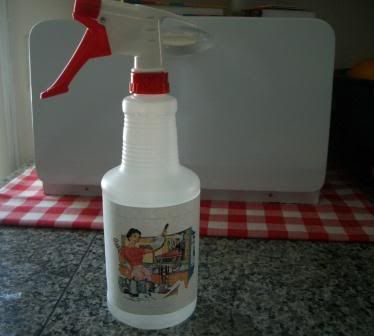 - Start making my own laundry detergent (
recipe
).

Food & Groceries:
- Start buying plain ice cream.
I doubt very much that they had flavors such as "nutty-buddy-crunchy-munchy-swirly-twirly" back in the 40's and 50's. So to help my figure (and my mindset) I'm going to stick to the classics. After all, chocolate a strawberry ice cream make the best milkshakes!
- Learn to cook more dinners from scratch.
I can do spaghetti, and that's about it. Of course, I used bottled sauce. And frozen garlic bread. In any event, I want to learn to make more soups, and learn how to cook with lentils.
- Start cutting coupons for anything and everything!
This means I may have to find a reputable online coupon site as well. If you know of any, please let me know!
- Make meals last longer.
My clothes do double duty, why shouldn't my food?

Money
- Try to buy all dresses, shoes, hats, and accessories from Etsy or eBay.
- Start using Ebates more.
Have you heard of this place? It's awesome, especially if you do mostly online shopping! I added a link in my right hand side bar, plus if you sign up you get $5, and I'll get $5 for referring you, and you'll get $5 for referring your friends (can we say Amway?). ;0)
- Work the military discount when traveling, or for anything.
Certain hotels have done away with it, and it's going to start negating where we stay when we travel. Plus, you'd be surprised how many local antique dealers are willing to give you a 10% military discount to close the deal on a piece of furniture!
- Try to shop exclusively on base.
We aren't taxed at the exchange and we're only charged a surcharge at the commissary (I think it was $5 on a $100 grocery trip).

So there it is. My plan in black and white. I intend to try my hardest, shop the cheapest, and make everything count down to the last dime! We're in a failing economy--now is not the time to go willy nilly!