Last night we had the Mardi Gras benefit auction hosted by the Officer's Spouses' Club here on base. The night was not what we had envisioned. While we won a silent auction, the live auction was completely heart breaking. I literally had to step out of the room because I was bawling when they started the bid on a gorgeous collection of vintage Marine Corps items at $1,500. It ended up selling for well over $4,000. I told Jason the whole evening felt like a slap in the face. It was as if the commissioned Marines had invited the enlisted Marines just to rub their money in our faces. Maybe this sounds a little dramatic, but with the auctioneer (a.k.a. the base General) telling the officers, "I know you have this much money!" or "You can afford $3,500! We just gave you a raise!" it was really belittling. It's highly doubtful we'll go again next year, or if we do, we'll stick strictly to the silent auction. Had we known the live auction would end up like that, we probably would have. I swear if my husband ever becomes an officer I will never, ever flaunt my money that way or use it to make others feel inferior!

The evening wasn't a complete bust. I looked spectacular! (Yes, yes, can we say immodest?) Upon entering the room I had three compliments on my dress right away. While walking around, I was stopped by several WWII vets and asked about my stockings. One of their wives got down real close and asked if the lines were painted on. I laughed and said, "They're nylon, so the boys can still use the silk for their parachutes!" That gave them a real chuckle! I had random strangers tell me how gorgeous my whole outfit was; one gentleman (dressed head to toe in a blue and white seersucker suit--damn me for not having my camera!) told me my shoes were, "amazing!" Hubbs just sat and grinned as the other Marines prodded him with the usual question of, "What do you do to get your wife to dress like that?!" He just shook his head and said, "That's all her."
So the night was an emotional roller coaster. ;0)

But as I said, we didn't walk away empty handed! We did win on a silent auction for this adorable die-cast 1957 Chevy Bel Air. Oh, I'm so happy with it--which is odd, because I am not a die-cast car type of person! But I wish I could blow it up to actual size!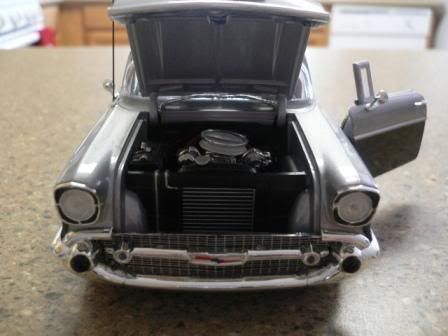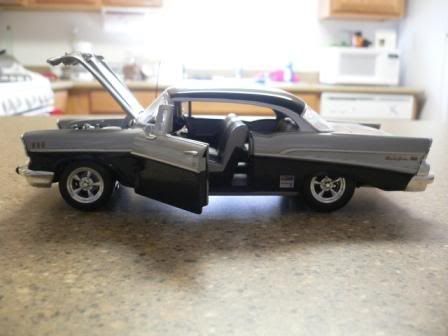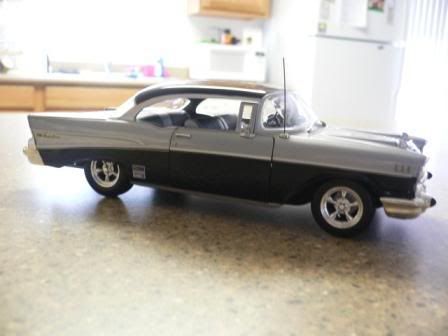 Look at the
dice in the mirror
!!
I love the little licence plate. We thought this was where our adventure ended, until my nail snagged the V and up came the trunk.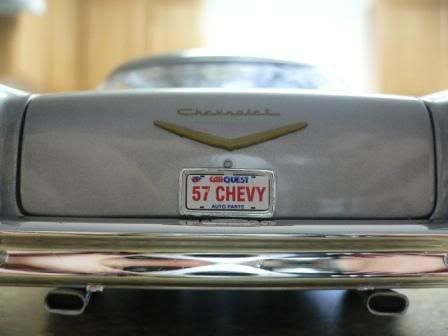 And surprised us with a trunk full of die-cast goodies! Isn't it so sweet?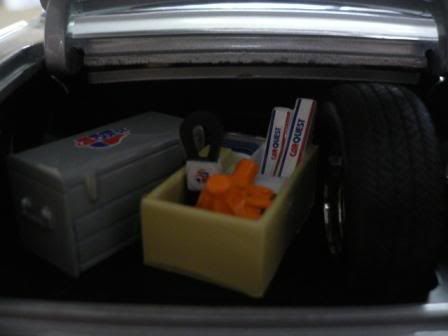 Oh, I suppose you'd like to see the "spectacular" outfit, huh? Do the shoes and stockings not totally make the outfit?! And those shoes were quite comfortable! I was worried as they were 4-inch heels, but they have one of those hidden platforms in them to make wearing easier--and it was!



Red and black dress by Ruby Rox, seamed stockings by Leg Avenue with garter belt (not shown) from Victoria's Secret, t-strap shoes by Fahrenheit, black and red feather fascinator from Etsy seller Boring Sydney, diamond earrings from personal collection.
The fascinator from Boring Sidney was wonderful and complimented the outfit in a way I never knew existed!
So, we learned a few things; the evening
definitely
put spending money into perspective; overall my husband and I still had a good night and went to bed laughing at our own silliness and goofiness. And at the end of the day that's what really matters. Not $4,000 collectibles.