I must be the last person in the world to know that Gary Sinise (a.k.a. Lieutenant Dan from
Forest Gump
) has a band so smartly named, "Gary Sinise and the Lieutenant Dan Band." I must have laughed for a good minute after hearing that, which goes to show just how simple my mind really is and how easily I'm entertained. But it turns out that
he's giving a free concert
here on base for the Marines and their families!! I'm so excited! I've never been at a base that gets
all
any of the cool celebrities (but when Hubbs was in Iraq, he did get to meet Chuck Norris).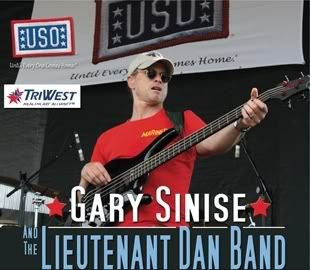 So, very happy for the event, I decided I need to dress accordingly. Well...semi-accordingly. Here's my logic: Forest Gump met Lt. Dan when they were in Vietnam together. Vietnam was during the sixties. I don't like the sixties. But, the concert is being thrown by the USO. Grandma used to rave about the USO when she was working for them in the 1940's (she and my grandpa swear she danced with the entire 7th Fleet of the Navy). I like the 1940's. There was war then, and there was a war in the 1960's. Therefore, I can just as easily wear WWII garb to this concert! (Is your brain fried yet?)


In any event, logical or otherwise, this is the dress I've decided to wear. It's a WWII-era dress.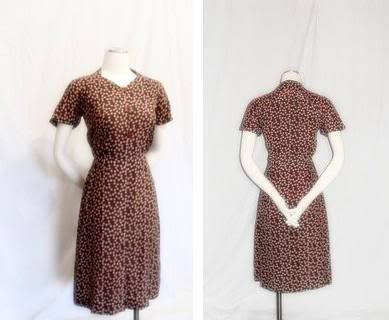 I still have to find the right shoes to go with it (brown? pink? chocolate?), but I'm more excited about the pin I'll be wearing with it.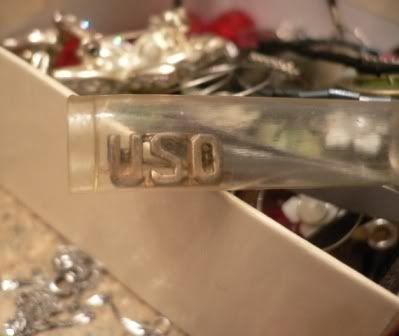 It's my grandmother's USO pin. She received it when she was 19 years old, in 1943--right smack in the middle of the war. It makes it the oldest item I own (older than her diamond), and one of my most special vintage pieces.
I'm terrified to wear it; I don't want the clasp to come loose. However, the outfit will not be complete without it. So as soon as the dress arrives I'll try it on and see how well it holds. Grandma informs me she danced with quite a few sailors with this little pin attached firmly to her shoulder. And while my husband is not a sailor but a Marine, it's technically a department of the Navy!