So...it's looking like we owe. Hubbs is furious. I'm complacent. I'm not going to bore you with the details, suffice to say we're now hunting down every scrap of paper that we can find so we can itemize and bring the number down to a non-stinging amount. He has informed me that I am "never working again." We would have received a nice refund without my W-4s. ::shrugs:: What can you do?
We did come home and do some retail therapy though. I know what you're thinking:
spending was at a halt
. Okay, side note: Layne, my favorite person in the whole world, once said to me (we were talking about our cash drawers balancing at the bank): "It's all a matter of perception. When you start the night missing $500, and finish only missing $10, you're happy to accept that $10 loss!" Her philosophy works on so many levels. One day, we thought we owed the IRS over $2,000. The next, we owe them $500. Now, with the itemizing we're doing it's looking more like $300. I'm much happier with that figure than I was before!
So Hubbs got (wait for it...) baseball cards, and I was rewarded with this beauty: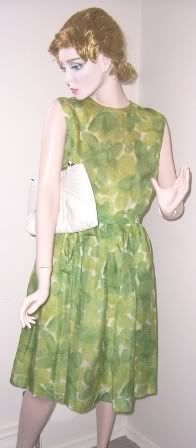 It's a 1960's day dress from Etsy, and I've had my eye on it for a while. At only $22, it was a complete bargain! And it's so pretty and floaty, it just makes me think of summer! Today was one of the first days we finally hit the high eighties and it felt
so good
to be outside. It brought to mind images of lemonade and afternoons spent watching the clouds blow by. The breeze was blowing, the sun was shining, the bells were ringing--I felt like I was in a musical! I'd even donned my best "a-lady-does-her-taxes" outfit. And what exactly
does
a lady wear to do her taxes? Anything that keeps her from sweating!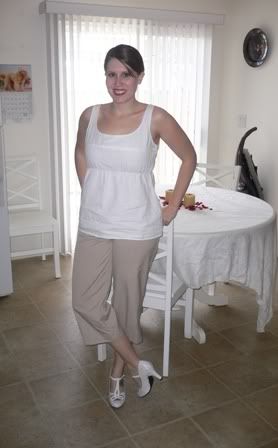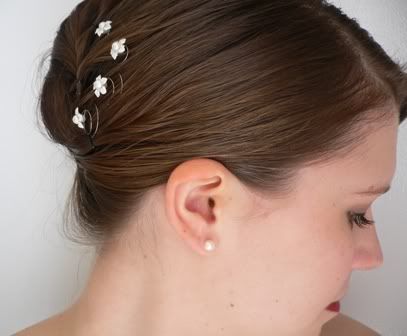 White blouse from The Gap, linen capri pants from Maurice's, cherry cha-cha shoes by TUK, flower pearls from Claire's, pearl earrings from personal collection.
I absolutely love the simplicity of this outfit. The shirt is very lightweight and comfortable and there's something "sweet" about it. The capri's and shoes have been featured in other outfits as I'm trying my hardest to mix-and-match most of my wardrobe. When it comes to separates I'm trying to make most items do double duty. Although I have to start relaying this concept to my accessories as well. I don't have a pair of plain white shoes (am thinking I'd like some Mary Jane's or T-straps), nor do I have a simple white purse (and how many times could those items do double duty?!). So, after the dust settles and the IRS is out of my hair, I'm hoping I can start polishing my wardrobe. In the meantime, I'm just happy I don't have to hawk all of our belongings to pay our tax bill!