PLACES TO EAT
If it's called "sin city," we definitely partook in the gluttony aspect of the seven deadly sins! (Note: links will take you to the
restaurant
website, not the hotel.)
Margaritaville (next to The Flamingo)
Try... the classic Cheesebruger in Paradise (like the song!), with a big kosher pickle on the side! And bonus: they're finally offering veggie burgers on the menu.


The Café Bellagio (inside The Bellagio)
Try... the Chilean sea bass with roasted asparagus. The fish is pan seared, which makes the edges golden and crispy. Mm! Enjoy a fabulous cocktail with your meal--the pomegranate cherry martini is heavenly, but watch those cherries on the skewer! Baby, those are sour!


Nine Fine Irishmen Pub (inside New York, New York)
Try... the onion rings (which are first marinated in bloody Mary mix) with hot mustard, and the fish n' chips with the malt vinegar. Classic pub eating at its best. Plus, live entertainment! And if you're feeling really daring, try one of their many types of whiskey.

Yours truly after having her first shot of Jameson Irish Whiskey. I was positive that I was going to have hair on my chest later that day.




And if you fancy some lovely Irish-inspired jewelry, they can help you out there too! Check out the gorgeous diamante necklace I snagged. I couldn't resist the perfect emerald green or the way the lights bounced off those crystals.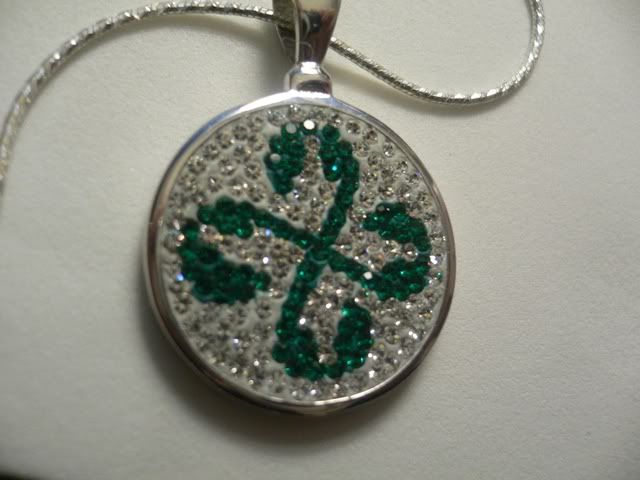 Lombardi's Romagna Mia (The Miracle Mile Shops inside Planet Hollywood)
Try... the shrimp scampi, if you're in the mood for something light. Garlic and capers add a wonderful taste to this dish. And if you're int he mood for dessert, their crème brûlée is creamy without being too sweet.


The Grand Wok & Sushi Bar (inside The MGM Grand)
Try... the spicy tuna roll, if you like sushi (like Jason), or the Vietnamese spring rolls if you can't quite handle the raw stuff (like me). They're stuffed with chilled shrimp, rice, and a hint of mint. If you're allergic to peanuts, be sure to ask them to leave the crushed stuff off the dipping sauce (it's delicious)!


Fellini's Ristorante (inside The Stratosphere)
We popped into Fellini's for a quick bite before we caught a show. Try... the shrimp cocktail (I couldn't get enough on our trip). You get six huge tiger shrimp, each with their own lemon wedge. Their cocktail sauce has a nice little kick to it as well.


Trevi (inside the Forum Shops at Caesar's)
Try... the eggplant appetizer and the cheese ravioli--both large enough to share! Their cheese ravioli isn't like your grocery-store-variety. The cheeses are smokey, nutty, and rich. Plus, you can enjoy your meal under the lights of the (replica) Trevi Fountain.


America (inside New York, New York)
Try... (and share) the nachos--get 'em sans beans if you're a veghead. For comfort food, dig into their creamy macaroni and cheese. And to satisfy your sweet tooth, try one of their delicious milkshakes! Simple as it was, this had to be one of our favorite meals while we were in Las Vegas. Sometimes, there's no substitute for "home cooked" meals.


The dessert bar in the Village Eateries (inside New York, New York's Greenwich Village)
Try... the caramel apple bar, and the lemon bar. If I could let out a guttural moan of sheer delectability, I would! This dessert bar caught my eye and I couldn't stop staring! Jason and I shared two of the dessert bars (I wanted one of each all to myself, but my husband quickly vetoed that idea).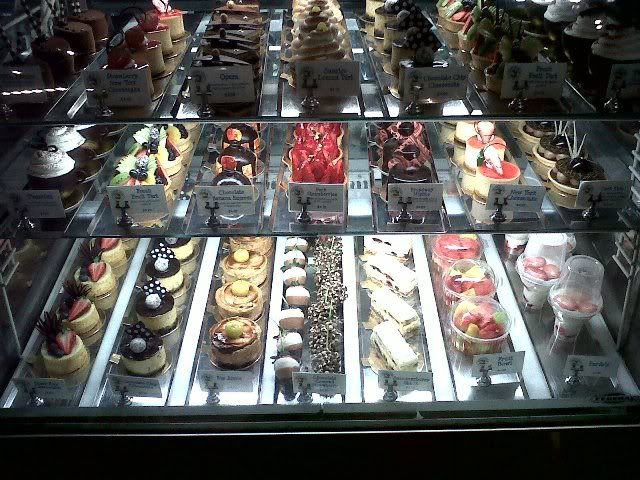 JJ's Boulangerie (inside Paris), and Café Belle Madeleine (also inside Paris)
I'm grouping these two together because neither is outstanding. While the café has some amazing desserts (try the six-inch chocolate éclaire), both it and the boulangerie have horrible line systems, a seemingly clueless staff, and a run-down atmosphere. "Everything's sexier in Paris"? Mm, not so much.


Tao (inside The Venetian)
Try... the crispy Thai shrimp with spicy pineapple sauce, the Imperial vegetable egg rolls, and the Hong Kong XO shrimp with long beans. Yeeeeah...we definitely got gluttonous in Tao. And that's not even counting the delicious chocolate spring rolls we had for dessert...