Y
ou may remember
this post
on our coffee table; the one that badly needed painting since the finish had been stripped by Bath & Body Works Wall Flower oil. But what you didn't see in those photos was this:
Yes. My paint job in all its splotchy goodness. I don't know what the hell happened. I think that was the first night the temperature really fell in SoCal, and it just effed up the paint beyond belief. I tried to cover it with regular roll-on paint, but nothing seemed to fix the problem. So instead, I stripped it down and painted the whole thing Heirloom white. It's now sitting in Jason's game room awaiting the TV.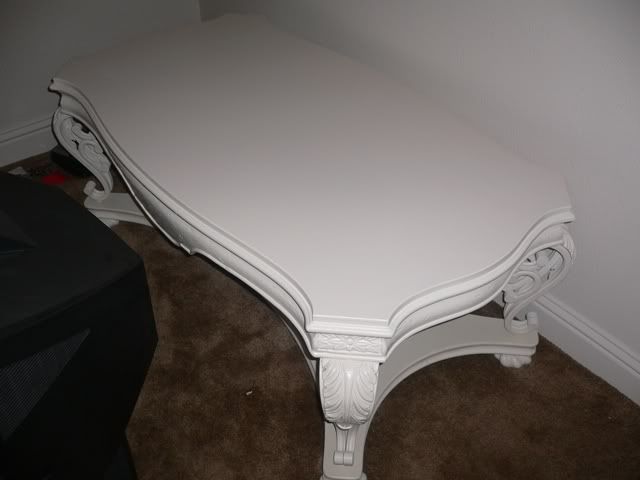 Wondering why I decided not to use the piece I'd
slaved, agonized, cursed, and cried over
worked so diligently on? Blame Pottery Barn. Well, Pottery Barn and my
catalogue addiction
. While sipping my Plantation Mint tea and leisurely flipping through the glossy pages of their January catalogue, my heart absolutely stopped when I saw this photo.
It's not just that Benjamin Moore Wedgewood Gray wall (although how gorgeous is it over those planks?). Or that amazing photo gallery set-up (humina humina humina) or even that bright green tree in that to die for braided basket. No, what made my heart skip a beat (or twelve!) was the Norfolk Bench.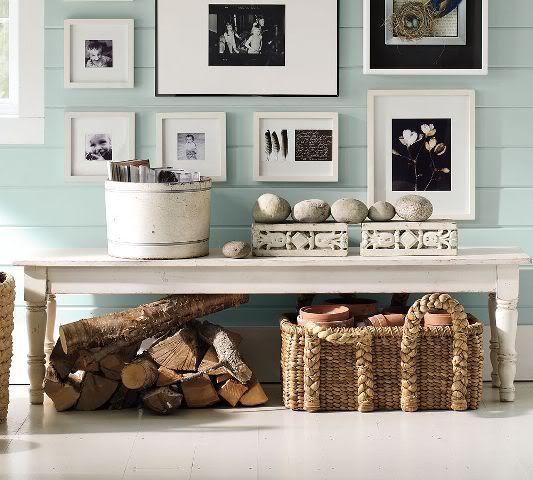 The chunky legs, the distressing. The whitewash finish. And I practically started salivating when I read this in the description:
... We've captured its appeal in this family-friendly bench, crafted with the generous proportions of 19th-century Irish farmhouse furniture.
Oh shut up! You all know
I'm a sucker
for all things Irish. But at $400, this bench was just not meant to be. I immediately started scheming over how I could turn my once-French Country coffee table into an Irish farmhouse coffee table.
Imagine my delight when I remembered we had this in the house.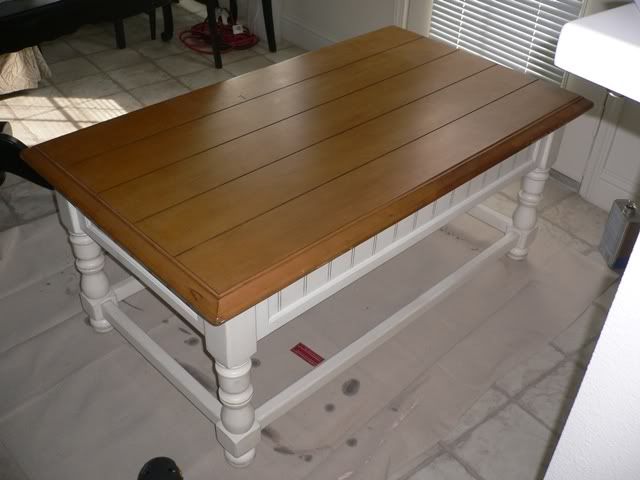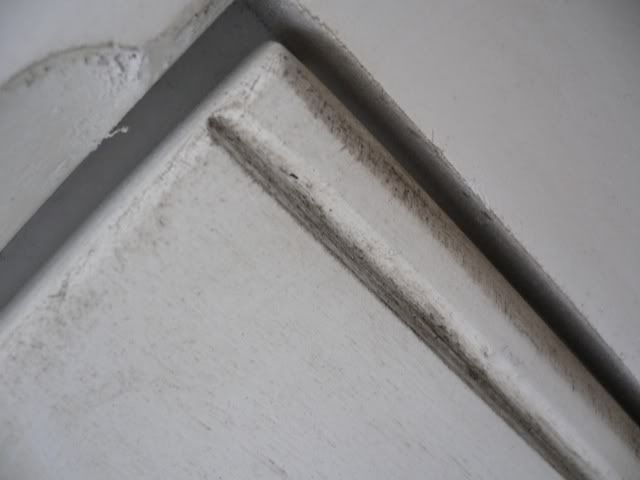 That planked top, those turned legs,
that distressing
! And it was free! All it needed was a couple coats of Heirloom White paint (and only to the top! the bottom was a near perfect match as it was!), some more distressing...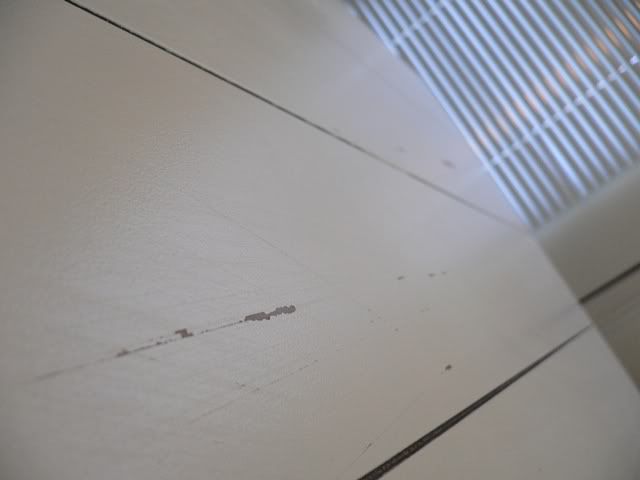 ...some Ralph Lauren Smoke glaze (thank you Shanty Sisters!)...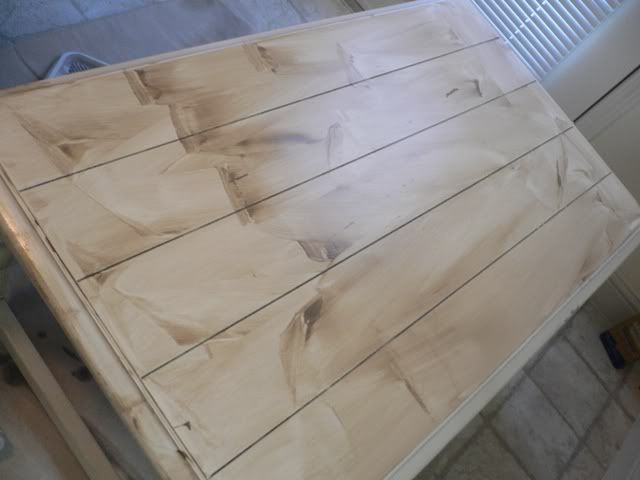 ..and some fabulous new hardware courtesy of Anthropologie...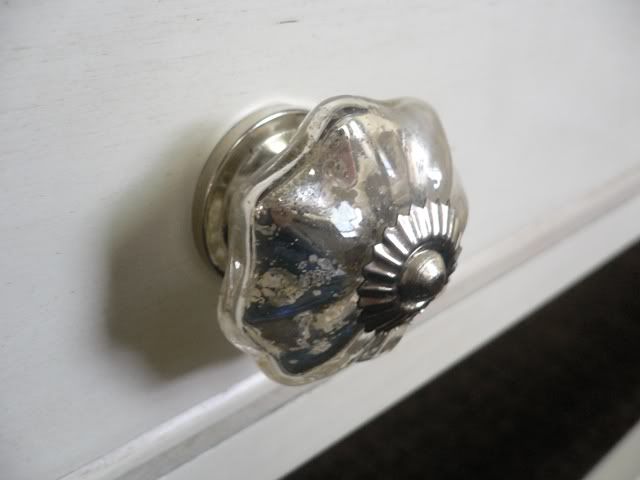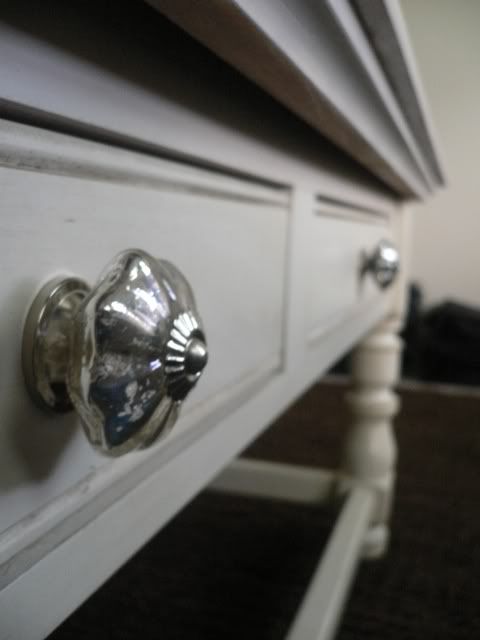 ...and I now have my very own Pottery Barn knock-off Irish farm house coffee table for the sweet sweet price of $35! AH!
Fabulous
!
For those who are curious, the table originally came from a local furniture store called Jerome's, but I'm pretty sure it's an Ashley Furniture table.
I'll be linking up to:
Inspired Ideas
@ The Shabby Chic Cottage
Make Your Monday
@ The Twice Remembered Cottage
Trash to Treasure Tuesday
@ Reinvented
Power of Paint Party
@ Domestically Speaking
The Pottery Barn Knock-Off Party
@ Homebody