W
hat a weekend! I'm still exhausted and I think I could nap the day away! But I knew I had to do a blog post about my parents' 50th birthday party first--not to mention our baseball game on Sunday (Go Padres!! We won!!).
The party had a wine theme; these were the centerpieces we concocted.
Labels made by yours truly.
Orchids floating in purple water.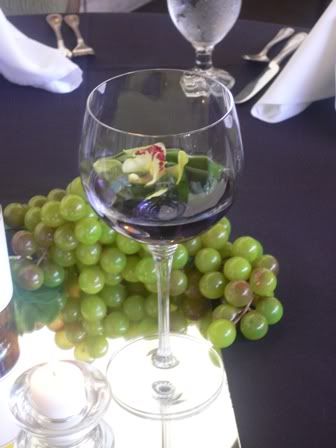 Sir Winchester greeting the guests. He was a gift to my mother from Stephanie and I one year for Mother's Day.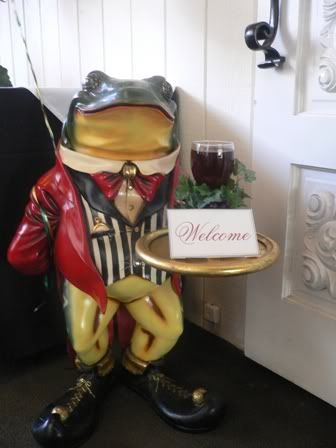 The eight layer birthday cake was topped with chocolate pirouettes, cream puffs, and crushed Heath Bar candy bar. I stayed far away from it, and I was quite proud of myself!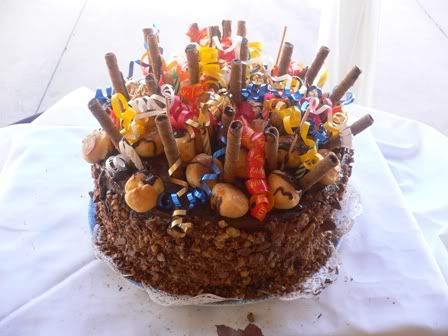 Late in the evening, Jason and I dancing with twins Emily and Riley.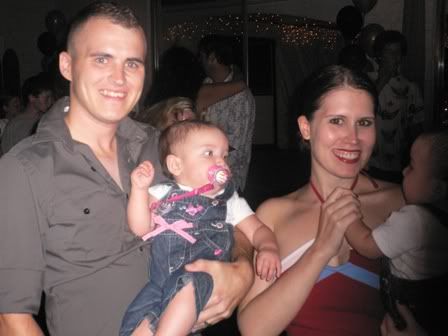 Riley loved the band!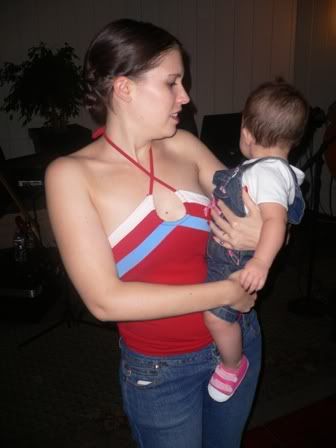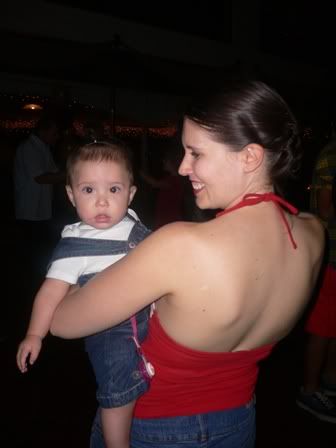 And Jason loved Riley! If you look closely you can see him kissing her little head. She was just about to fall asleep, as he was rocking her to a slow song by the band.
Emily escaped the night branded by my signature staple: red lipstick!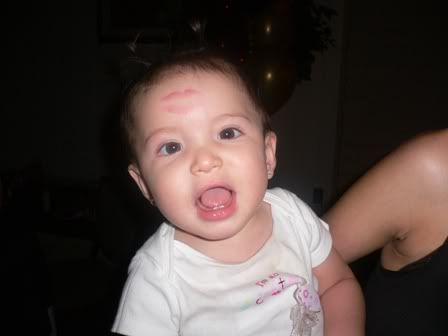 Sunday was the baseball game. We had a lovely lunch at The Tilted Kilt in downtown San Diego, then climbed the thousand stairs up to the nosebleed section for our seats (hey--the tickets were free! We weren't going to complain!)
Ever wondered what I drive around in? That's my little blue car behind me!
It was hot up there, but we had a great time!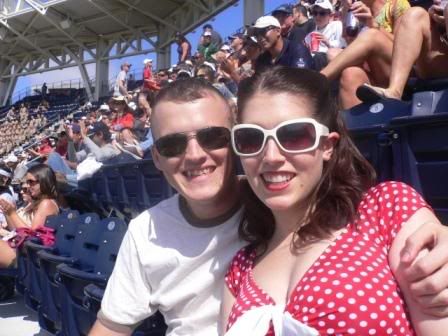 Outfit Details (Saturday): top - Old Navy; jean capris - Anchor Blue; shoes - Spright wedges by Keds in Tomato; mani-pedi - OPI Vodka & Caviar.

Outfit Details (Sunday): top - Pin Up Girl Clothing; jeans - Banana Republic; jacket - from high school; shoes - Spright wedges by Keds in Tomato; purse - eBay; sunglasses - Target; mani-pedi - OPI Vodka & Caviar.