R
emember this dress?
I was dreaming of wearing it on our trip up to Oregon (I know--gag! She's talking about Oregon,
again
!). The only problem was 1.) it's $160, and that's almost a full month's worth of my allowance and 2.) it's not vintage. And while that's not exactly a problem, I was being snobby and really wanted something that wasn't from a retail store. I scoured eBay and all of the vintage stores that popped up from hours of Googling, but it was on etsy that I hit the jackpot--and only after I'd tried numerous search combinations of "trench dress," "jacket dress," "princess dress," and I think finally "flare coat."
At a mere fraction of the cost of the Victoria's Secret dress ($36), it leaves me with enough money to buy a fabulous vintage brooch, and even a new set of black shoes for the trip. I've been trying to find a pair that will be comfortable enough to do a lot of walking around in, sturdy enough to withstand some light unpleasant weather, and fashionable enough that I can still look like a lady!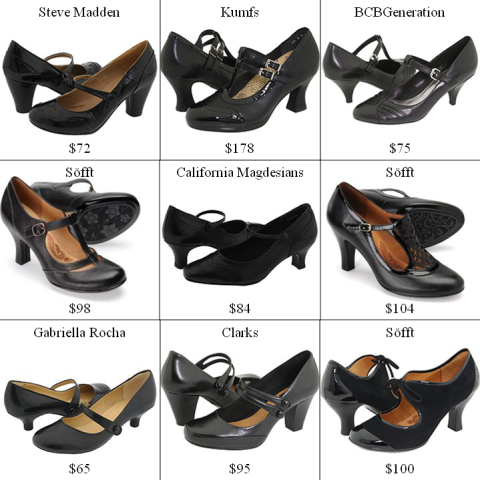 I'm inclined to go with one of the Söfft pairs, as I've worn them on occasions when walking is a big part of the itinerary and they're very comfy!
Either way, I'm quite happy with my "knock-off" Victoria's Secret dress and can't wait for it to get here! Now... back to brooch hunting...