W
e've been talking about finding a little mail sorter for our home. Just something simple, and not sterile looking--no metal office supplies of any sort were going to find their way into my little house! Jason and I had only tossed the idea back and forth once or twice and then kind of forgot about it.
But then we went on our three hour tour yesterday and wound up in TJ Maxx. I've been snubbing them lately because I've been on a real kick about finding furniture in flea markets or antique stores. I want stuff with age. So I was very shocked when I found myself longing after a few of the items on the shelves.
These little mushrooms ($8 and $10 each) would have been so adorable painted white and displayed on one of our black pieces of furniture--ideally, on my wall unit, which has yet to be painted.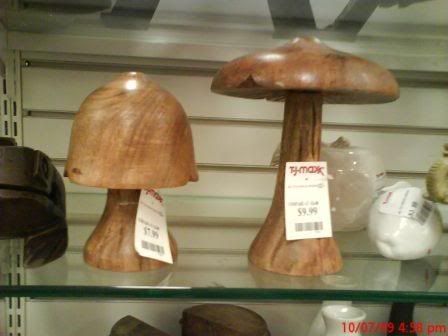 Jason spotted this red transferware set. I could have had a perfect set of six for only $86 total, but remembered in time that as much as I love transferware, my love of colors tend to shift dramatically. I can always repaint furniture. I can't repaint dishes. So they stayed on the shelves.
Then we came across this.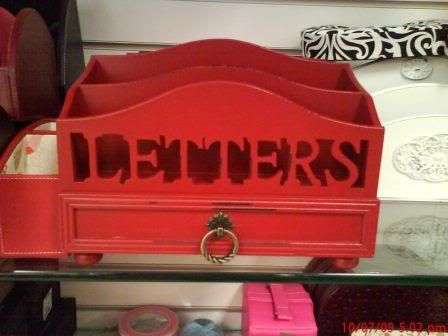 A bright cherry red mail sorter. ::swoon:: I was immediately in love with the color. But my affections waned when I started saying, "Well, I'll want to replace the hardware. And I wish it didn't say LETTERS. And I wish the section dividers were a bit taller..." And the price tag on it was $11. (I know, I know, big whoop. But I wasn't feeling the $11 plus all the changes I wanted to make to such a small piece.) Then, we spotted the white one right next to it.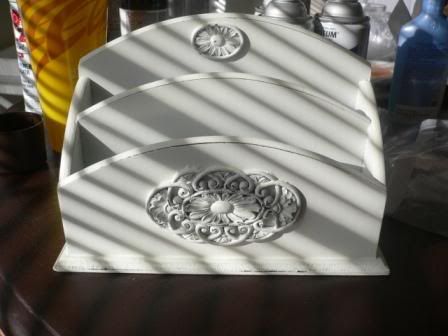 (Sorry for the evening sun coming through the blinds.)
(Much better.)
Since it was already white, there was no need to prime it. Just a quick rub down with my sanding sponge and a couple coats of Rustoleum Colonial Red (a very nice rich red color which reminds me of an old barn).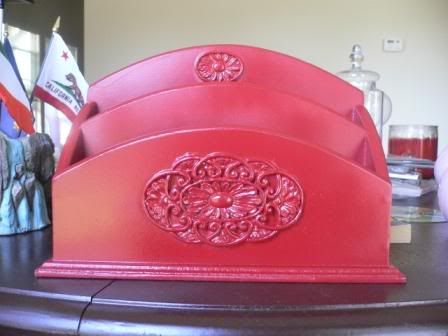 Another quick passover with my sanding sponge to let some of the white show through...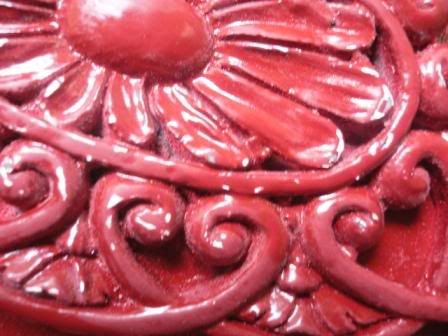 And voila! A happy little mail sorter. It now sits right next to our front door where we can drop bills and magazines once we get them, and stack them up for when they're ready to go out. I was thinking of painting my table black, but now I'm thinking I may go white, that way I'll have a little red white and blue action going on!
So overall I spent around $8 for the whole project. And now I have a new can of spray paint in my arsenal! ;)