W
elcome to White Planes.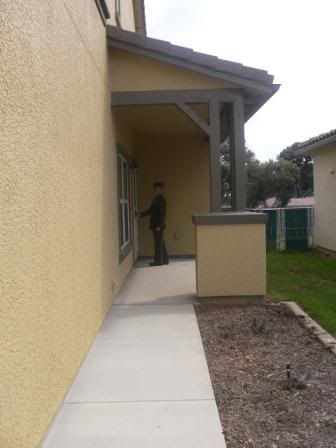 My perfect white kitchen that I am absolutely in love with. (Don't let the lighting fool you. The walls are also bright white.)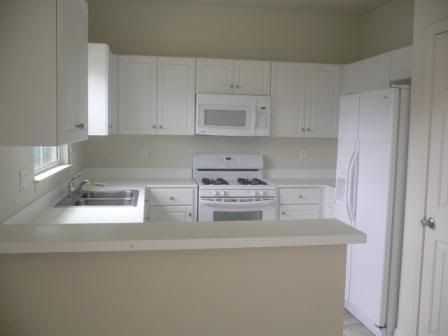 The upstairs landing.
Looking into our bedroom from our bathroom.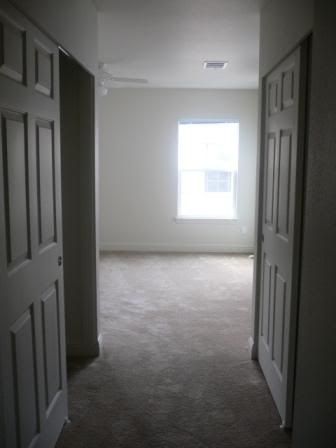 The light in our new house is amazing. The breeze coming off of the ocean is close to heavenly. The fact that we are the
very first people to ever live in this house
sweetens the entire deal! We can't get over the size (we also have a large living room, dining room, and a front sitting room) and I think in the last week I've walked almost 30 miles just inside the house alone. Up the stairs, down the stairs, in the garage, around the garage, out the back door, in the kitchen--it's been surreal. The kitchen has to be my most favorite room in the house right now. It's so pristine. I have a gorgeous window over the sink where I can enjoy the breeze and the sunshine that pours through it.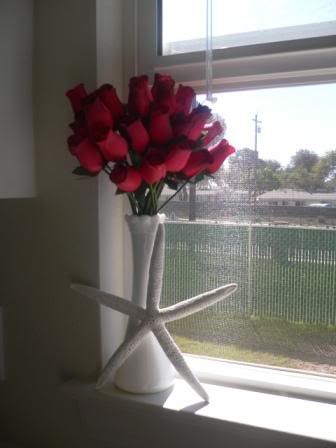 And of course, the mere fact that the kitchen is white is another reason I love it. My black and red accessories really pop.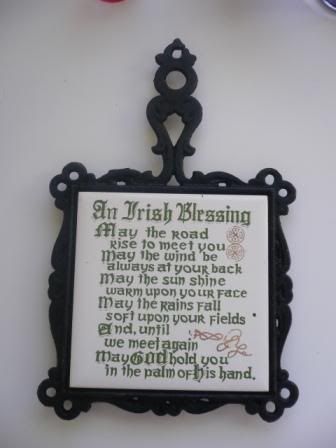 Of course, me being the accident prone little creature I am, I didn't make it through moving day unscathed.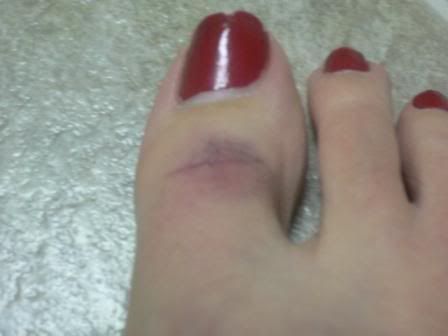 My near broken toe, courtesy of our bedroom dresser. DROP! Right on it.
We've been settling in bit by bit everyday. My brother helped us move, and he was even sweet enough to take me to a local antique mall. I went hoping to find a desk for our office, but walked out with a gorgeous new chair for it instead.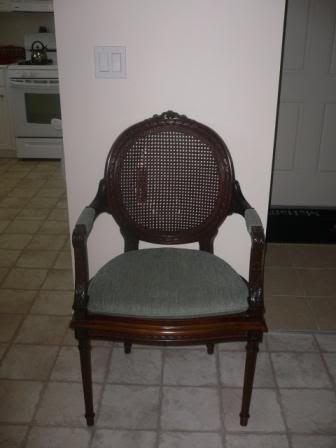 It only has the one flaw in the caning, but my step-mom assures me that you can buy rolls of caning to fix it. Worse case scenario, I cut it out and upholster the back instead. I'm working on the seat cushion this weekend--my dad was just up here with his jigsaw to cut out a nice base for the seat. Here it is currently.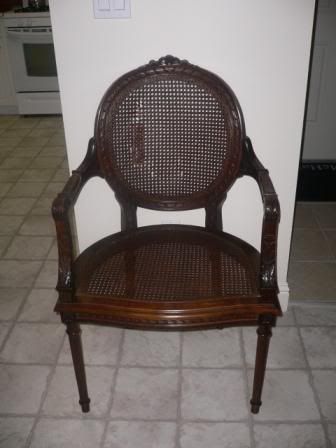 Today, our first real day off, I'm embellishing my
Ikea shelves
--wait until you see them! They look SO much better than before! I'm painting the
washing basin stand
that my mother gave me (imagine my delight when I realized it broke down into pieces), and I'll be upholstering the seat cushion, or at least attempting to. Jason's off for the next two weeks (!!) so the house will come to order soon enough.
There's a lot in store for me on the homefront, but I'll save it for another day!