T
hank you all for you well wishes--not only with my accident but on our anniversary (which is actually
when
I fell). I received a clean bill of health this week, and aside from a few lingering bruises and a rug burn on my knuckle, I'm feeling pretty back to normal. Good thing to because this house has been
ne-glected
!
Today I woke up sweating; while most people hate that, I was thrilled because it means summer has finally hit our little beach town! As I type all my windows are open, the fans are on max power, and I have still have a bit of sweat forming along my brow. I'm in a super cute sundress from American Eagle (purchased on deep discount on July 4--woot!) and it finally feels like the typical California day. So what have I been up to? PAINTING!
I've previously mentioned this white wicker chair that I picked up for our
outdoor pub
that I've been
slacking on
working on. I picked it up for $50 at
Urban Barn
in Escondido. While super sweet, shabby chic doesn't exactly mesh well with Irish debauchery.
So, a quick coat with some leftover Rust-Oleum Espresso paint (seriously? I have an
arsenal
of this stuff--how did I amass so much?!) took some of the charm out of it.
(Forgive the chop job)
Then as I was waiting for it to dry, I realized I
just might
have enough flat black paint to get our
old IKEA night stands
converted as well for the
master bedroom project
. I also busted out an old shower curtain rod for a quick make-over (you'll see it in action in just a sec).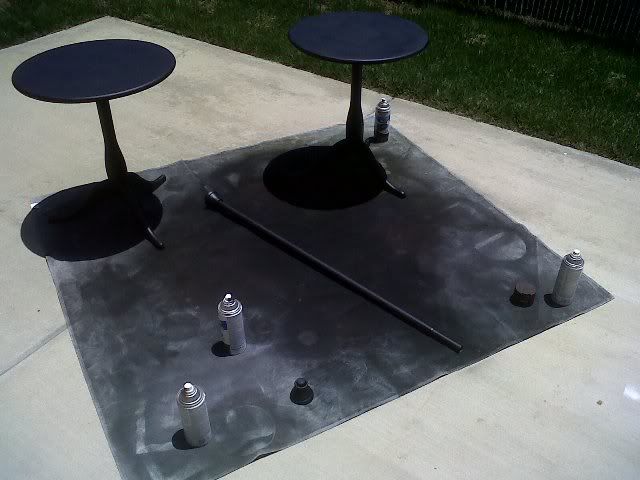 I still plan to go over the tables with a coat of a semi-gloss paint to make them a little more scratch resistant, but I learned my lesson when it comes to using glossy spray paint on flat surfaces (remember
this
coffee table?). So I think I'll stick to a roll on paint.
As for the shower rod...
I wanted to hang some sort of partition in our "dressing room" that connects our bedroom to our bathroom. When Jason comes home I'd like for him to start using our bathroom again instead of keeping all of his stuff in the guest bathroom. So, to allow him to actually be able to see when he's shaving at four a.m. without waking me up, I knew some curtains were in order.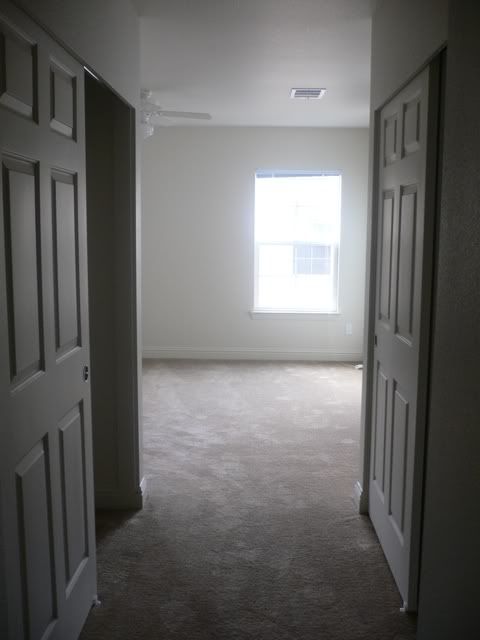 (Obviously this shot is from when we were first moving in)
I'd been using some old off-white sheets as the curtains, but I just wasn't feeling them. Lacking any motivation until today I just let them hang there until I remembered some amazing faux-silk panels I'd retired to the Goodwill bag in our garage. Thankful that I hadn't actually made it over there recently, I dug them out of the bag and immediately hung them on the newly painted rod. Yes, they're a little short on top, but I don't think it's going to matter any.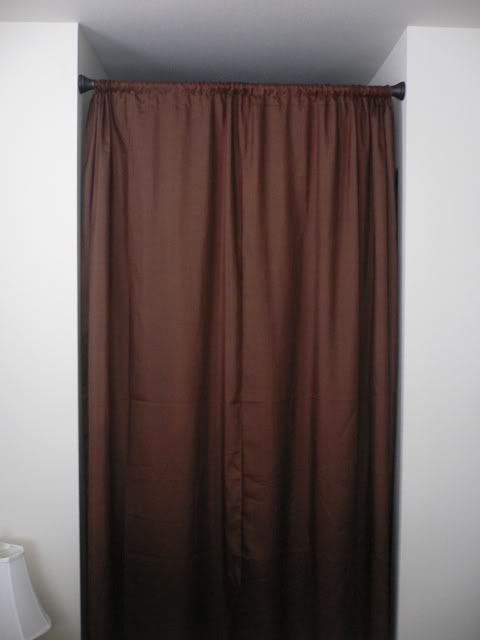 The rich chocolate color up against our white walls is stunning (
waaaaay
better than the off-white sheets), and I love that I was able to use them again--I had loved them so much in our home back in North Carolina. Here they are acting as window panels on our front door.
They matched our accent wall in the living room to a tee!
(Maybe this is why I still have a ton of espresso paint--leftover loves??)
So, that's what I've finally gotten around to doing! I'm thinking I might swing by Home Depot today or tomorrow for some headboard materials. I've been tossing the original plan back and forth and have a feeling the bed may change a bit. I'd like to do something a little more romantic-modern than farmhouse-meets-bed-and-breakfast. I'm trying to keep the idea fairly simple because I'm attempting to talk Jason into upgrading to a king sized bed when he gets home (!!), which means I don't want to do anything too permanent structurally-wise.
Sunday Mom and Step-Dad are coming over to help set up the gazebo. I'm so antsy to get the furniture out of the garage and into the backyard! I can't wait!
So good to be back...
I'm linking up to:
Fresh Coat Fridays
@ Life in the Fun Lane