O
n Sunday Mom, Step-dad, Brother Colton, and Colton's friend Mike came out to the coast and help set up the gazebo I picked up. Of course I shouldn't say "help" set up, because really, Mom and I watched from inside while the guys tried to sort out all the pieces!
Once all the furniture was in, they posed for a cute shot for me to send to Jason. I think I'm going to frame it--don't all pubs have little black and white photos of their laborers? ;)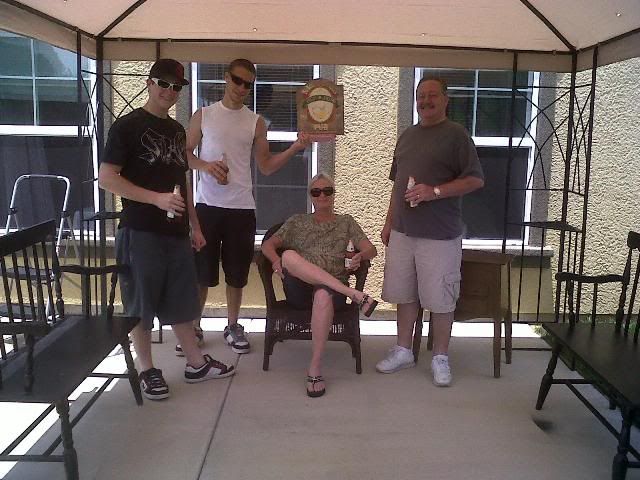 It still needs a looooooot in the way of accessories. But the gazebo was $150 on clearance at Target, and all the furniture was free, minus the $50 I spent on the
wicker chair
Mom is sitting in, so at least I haven't gone too hog wild with spending on my foundation. I'm anxious to start playing with the arrangement of everything (side tables mostly, the seating will definitely stay where it is), finding a chippy old coffee table for the boys to set drinks and play cards on, making cushions and finding a curtain solution (buy mosquito netting? make new ones?) and really trying to bring that pub feel to it.
Any ideas are greatly appreciated and if you have a pub of your own, share! I love looking at real-life inspiration pictures.
I'm hoping by this weekend I can knock two more things off my Master Bedroom list. I have fabric coming for another pillow cover (and will debut them both soon!) and my second over-sized-euro-sham since the first attempt
didn't go so well
. What do you think the winning fabric will be??