R
emember when I had to take back aaaaallllll that
merchandise
I'd stocked up on? Originally, I thought it was around $300 but in the end it was well over four (ah, back when we had money). No, I didn't get my money back (which would have been nice) but I did get every dime back on a gift card. And hey, that's just as good!
It took me almost five months to spend all that merchandise credit, and I think I did a damn good job of it. I stretched that card for all it was worth! I could have easily blown it all on one big purchase, but I was much happier to spend it on accessories that were on clearance, or use it when I didn't have any real money to spend (ahem! like now!). Among other things, I purchased all sorts of pillow covers, table top accessories, a lantern for the pub, dishes, and last week I bought my final items--and came down to having a ¢97 balance on my card (and don't think I won't still use that on my next buy)!
I bought two more of the tiny galvanized tin buckets, like the one in our living room tray. I plan on using these as planters in the bathrooms. They make the
best
planters!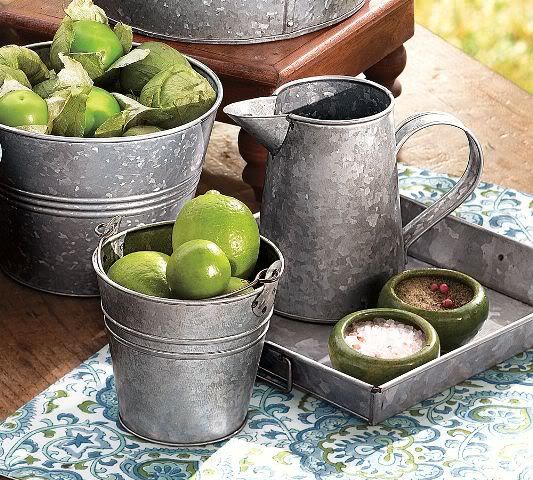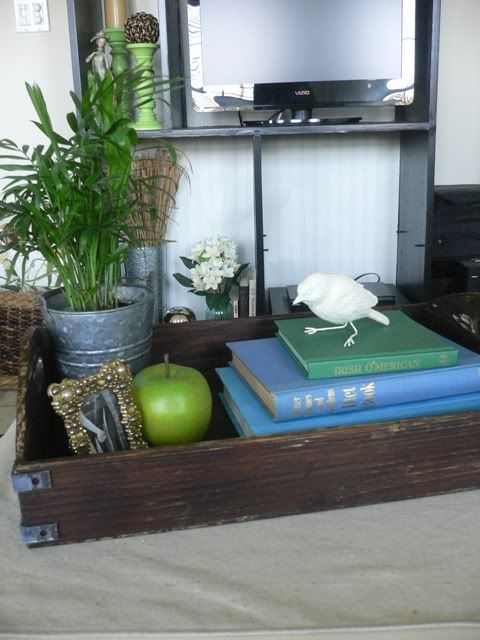 Then I purchased one each of their his and her enamel signs for our master bathroom. These are new in their catalogue and the minute I saw them I fell in love. I plan to replace our current hooks with something cuter and hang these above them.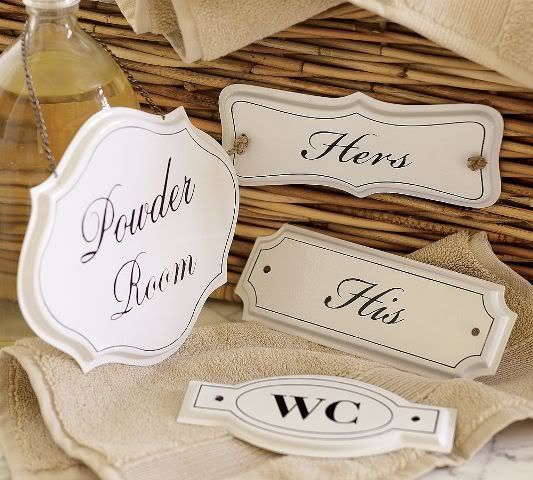 And since I was in a bathroom state of mind, I whipped up this super cute "welcome" sign for the guest bathroom. I totally cannot take credit for how smart alecky it is. I got most everything (except the Marine Corps bits) from Polly at
Make Mine Beautiful
. So, prop prop Polly! I'm giving credit where credit is most definitely due.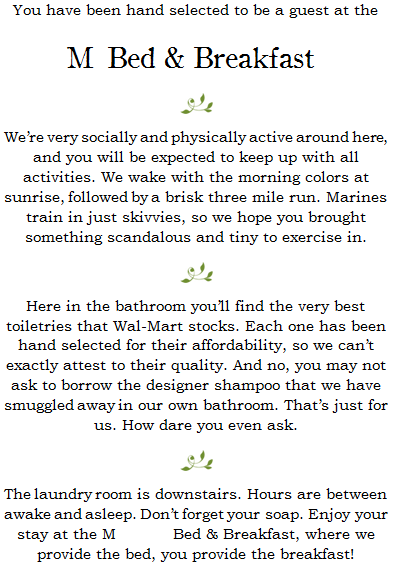 As soon as I can replace our printer ink and find a cute frame I'll print it out. Of course, I'll also have to grab some little travel sized toiletries from Wal-Mart too! ;) Oh, and just for the record, it actually says "Our-Last-Name Bed & Breakfast," not just our initial.
I think I'm proud it took me so long to respend that money. Because the first time I racked up the bill in was in one fell swoop. Oh how the mighty have fallen. But, I think it's also taught me a valuable lesson: don't spend it all in one place!