"You'll come to learn as a Marine wife: when redecorating, spray paint is your best friend."
~Lori R., wife to retired Marine Corps Sgt. Major
Every spring my DIY side kicks into high gear and I get really serious about tackling projects. This can be good and bad. Good because it lets me asses what I have, what I want, and what I want to change. Bad because I usually start 10 projects at once and it takes forever to finish them all (leaving my house in shambles in the mean time). But, this spring is going to be different.

Since Hubbs and I are renting our place, we can't do most of the home projects one normally does. This means no painting, no replacing of fixtures, no re-tiling... you get the idea. Some would say it's their idea of a nightmare. Not this little housewife. Because I can't do things to my house, I have to do things to the stuff in my house. Which is a blessing in disguise. When my sister saw this picture of our "master" bedroom:




She said, "Wow. That's like an HGTV 'before' room." Ouch. Granted, we had no dressers, no media stand, nothing but our bed and mini-fridge. Thankfully the arrival of our Ashley Furniture changed all that! Don't mind the baby doll. And for what it's worth, this picture isn't over exposed. That's how much natural light comes into our bedroom. Jealous?!


Plus, a little rearranging of the room and a chair added for convenience...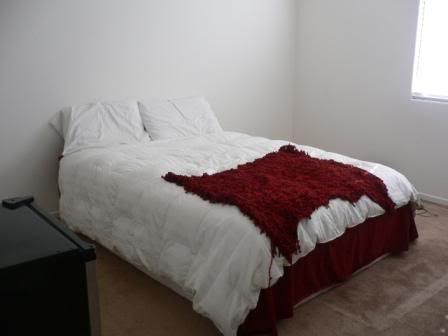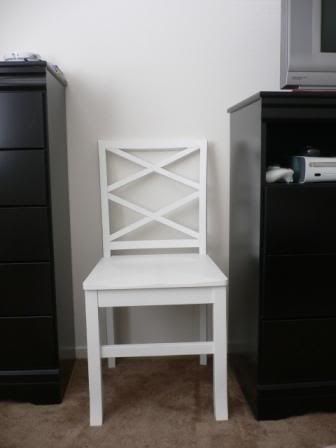 ...leaves me with more options. We really wanted an upholstered headboard. Jason has this thing about mis-judging where the wall is in conjunction to his head and bangs into the wall at least twice a night. After finding a couple we liked, we realized it was going to run us about $300 to have one shipped to the house at a minimum. My father happens to be very handy when it comes to wood working, so he's agreed to cut a form for us so that I can upholster it. I sent him this image to work off of for the frame of the headboard.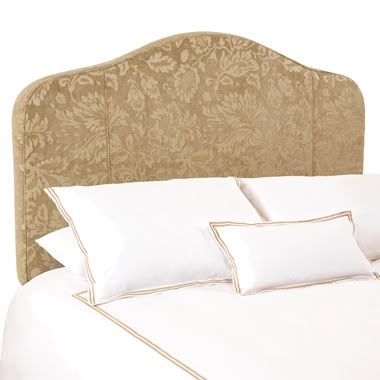 I'm thinking I'd like to upholster it in something like this, as our house is black and white with accents of red and shades of blue.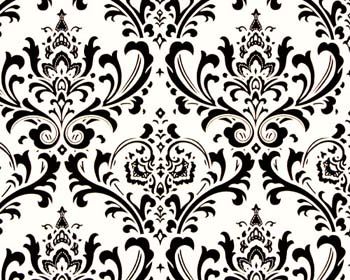 But we'll see. At least one major thing happened today, and that was the ordering of our bed frame. We ordered a simple metal frame from Wal-Mart so we could dress it up or down the way we wanted to. We saved $23 by having it shipped to the store (yay site-to-store!), and we should be getting it around April 15.

This weekend I'll be finishing another project: the completion of our book case. My step-dad gave us an old particle board bookcase he had laying around his office (we have a ridiculous amount of books that are heaped in piles on the floor in our home office right now). It was about as crappy and cheap looking a book case you could think of; but it was free, so like I was going to complain!

A quick coat of primer...


And a couple coats of semi-gloss black paint is giving me this: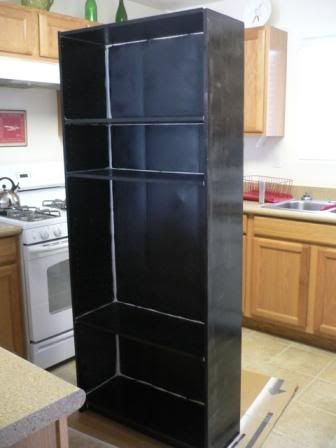 It's not finished yet (still have to paint the nooks and crannies and give the right side another coat of paint), but it's already such a vast improvement. Plus it will hold our books until we find something better. Next weekend we'll be visiting my family again and we plan to make a trip to one of the local furniture stores where I saw these beautiful little tables for only $20.

I want to spray paint them white and use them as our night stands.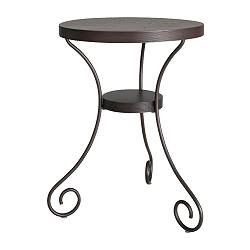 Once our bedroom is finished, it will be time to move on to the office. Happily, our living room and dinning room are actually pretty much complete, with a few minor exceptions. I'm looking to have our feather down couch cushions replaced with foam so I can slip cover them, and we're going to be stripping our dinning room table and giving it a fresh coat of paint, as well as painting an old oak wall unit that's been in the family for at least 25 years. I recently patched it where pieces were breaking off in huge chunks, so leaving it its natural honey color is kind of out of the picture.
Be sure to enter the Reader Giveaway--three more days left until it ends! Also, for all of my vintage readers, I may be selling some of my clothes here pretty soon. While I still love the qualities that make-up a vintage housewife, I'm finding the physical style may not be for me. So keep your eye on my Etsy shop for more details!