Has anyone noticed these commercials now that price out their product? I think the first one I saw was a Pillsbury commercial for their biscuits. At the end of the commercial the announcer said, "At only $.25 per roll, breakfast at home gets better all the time..." or something like that. The other one I saw was for coffee. The same idea, "At only $.10 per cup, it beats the drive-thru hands down!" Interesting how in these tough economic times you now have to sell the value of your product, not just the product itself.
Anyways, I've started thinking about how to waste less. I love my morning cup of coffee, but I'm the only one who drinks it. I end up wasting over half a pot, which I hate. So I had the brilliant idea to dump the leftovers in a pitcher, stick it in the fridge, and save it for when I want a cold drink! Homemade iced coffee! (And at only $.10 per cup, it beats a frappuchino hands down!)
The other thing we're trying to waste less of: money! We bought a water filter so we don't have to buy bottled water anymore. I bought green bags to make my produce last longer (and it does! I'm still working on a head of lettuce I bought almost a month and a half ago and it's still crisp!). And we're starting to heavily rely on programs that give us something back for spending our money (frequent flier miles, eBates, eBay bucks, points from our banking card).
I was so proud of myself yesterday when I purchased a new bathroom scale from Amazon (our current one is an evil little creature. One day it showed me down six pounds and the next day I was up 14, and both times when we weighed a free weight to compare, it was only off by half a pound. There's no way that was right!). First off, I saved $5 by buying from Amazon directly and not one of their private sellers. $10 for my new scale.
(Yep, a good old fashioned Sunbeam dial scale.)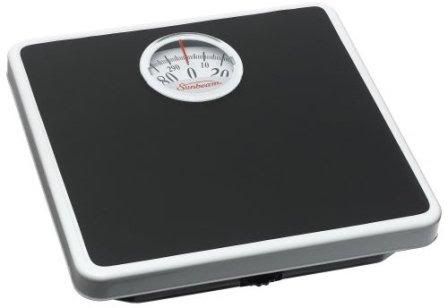 Next, you know how they show you other items you might be interested in? There were my little water filter refills for a mere $15! In-store they run about $30, not to mention the commissary and exchange don't stock them so it means making a 20-minute drive out to Wal-Mart. They both qualified for the free Super Saver Shipping, which saved me another $8. So in about seven minutes flat I bought two things we were in need of (notice, not wanted, were in need of) and saved $28!
Now that's what I call a bargain!