O
kay, super cheesy shelf joke. But my new wall shelves are anything but cheesy!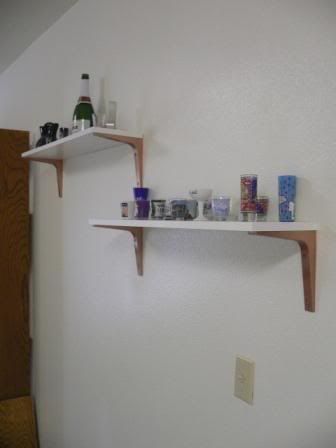 I purchased Ekby Östen shelves at Ikea the last time I was in San Diego. They were a mere $5 and their size was to die for (a full 31-inches). Right underneath them were plastic brackets for 50¢. I knew I wasn't going to keep them white, and instead I purchased some metallic spray paint and voila! Copper brackets!
I love the way they look up against our white walls (the top shelf is holding items from our wedding, including a bottle of champagne that was served at the reception; the bottom shelf is holding our collection of shot glasses). I can't wait to buy more. I'm thinking about flanking our bedroom wall in shelves around our bed since it's so nekkid in there!
Oh, a quick note: if you happen to purchase these shelves, make sure you pre-drill your holes for the screws. The first bracket I didn't do this and I was in such a bad mood I wanted to throw the entire shelf across the room. Once I found the drill bits, I was a happy little homemaker!

I'm sure some of you may be wondering why on Earth I'm hanging shelves when we're going to be moving in a couple of months. It's like I told Hubbs, I still have to live here for the next two months and I'd like the house to have some organization to it!