O
n Friday I was happily packing up for the weekend when this lovely package arrived on my door step, courtesy of UPS: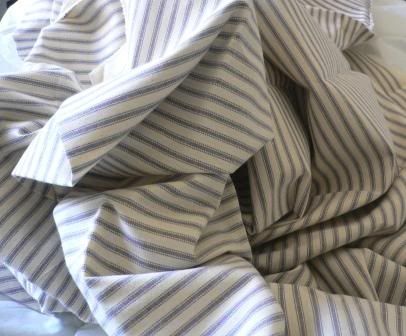 Four yards of gorgeousness! I plan on making over sized pillow covers (26 x 26-inches) for a pair of euro shams we'll be buying. I scored the
best deal ever
on this fabric at only $3.50 per yard. I worked my butt off looking for it, too!

I was obsessed with the idea of ticking stripe pillows. That navy stripes, the rough fabric, the timelessness--I wanted it. I ended up looking all over the Internet for ticking fabric that wasn't going to cost me an arm and a leg; $8 per yard was about the cheapest I'd found. eBay, JoAnn's, Fabric.com--none of them had what I wanted. I even started considering buying pre-made pillow covers from places like Pottery Barn, but at $24 a piece (on sale!) I couldn't bring myself to buy them.

Hancock Fabric was the front runner as they had ticking stripe fabric for $4 per yard, but I believe the nearest one is in Nevada! After a few unsuccessful attempts to get a sample (the fabric looked like black ticking stripe, not navy on the website) I gave up.
One day I happened to be cruising Google when I ran across
this
article from Apartment Therapy. Wouldn't you know, down at the bottom was a link to a little mom and pop website called
Period Fabric
. Apartment Therapy had them listed as having fabric for $5 per yard. Lo and behold, under cotton stripes & prints, there it was: navy and cream ticking strip fabric for less than $4 per yard!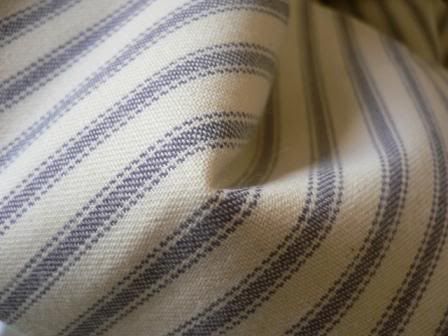 I can't wait to get the cases sewn! Unfortunately, lacking a sewing machine, I'll be waiting until my sojourn to San Diego in August. My step-mom has a dandy of a sewing machine so I'm hoping she'll be gracious enough to help me figure out how to use it!

Side note: Jason's birthday was a big bust! He was so sick the entire weekend. He has a terrible cold of some sort and he was running a fever in our lovely hotel room. Poor guy. We've since said we'll be doing a make-up birthday weekend sometime in the future.