W
hat is it about summer that makes shopping so much more fun?! I've been trying to keep up with my recent weight loss (I'm down to 117 pounds now people! I finally match my driver's license!) by buying belts to hold up my old jeans, but I'm actually getting to the point where this won't be a solution much longer. Today, I broke down and bought my first new piece of clothing: a romper from ModCloth (in a
small
no less! I've never been a
small
!).
I've been wanting one for a while now. Ever since they started coming back in style I knew I wanted to add one to my wardrobe. But finding the right style was proving to be difficult! When I saw this adorable little polka dot number, I knew she was the one!
Now I'm on the hunt for the perfect red wedges to go with it (what is it about black and white and red together?)! Our county fair starts this week, and I have many a-visions of sporting this little number on those long hot trips. My little sister has even talked about going to opening day at the (pony) race tracks, so I have a feeling this would work there too!
Of course, I'm not shopping for just me! One of my friends just had a baby boy and I spent like, $60 on onesies for him! Jason and I may not want kids, but we love to shop for and spoil other people's babies!
My friend has always been the "life of the party," so this one was a must!




Literally, "Danger" is his middle name!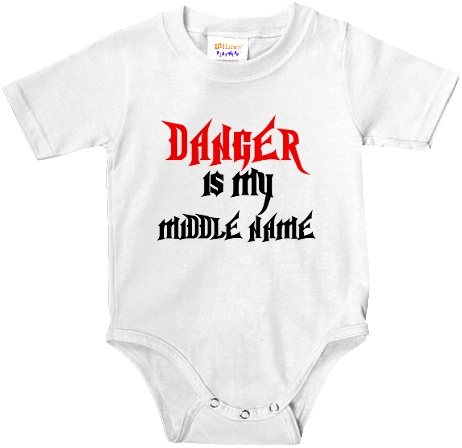 His daddy just got a t-shirt with retro playing cards on it for his birthday. Figured the baby could use one too!




Did you expect anything less from an Irish girl to her Irish friend? ;)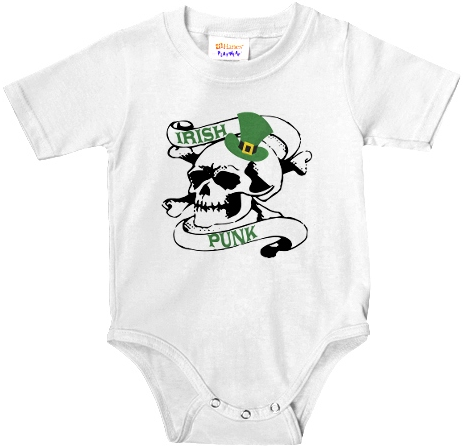 There's about a bazillion more that I want to buy him, but I think I should probably wait a little. I can't wait to get these so I can wrap them up in some super cute packaging (but it will not be all cutesy-cutesy-baby-like, it's gotta match the gifts inside). I may try to find some little punk-rock pacifiers and accessories too, so if anyone has some good sources, please pass them along!
Today I'm going out with my mom, aunt, cousin, and twin one-year-old cousins for a girls' day! Bet you can't guess what I wish I already owned? ;)
How 'bout you?? Please tell me I'm not the only one splurging on my summer wardrobe! =)
PS: My latest short story ("Birthday Sex") is up on The Escritoire! You can check it out here.