I
'm so excited! During one of our recent e-mail marathons, Jason and I started talking about ideas for the backyard. I had been considering more of a beach theme. But when he brought up the fact that the house was getting plenty of "feminine touches" in his absence, he asked me to design a more masculine outdoor area; more specifically, an Irish pub. I love the idea because it requires very little making-over of the furniture. They're going to stay in their original conditions to give it more of a time-worn-collected-over-the-years feel like all good old fashioned pubs have. Only one piece (a white wicker chair) will be getting a little face-lift with a new coat of paint. White wicker doesn't exactly scream "pub."
Of course excitement like this can't be contained, so I had to start working on an idea board right away! ;) Here's the current plan.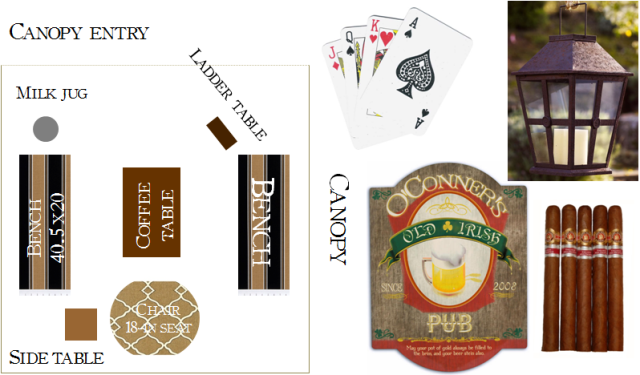 The color scheme is going to be black and tan (a nod to Guinness beer) with touches of greens and red-oranges. Other textures will include a chalkboard with pub "specialties" written on them, and some lanterns to keep everything well lit when the sun goes down. Of course we'll have playing cards and some cigars stashed in a side table for when they boys want to kick back and gamble a little, and I also plan on getting a few beer steins with our last name on them (Jason received two from my step-mom one year for Christmas, so I think I need to add to his collection).
I'm looking forward to working on this in conjunction with the bedroom (which truthfully has seen very little action lately). My attention span seems to be on a short leash these days, so I'm breaking my rule and working on several projects at once. First things first, it's time to talk my mom and step-dad into making a day trip over here to buy and set up the canopy! Then I can start building our pub!