I
mentioned last week after the movie premier that I was battling a case of laryngitis. It has been an
up hill
battle folks! It seems to be mostly abated, although I still have a dry scratchy cough that wakes me up about every two hours at night. As you can imagine I've spent most of my days napping. Although I won't lie--all the sleeping during the day has made me especially active at night (cough or no cough) and I've probably gone out one too many times with my friends (which hasn't helped my case any).
I did however manage to be somewhat productive on the DIY front, and got the new curtain rods for the bedroom painted and hung. Now I just have to pick up the curtains! Our new bedding arrived, but now I am questioning it (go me!), and I have managed to score a free lamp from my mom which will be getting a
rub n' buff make over
as soon as it's in my possession. I've also worked on a few little projects for friends, had a
huge
surge in my creative writing process (I've written two short stories in a week!), plus a surprise for Jason (more on that in the future), and other odds and ends that have kept my sick little body just busy enough to wear it out.
I'm hoping this weekend to really knock out a few things on my to-do list (like pulling weeds in our
overgrown jungle
backyard). But of course, I have a date with Katie and her son Tony this weekend too, and Mom will be over... so I won't hold my breath (not that my lung capacity would allow me to do so anyways)! ;)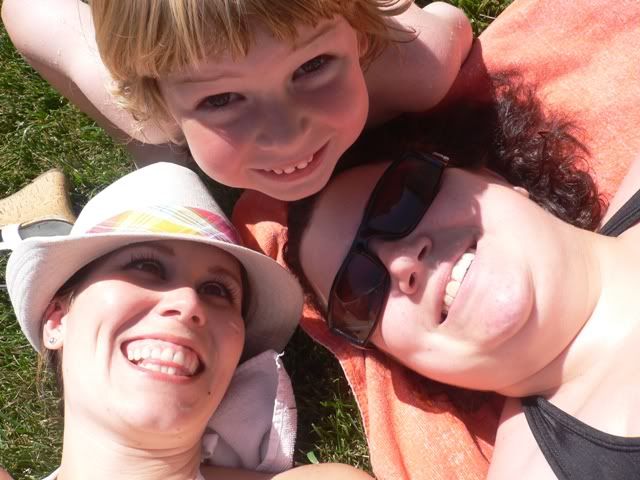 (Clockwise from top: Tony, Katie, and myself enjoy some backyard fun on Memorial Day.)