**THIS CONTEST IS NOW CLOSED. THANKS TO ALL WHO ENTERED!**
O
kay, so I've never asked any of my readers to do this before, but I need your help winning a contest! Yes, it's a little on the silly side, but the pay off for you is nice (and me too, who am I kidding?). Here's what's up.
I'm throwing my hat in the ring to win a walk-on role for AMC's "Mad Men!" You can check me out
here
! Naturally the selection process begins with viewers voting for their favorite. I think you know where I'm going with this...
I NEED YOUR VOTES! :) :) :)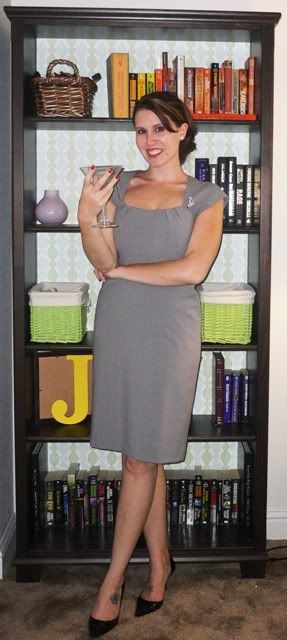 Don't you want to vote for me??
What's in it for you? A prize! If you help me, I'll help you. Isn't that how the world works?
For every vote you contribute, you'll receive an entry to win a $100 gift card to a retailer of your choice!
It had been confirmed that you can vote more than once! So even if I don't win,
you
still do! Pick your poison: Home Depot? Banana Republic? ModCloth? Etsy? As long as I can buy a gift card to it, you can have it!
THE OFFICIAL RULES
Contest Closes: September 6, 2010 at 11:59 pm (ET).

Who Can Enter: Anyone with a valid mailing address and a retailer who offers gift cards.

Prize: A $100(USD) gift card to the retailer of your choosing. If store is local (as in not local to San Diego County, CA, USA), their website must have a "purchase gift card" option with a $100 denomination choice.

How to Enter: Visit my photo on the AMC/BR Mad Men Casting Call website (click here or above) and click VOTE. Then come back here and let me know in the comments section that you voted. I am trusting everyone to be honest here! I will be able to tell if I only have 40 votes but 100 entries.

Winning: One (1) winner will be selected using Random.org on September 7, 2010.

Banana Republic, AMC, the "Mad Men" brand and all parent, subsidiary, and affiliate companies in no way have anything to do with, sponsor, or endorse this contest.



Thanks in advance for humoring me,
and good luck to all who enter!



And, in case anyone out there is wondering...

Outfit details: Dress: Banana Republic Outlet Store (bought back in 29 Palms, this is the first time I've worn it!) - Heels: Anne Klein - Vintage brooch: Etsy - Earrings: Potato pearls, gift from Jason ♥ - Nail polish: OPI Vodka & Caviar - Martini glass: gift from the "Sex and the City 2" premier

Oh, and spread the word for me, will ya? ;)