T
he other morning I was getting ready for yet
another
job interview, and I was "sweatin' like a whore in church" (to use a phrase from
Joy Darville
). I ran to open our bedroom windows, but thanks to the narrow hallway that leads to our bathroom, very little of the breeze was getting to me. "I needs me a fan!" I said to my sweating reflection (yes, just like that). So the next day I started my hunt.
I wanted something that was at least retro
looking
, even if it wasn't really authentic vintage. I luvred this one that
the Petersiks
got for baby Clara's nursery. It's by Deco Breeze.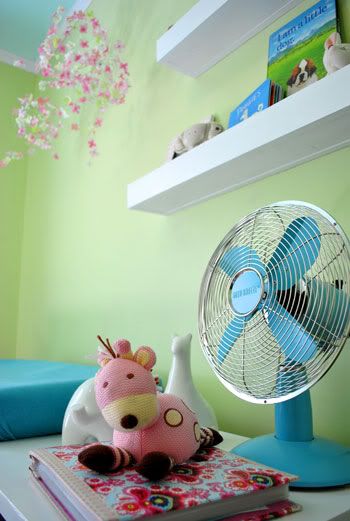 Photo courtesy of Young House Love
But after perusing Amazon and Google, I couldn't quite find this model, and I wasn't too keen on their others. So I started hunting on etsy, knowing that I would find at least
one
fan I would like. Little did I know, I found one that made my heart skip a beat.
Not only did I pink puffy heart the color--it's the perfect shade of brown to break up all the chocolates going on between the bedroom and bathroom--but the brand, "Westinghouse," struck a little cord in me.
While recently watching one of my "I Love Lucy" discs, there was a special featurette that Desi and Lucy had recorded for one of their sponsors: Westinghouse! The featurette is way too long to find on YouTube and post here, but I wanted you to see one of their old commercials.
Check out that advanced "wireless remote director!"
There were several other fans on etsy that I liked just as much, but I'd be totally lying if I said that the Westinghouse brand wasn't a selling point. ;) I can't wait to see how it looks in our bathroom--and I can't wait for my next hot shower so I can use this little baby!