E
ver since I posted my photo for the
"Mad Men" competition and giveaway
(still plenty of time to enter, and you can enter more than once!), my inbox has been
flooded
with e-mails! From how I do my make-up and take care of my skin, to how I stay in shape, and asking for more outfit posts like
I used to do
, you've all had some great things to say and ask! I'm trying to get back to everyone one by one, and I may do a little series that answers all the questions I got.
But, in the meantime, I will give you something many of you have been asking for--another outfit post!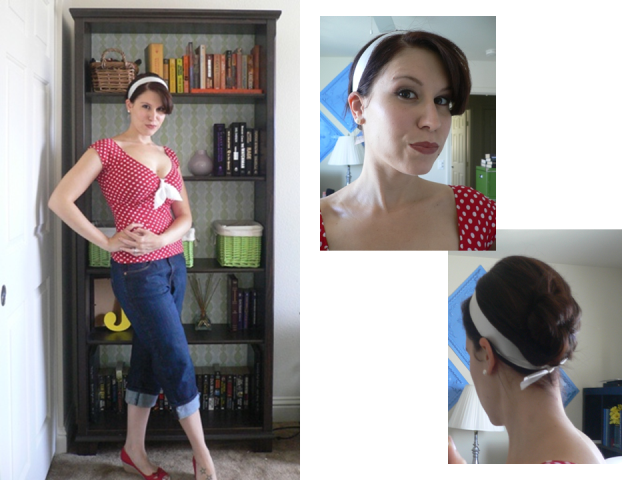 This is definitely a more vintage-esque outfit. I like the way it reminds me of Rosie the Riveter. I'm headed out for some sight seeing today with my mom, step-dad, and step-sister. I wanted to pin my hair up because we're going to be doing
a lot
of walking around! I also love the way this top fits me.
The last time I wore it
, I had to wear a wasit cincher underneath it. But not now!
Outfit Deatils
Top: Pin Up Girl Clothing - Jeans: Levi - Shoes: Keds Spright Wedges in Tomato - Earrings: potato pearls, gift from Jason ♥ - Hair ribbon: white gift wrapping ribbon - Mani/pedi: OPI Cosmo-Not Tonight Honey!