I
love our little local farmer's market. I love that it's held during the week, in the evening, and that it's all of two or three blocks. But even more so, I love all the locally grown and picked fresh fruits, veggies, and flowers. Especially the flowers!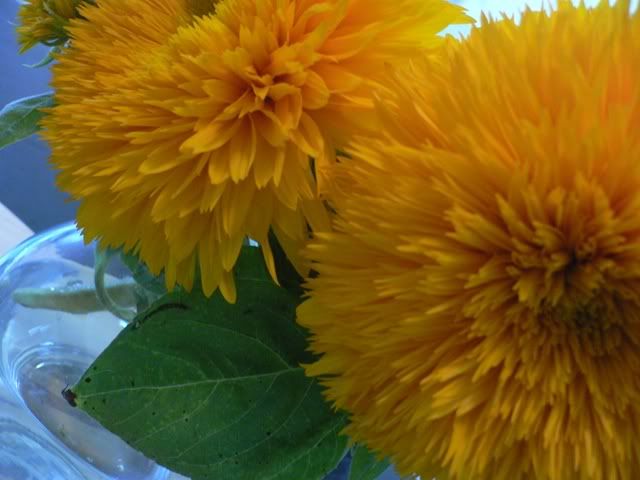 These gorgeous, fluffy, yellow flowers are called Teddy Bear Sunflowers. They're
huge
! I picked up two big bundles for only $5, and by the time I got back to my car, my arm was tired from their weight.
I was happy that I'd never been able to get rid of this knobby green vase, as it looks beautiful with these over sized blooms in it--not to mention it's the perfect size to hold them.
I love the addition to my newly acquired table scape that I've been working on. The lazy Susan I picked up for a mere $7 from IKEA. The little basket held birthday flowers that Jason sent me back in May. I gathered all my apples from around the living room to fill it up (it was holding lemons, but it was too much yellow--you can see in the picture above where I replaced the apples with the lemons in the living room). The small stack of vintage linens I got in a blog swap through The Shabby Chic Cottage. I haven't quite decided what I want to do with them, but for now they look sweet under the basket.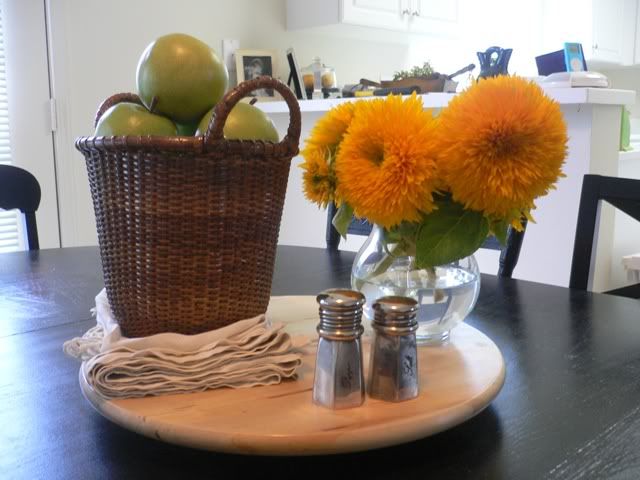 I also love the little touch of tarnished silver that my salt and pepper shakers add. A little metal to cool off all that wood. They're from Pottery Barn (another thing bought with the infamous
merchandise card
), and I absolutely love how they're labeled. So vintage. So cute!
I can't wait to see how long my Teddy Bears last. I only just picked them up last Thursday. I changed their water on Sunday, so I'm hoping that if I keep up with it, they'll last me into the middle of the month. I saw some beautiful Laurel at the market as well, so perhaps they will be the next bunches I grab. I have a feeling I'm going to enjoy this new ritual of mine. =D