I
've been working my fingers off , trying to transform an old 80's brass lamp that my mother gave me for our master bedroom. Since we're still in a financial cul-de-sac (still dealing with an empty-not-selling-and-not-renting-house, plus I've applied for something like 35 jobs and have received 6 rejections so far), anything that I can get for free I'll take! Old crappy brassy lamp with a dirty shade and headed for the trash?
GIMME
!
Of course I was so anxious to get the ugly out I forgot to take a before picture, but I managed to find its twin online. Now, I apologize if someone owns this same lamp and it's the pride and joy of your collection. But vintage Princess House is so not our style!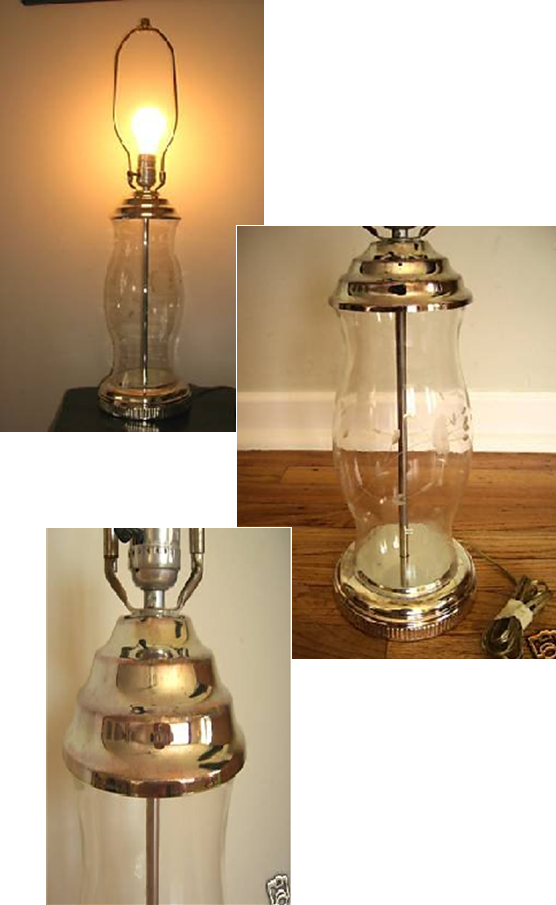 Back in the early nineties, my mother, grandmother and aunties were serial party goers. And I mean Princess House, Party Lights, Avon, and Tupperware. I'm bummed to think of some of the other potential make-over worthy goodies I've missed out on over the years, but now at least the fams know to come to me with items they think are unsalvageable.
Anyhoo, I laid on my Rub 'n Buff kind of thick, which I wish I hadn't because it didn't give me the same mercury glass affect as when I did my
Pottery Barn knock-off lamp
a few months ago (live and learn!). I used the shade from said lamp as well and gave the other a big frilly style one. So even though it's more solid silver than mottled silver, I still pink puffy heart it! For those who have yet to use R 'n B on on lamp, things such as the harp and light socket were actually spray painted with metallic spray paint. Rub 'n Buff doesn't stick to those kind of surfaces very well.
As for all that great empty space in the center?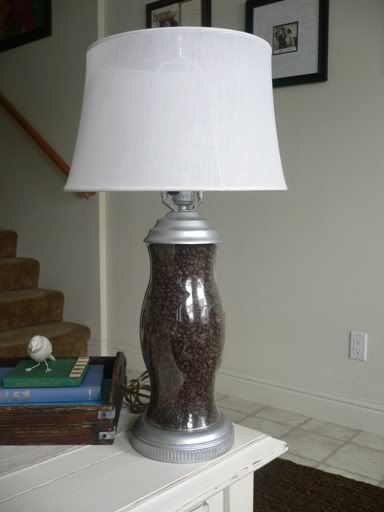 Yes, those are coffee beans! I used flavored (and therefore, scented) coffee because that was all the commissary carried in the whole bean variety, but after about a full day or two the smell has disappeared (just in case you were wondering). And since the cost of the beans fit in so easily with our grocery shopping, I didn't
really
spend anything on this project (it took about 1.75 pounds of beans to fill it up). ;)
I've yet to put it in the bedroom, as I'm still toying with our night stands (hence why it was photographed in the living room). But now I need to find something for Jason's side. I'm definitely going to stick to the silver/mercury glass finishes, but I need to find something more masculine for him. I'm
loving
this one from IKEA.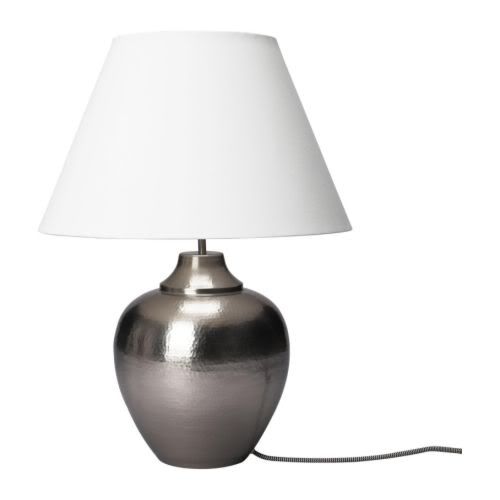 It's their Åsele lamp and it's $60. It's not horribly priced, but back when I was making
the budget
for the master bedroom, I only gave myself a $75 allowance for the decor and accessories (who dropped the ball on
that
one?!). But I haven't seen anything that I like nearly as much as this one, and since Jason saw it, I think his little mind is wrapped around it too. So I might have to find room elsewhere to save a few bucks.
In other master bedroom news, thanks to one of my remaining birthday gift cards, I have the base of my supplies for the headboard and I have a plan of attack for the materials that will help complete it. I think Mom and I might be going out tomorrow to accomplish some of that, so we'll see how it goes! :)
I'm linking up to:
Transformation Thursday
@ The Shabby Chic Cottage
UPDATE
: I just got word that our house back east has been rented! Bummed that we weren't able to get rid of it, but that just took the lid off the pressure cooker we've been in. Now to find me a job!