S
ometimes, I admit, I love making things myself, especially with my new(ish) sewing machine. I've made
tons
of pillows for this house, and am currently working on making bedding for our master bedroom, which is a great feat unto itself. So you can just imagine how psyched I was to have to make cushions for our outdoor furniture along with everything else I'm sewing (hint: not very).
Luckily, while out with Mom running her errands, we were walking down the aisles of Home Depot when our eyes alighted on their summer cushion clearance section. Right in the middle of the bunch were cushions made from my exact inspiration fabric for the pub, which was
Solaruim Outdoor Canvas in Buena Onyx
.
I swear the fabric isn't faded--it was so bright outside it looks over exposed.
At almost half the cost of
one yard
of fabric (not including filling or inserts), I snatched up four of them after verifying that they'd fit the benches.
SIDE NOTE
: Thank God for technology. I was able to use my Blackberry to see
the plans
here on my blog which had the measurements of each bench. It pays to publish! ;)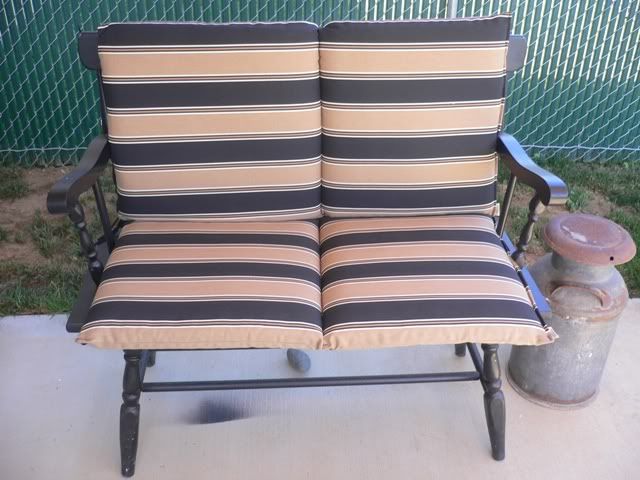 Mom and I also grabbed two pillows for the wicker chair which complimented the black and tans (my new name for the benches!) almost perfectly.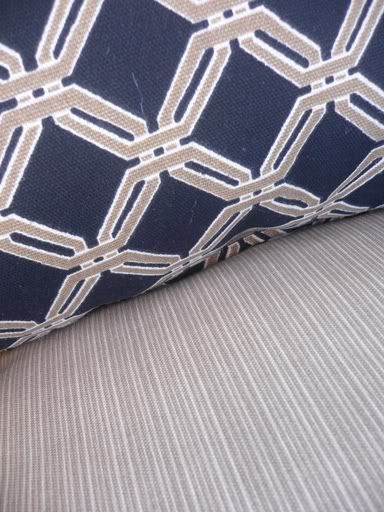 I still need a coffee table, but have decided to forego an outdoor rug (Mom pointed out that you wouldn't exactly find one laying around in a pub anyways). Then all that's left is a few accessories and our pub will be done!