I
recently had one of those great DIY days where you get a ton of little projects done that end up making a huge difference. At the end of it all your feet and hands are covered in spray paint, but those itty bitty accessories can make an entire room--or just a vignette--complete.
The first project I completed was a shelf for
the wall unit
in our living room. I had a make shift skinny piece of wood down, but I hated how puny it looked. The original shelf would work, but since I flipped the unit around, the shelf had to get the same treatment. Of course, this left a lot of raw edges. Thankfully, I still had some leftover
wood trim
so I ironed some on!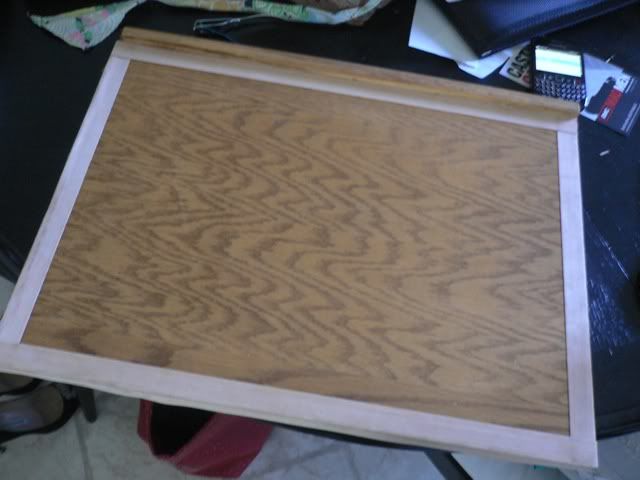 For some odd reason, when I flipped the shelf it didn't fit in the cubby the way it did before. It slid back and forth. So while a little on the
ghetto
MacGuyver side, I trimed off some cardboard and applied it using Liquid Nails. The thickness was perfect and the shelf fit nice and snug.
A couple coats of Rust-Oleum later, and this was one project I could cross off my "I-didn't-quite-finish-it" list.
Next, my grandma gave me this little utensil holder about a month ago. It was too cute to pass up, even though I didn't know what I was going to do with it. I decided that it would make a perfect bathroom caddy with a little reimagining and a coat of paint.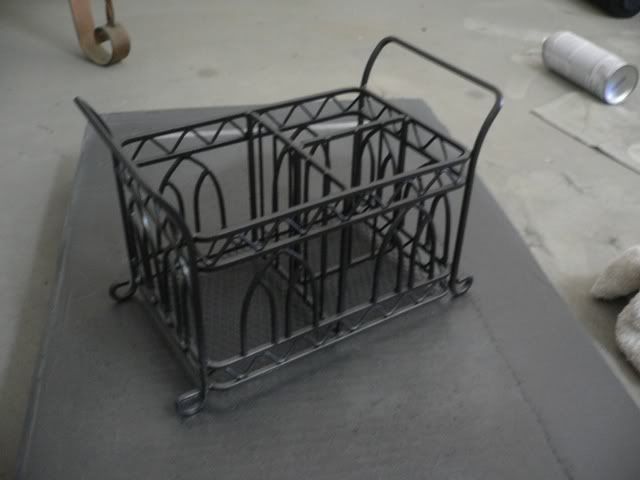 However, once the paint was one, I decided that I didn't really want to silver to be so "perfect." I wanted it to look a little more tarnished. So while the silver was still wet I grabbed a rag started blotting.
The results were perfect--er not so perfect and little tarnished looking.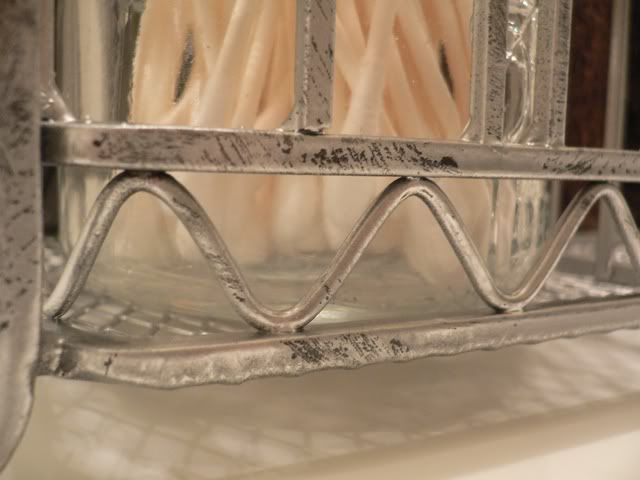 I loaded it up with a mini-mason jar full of q-tips, lotion, wash cloths, and our toothbrushes and accessories.
I took a cue from
House of Hepworths
, and used a little spray paint on the bottles to spruce them up, make 'em match, and make 'em pop. The lotion bottle is an old Bath & Body Works bottle that I just refill with whatever lotion I'm using at the time. The other is a Listerine bottle that I refill with mouth wash whenever it gets empty.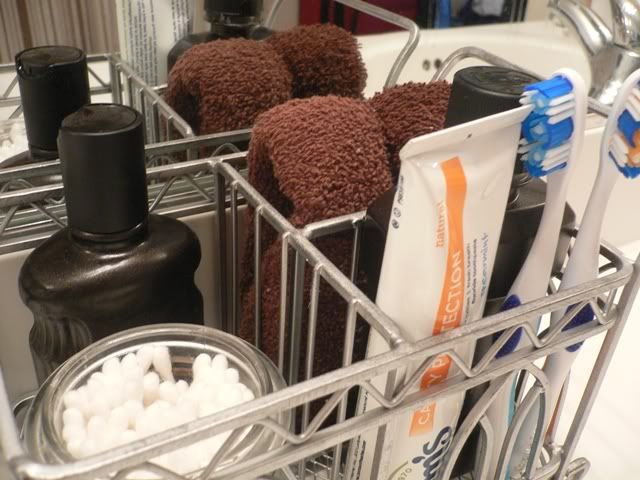 So, there we go! Just a couple little projects that help polish off the big picture. Have any of my dear readers finished a few little projects that made a big difference? =D Share share!