I
hung shelves on one wall of our bedroom, and wow! What a difference! It really makes the room feel more anchored and balanced, since this wall is directly across from our
four-foot tall headboard
.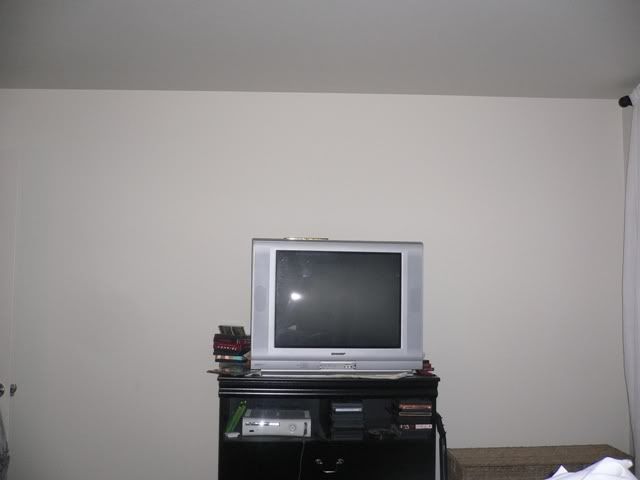 (
sorry. icky flash.
)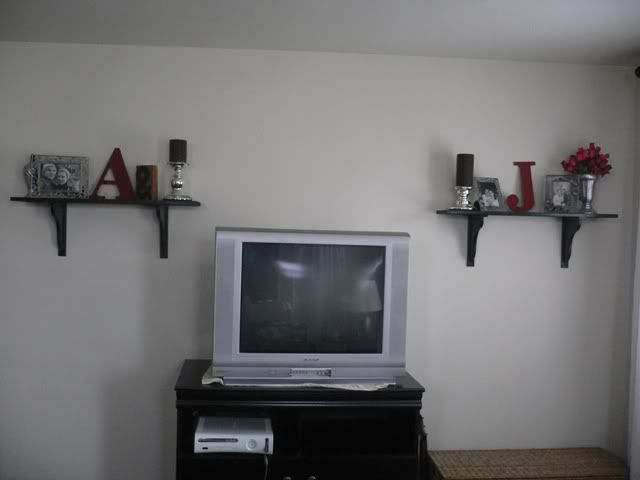 (
i need to make a runner for this dresser. that pillow case just ain't cuttin' it!
)
When Mom and I went to IKEA over Labor Day weekend, I grabbed a couple of Ekby Östen shelves and Ekby Hensvik brackets to help spice up the decor in our bedroom. A couple coats of paint (I used Behr Paint & Primer in their basic black color) brought them up to our color code. ;) I found the best way to hang them was to drill two screws into the sides of the brackets, rather than try to mess with the Hensvik bracket hanging system.
(
there's one on either side. these babies ain't goin' nowhere!
)
I decorated them using a mix of store-bought and home-shopped items. The bottle on the far left I found at Cost Plus World Market on clearance for $8. It was a mottled cream color, so I gave it my favorite Rub 'n Buff treatment to make it match a little better. The frame was from a bunch my grandmother was giving away (I snatched up a whole lot from her!). The little "&" block is also from World Market, the pillar holder is from IKEA, and the candle is from Micheal's. I must have snagged about 10 of these when I was there. They were on clearance for only $3 each! The red "A" used to be in our office (and it used to be blue). I painted in with Rust-Oleum's Colonial Red, a very rich color which reminds me of my favorite lipstick and nail polish!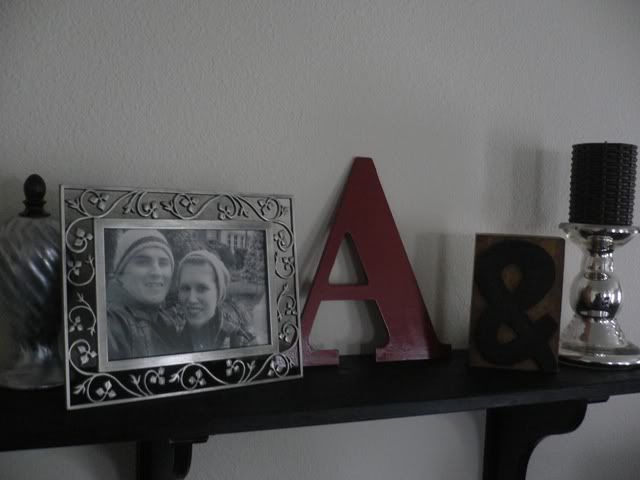 Most of these accessories are from the same place as the other shelf. The only addition is the bunch of wooden roses in the vase (which used be be an ugly purple-ish color before it got its own R 'n B treatment). I bought those one year at our county fair.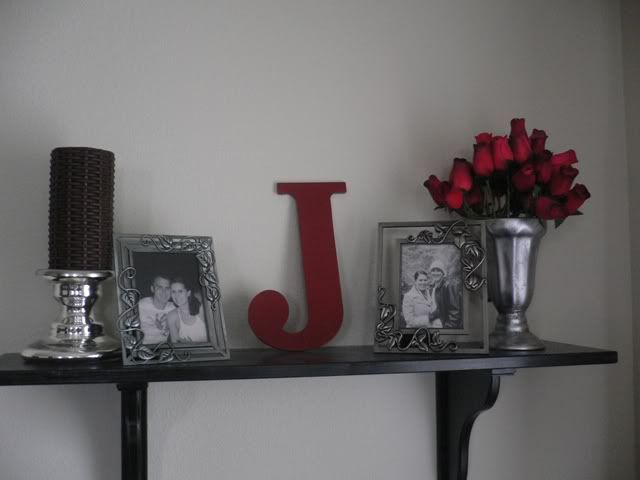 (
this shelf isn't crooked--the picture was taken at an angle to deflect the light from the windows
.)
And in case you were wondering, the photos of me and Jason are from a few of our trips. The big(ger) one is us at Graceland, TN. The two smaller ones are us in Multnomah Falls, OR and Las Vegas (NV) ;).
There's only a couple more things I'd like to do in here, but I'm almost worried that it might be too much. I was thinking of a mirror on this wall...

(ugh. i need to do something about this blue jewelry box.)

...and maybe some wall words on this wall.


Too busy you think? There would literally be something on every wall at that point. How much decor is too much decor? My grandmother used to say, "Whenever you think you're dressed, take off one piece of jewelry."
I think the wall words and mirror might be that "one piece of jewelry." Hmm...
I'm linking up to:
Transformation Thrusdays
@ The Shabby Chic Cottage
Fresh Coat Fridays
@ Life in the Fun Lane
The Project Parade
@ The DIY Show-Off