Just before the death of flowers,
And before they are buried in snow,
There comes a festival season
When nature is all aglow.
- Author Unknown
I really can't decided which is my favorite season: spring or fall. Spring would be a natural as I'm a spring baby (born in mid-May), and I love that it's the time of year when everything seems to be waking up. But never have I heard fall described in such a way as nature being "all aglow--" and I'm sorry, how can you
not
love a season with that kind of imagery?
But I do know that I want to experience as much of the season as I can before Christmas butts her big fat nose in and turns the world green and red, so my fall decorations have been brought out of storage! It's so funny for me to look at the pictures from this time last year (when we were first moving into this house) and see how things have changed.
Last year, my shelves were still in their infancy and I used a dark red leaf garland attached to "?" hooks to hang it. This year, to keep it simple but change it up just a tad, I added a red apple and a pine cone to the mix (BTW, the little silver box the apple is sitting on? Jason sent that to me from Germany!). Looking at these shelves a year apart makes me feel like I've learned to layer better (thanks
Pottery Barn classes!
). ;)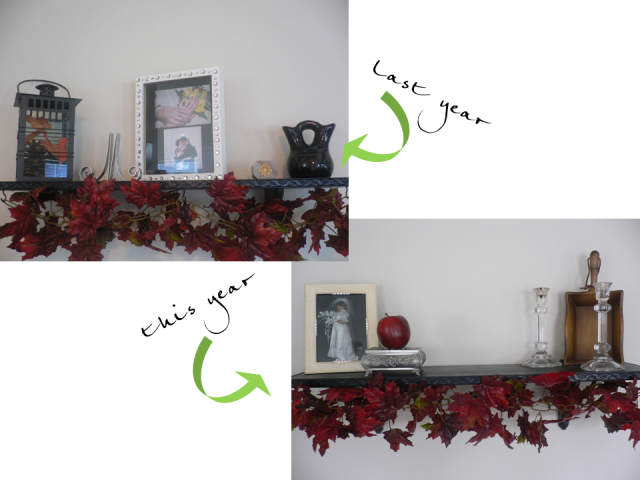 Last year I strung garland all the way up both of our banisters. But after
my tumble earlier this summer
, I thought just a simple bunch at the top and bottom of each rail would do the trick. I snipped a small section and secured it with twine.
Last year, my wall unit was still in its awful pre-make-over state. The good news was it's orangey color fit right in for the holiday season. But gah! I can't believe we lived with it this way for as long as we did! This year, not only does the wall unit look fan-freaking-tastic, but I think my white pumpkins on my (Heirloom)white
thrift store candle sticks
have a sort of ethereal ghostly appearance (and I like them much better on the thin candle sticks than the chunky ones).
This was also the first year I decorated the cubbies. During spring and summer, my book ends are a blue Ball mason jar and a nautical rope. But I switched them out for something a little more seasonal. These are actually tea light holders.
It was time for my little bird's nest to migrate elsewhere (the decor cabinet) until next year. These great brown candles you see were $3 at Michael's. Their texture is amazing.
Another easy switch from summer to fall. All the pine cones I picked up last year on clearance from Michael's as well. I
will
go back for more this year as I use them well into January.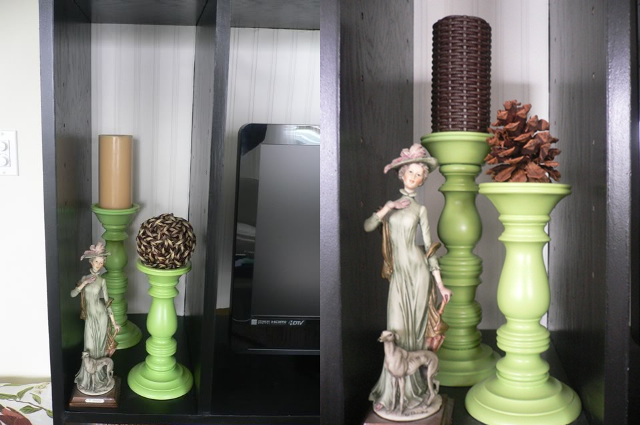 This cubby is only partially finished. I'm going to make a new sign for it. Sweet tea is a summer drink. I'm thinking an apple cider sign is in order for the last part of the year.
My little green fern was outgrowing (and dying in) his little bucket, so I transplanted him outside. Until I find something to replace him, fall themed Reese's cups make a cute (and delicious) filler.
My newly acquisitioned table centerpiece
also got a makeover. The pumpkin basket was a gift from my step-mom when we were back in our every first base house in NC as little newlyweds.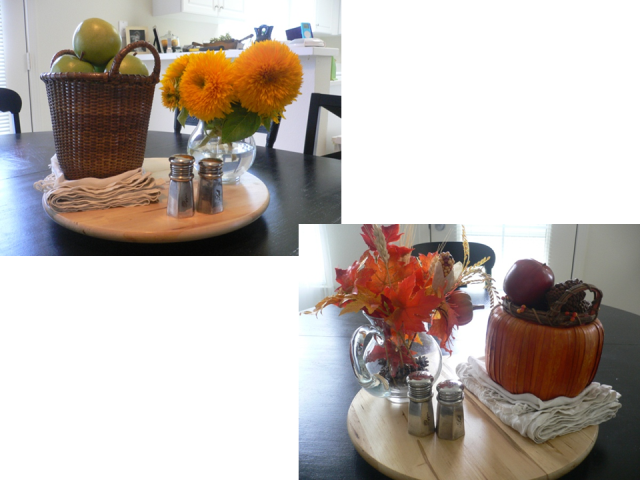 Not to be left out,
my $5 side table
also got a face lift for fall. Normally it's decorated with a fancy twig ball and green apples (which dwell inside an appetizer dish I bought for
last Thanksgiving
). With the addition of a large scale candle holder (a wedding gift, which Jason just
LOVES
), new picture frames (which will be filled soon), and more apples and pine cones (noticing a theme?), the new decor really warms up this little corner.
I tossed some leaves onto my
Tuesday Morning Ralph Lauren cakestand
, and then left the tower the way it was. I love how my granny's old pot ties together the white cakestand and red vase. And it wouldn't be fall if I didn't hang the wreath I DIY'd last year on our door. This was my very first project in our new house and I remember being so pleased that we had such a pretty brown door.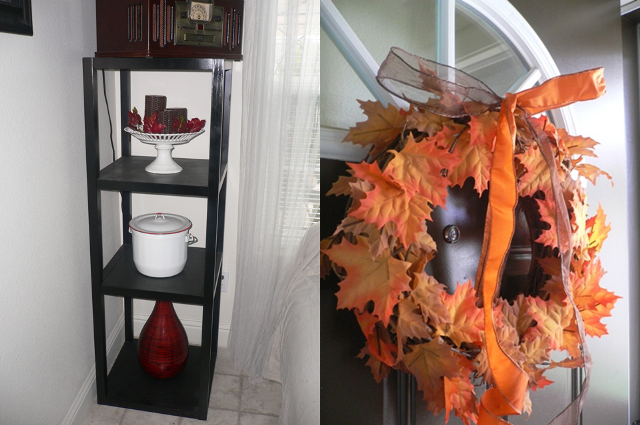 Outside, I hung a little welcome sign which my sister Alyssa bought me several years ago from the local pumpkin patch. And I grabbed this $5 scarecrow from Joann's when I was there getting supplies for our headboard. I still have a few more things I want to put out here, so I don't think I'm quite finished yet.
And there you have it. What The Nut Shell currently looks like in the midst of my autumn decorating. I still have things I need to do upstairs for sure. This is the first year that I'm trying to distribute the decorating throughout the whole house, not just a single floor. I already have ideas of how to spruce up the guest room, which I'm probably going to go run and do the minute I hit PUBLISH! Mom and Kenzie (my step-sister) are coming over this weekend to help me with a few of my other projects--time seems to be flying by now in the last few weeks of this deployment. My deadline just got very real! ;)
Leave me links so I can see how you're decorating for fall too!
I'm linking up to:
Domestically Speaking
The DIY Show Off